Beautiful Coffee Tables to Enhance your Living Room
Today, coffee tables have risen from mere furniture pieces to a piece of attraction. Coffee tables or center tables (as many people call it) are steadily making their place in the necessary list of the furniture items. There is an array of coffee table variations available in the market vis-à-vis, style, aesthetics, material, DIY etc. These help in bringing in a transformation largely in a living room. Apart from the appearance, the introduction of beautiful coffee tables can bring about a change in the dynamics of a space. In the article are discussed a few examples of coffee tables that can enhance a living room –
Simple Wireframe Coffee table
A Coffee table can be set up by using an interesting pattern in wireframe as its base, with an experimental material or a regular material on the tabletop. Apart from being contemporary, the wireframe base helps to give the table a light and airy feel. Whilst, one can go crazy with the experimentation in origami folds for the base; the sky is the limit for the material for the top.
Download Wooden Modern Design Center Table
Photo by Nathan Taylor for Obelisk Home - Browse living room photos
Woven Magic - Coffee Table Designs
Anu Tandon Vieira, of the Retyrement Plan, transforms and upcycles useless tires into useful furniture. The designer wraps the discarded tyres with plastic wrappers, strapping, yarn and whatever one could think of that could be woven. These add a twist of color to the space in a balanced manner. And these are even child-friendly, as they are devoid of sharp edges and are practically indestructible.
By the retyrement plan Mumbai - See more Home Design Photos
Table On Table - Adjustable Coffee Table
Table on a table is a concept that has two tables, where, the idea is that the tables are interlocked but, when required, these can be detached as and when required. The two tables can display a difference in material and aesthetics.
Photo by Malcolm Duffin Design - Search living room design ideas
Best Coffee Tables - The Zing Of Wheels
Zing up a living room with the vintage charm of wheels. Add wheels to a cart styled coffee table to add an edge to the space; the x-factor a space needs to be enhanced. Experimenting with different type of wheels can lead to numerous variations.
You must check Affordable Ways To Make Your Living Room Feel Cozy
Photo by STEPHEN FLETCHER ARCHITECTS - More dining room photos
Transformed – DIY
One of the beautiful adornments of a living room could be a DIY-ed element as a coffee table. An upcycled or recycled not only helps to reuse old things but, also adds a charm to the space. Off the table ideas, for instance, could be - repurposing a grandmother's trunk, fruit crates, broken glass pieces and a soldering iron, so on and so forth. The repurposed items not only are close to one's heart but also present themselves as unique entities. Go ahead and add the charm of repurposing discarded things to your living space.
Photo by Valerie McCaskill Dickman - Search living room design ideas
Unique By Choice – Raw And Rustic Coffee Table
To opt for a one of a kind design, one can go in for the tree pieces cut in a manner that they retain the original contours of the tree. This adds into the raw and rustic feel to the living room. Club the coffee table with contemporary furniture and colors to complete the look. The natural and organic profile of the tabletop as against the regular geometrical profile, offers the uniqueness to it, setting it apart from any other piece.
Also, read What are the Things to be Kept in Mind While Buying Living Room Furniture?
Photo by Artistic Designs for Living, Tineke Triggs - Search living room design ideas
The Finesse of Jewelry in a Coffee Table
A unique and artistic coffee table, which, is evocative of a fine jewelry piece. The table blends in the contrasting features of vis-à-vis delicacy and strength. The elegance of tempered smoked glass over a stainless steel base would be an inviting addition to a living room space. A very nice accessory for a contemporary taste.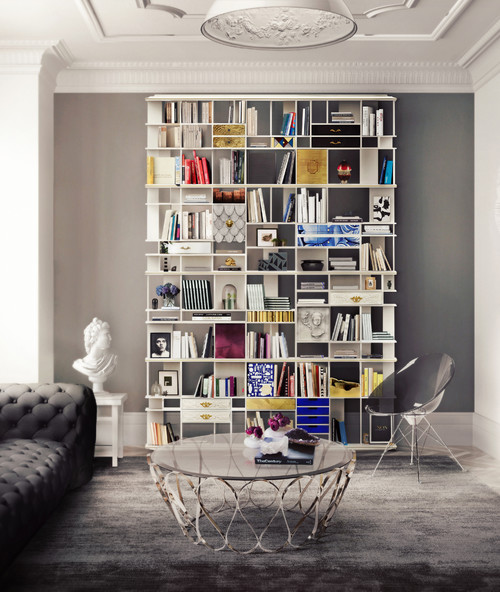 Photo by Boca do Lobo - Search home design design ideas
Accent Tables - Modular Coffee Table
A modular coffee table can be comprised of varied and similar modules. The permutations and combinations of the modules can result in interesting compositions. Besides the composition, one can use the various modules for different functions. The table could be used from 'whole to part and part to whole'. The table can even be used as stools or poufs for sitting.
Photo by IL Decor - Search dining room design ideas
Whether we realize it or not, coffee tables are an integral part of living room interiors. These are elements, which are seldom noticed or given importance. These can prove to be more than a piece of furniture and be like an object of focus or an object of art and aesthete. Coffee tables also help define the space layout of the living room. The movement is planned around this particular furniture piece. In the above article, a few coffee tables have been exemplified, which offer functional requirements and at the same time help in making a statement.
Lastly, take a read of the most important What are the Most Important Things to Choose a Perfect Coffee Table?
And an example of one such video uploaded on our Youtube channel
Join our newsletter!
Enter your email to receive our latest newsletter.
Don't worry, we don't spam
Relevant Articles
With the availability of numerous numbers of unique coffee table designs, all you need to do is to add the
The double height living rooms, if designed well can instantly add an air of luxury. Here you will find the perks
Do you own a larger home and on a hunt to find out ways to turn a large cold living room
If you are one among those owning a tiny home and contemplating on ways to decorate a living room, then
Most Viewed Articles
 Decided to give your home a makeover and looking out for possible services?  Here's when the hunt for the right
Planning to give your kitchen a makeover? Then try out adding splashback to your kitchen walls! This addition to the
Time to give your home a makeover this summer with some refreshing drapery ideas that could instantly brighten up the home all
Find out the few ways to separate the wet shower as bathrooms these days consist of designs and storage units
 No matter whether you are a creative person or among those folks who dotes and appreciate creativity and dreams of
Wondering how to add kitchen under cabinet lighting to your design? This guide offers tips and ideas on adding illumination