Interior design is all about creating a space, which is both functional and aesthetically pleasing at the same time. Hence, when it comes to designing a small space, both functionality and aesthetics need to be blended in and revolved within the restricted frame limit itself.
Therefore, if you are one among those who own a small bathroom and looking out for ways to modernize and turn it into a more functional space, check out these functional small bathroom design ideas to get inspired from!
1. Simple And Straight Small Bathroom Designs
Small bathroom designs should not consist of curved lines, as it looks way too decorated and a little overpowering. Therefore, make sure to stick with simple, straight designs since it exhibits simplicity and allows a  hassle-free functioning.
2. Small Bathroom Colors - The Fresh Calming Color Palette
Creating a calming, heavenly ambiance within the bathroom is possible with marvelously muted fresh and brighter wall color!.  As the right color palette could bring out tranquility in the design and transform the bathroom into a  private heaven.
This will help you to choose the best Tips To Add Colour In Your Bathroom
3. Adorn The Bathroom With Bathroom Rug
Enhance the look, and bring the bathroom together with the use of bathroom rugs!. Opt for vibrant, exotic or solid designs and colors,  as it adds to the overall design of the bathroom. But make sure to choose among the smaller rugs instead of the larger ones, as they don't overwhelm the eye.
4. Lit Up The Bathroom
Brightening up the small bathroom is a necessity, as it creates a feeling of openness.  How about installing a bathroom mirror with the lighted frame? They are definitely practical solutions for small spaces.
Moreover, setting up a  bigger bathroom mirror with light is recommended as it works as a focal point and can also visually increase the space.
Here we share a beautiful example of Use Of Different Lights In A Bathroom Can Make It Look Stylish
5. Welcome The Walk-In - Shower
Believe it or not, a small bathroom can look heavenly if space shouts out functionality! Adding a glass unit with walk-in shower tray could turn an ordinary looking, dull-dab bathroom into an elegant one, as it not only gives more space to change and get ready but also lets the best part of the bathroom to remain dry that too in style.
6. Install Grab Bars In Bathroom
Any space that's functional can never go wrong! In interior design, functionality is not just about comfort, as it is equally important to pay attention to the safety aspects of design. Hence, be it a small bathroom design, the installation of grab bars within the shower and commode is advised as it could provide both safety and comfort to the user. Though the addition is small, it's a useful one!
7. Wall Hung Toilet
Many homes with small spaces have toilets in the bathroom and in such cases, the commode style could bring some difference. Therefore, opting for a wall hung toilet would be recommended in small bathrooms, as it does not require a lot of space to be installed and moreover allows the floor space to remain unused, which in return creates an illusion of more open floor space around.
Do take a read and select the best for your bathroom between Wall Mounted vs. Floor Mounted WC (Water Closet)
8. Floating Bathroom Vanity Units
Wall-mounted vanity can work as wonders for any bathroom designs! It makes the bathroom look bigger, makes the cleaning process easier. It also comes with both under-sink open shelving and closed cabinets, that allows one to display the storage as per their own requirement.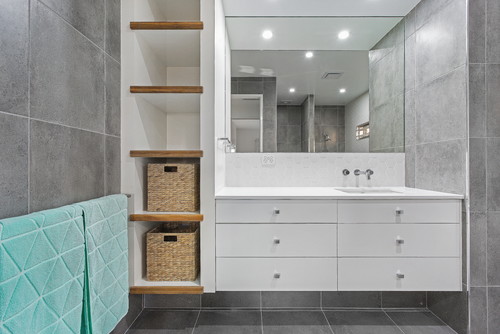 So the homeowners who are looking for practical solutions for their small bathrooms can turn their bathroom into a wonderful one just by implementing these ideas. As the smart design is all about creating a  functional space which is aesthetically pleasing too!
Lastly, take a read to the most important 7 Modern and Easy Bathroom Decorating Ideas
And an example of one such video uploaded on our Youtube channel
If this post inspired you, share it with others so that they can be inspired too!!
Here are a few more hand-picked design inspiration for you to read next