Ready-Made vs Custom Furniture: Which One to Go for?
Furniture as an element is one of the major aspects of a space that contribute to efficiently realizing the functionality of that space. A piece of furniture in the past had an heirloom value to it as all the furniture was crafted by local craftspeople with the choicest of materials. Quality custom furniture would last for generations, but, with a shift in our lifestyle and ideologies, there is a shift in the demand from custom furniture to ready-made furniture. These days there are endless choices in the market when it comes to ready-made furniture. The options tend to confuse the customers, whether to choose a ready-made piece or go in for a custom furniture piece? However, one should consider all the options in both segments before deciding on the type of furniture. Furniture is an element that can drastically impact the persona of a space, therefore, it needs to be chosen with utmost care. To help you make an informed decision and alleviating the confusion between going in for ready-made furniture or custom furniture, the following article discusses a few key factors that must be sought after when looking for furniture –
Ready-Made Furniture
Ready-made furniture is a piece of furniture that one usually buys from a store. With the mass production units in place, the choices in each furniture segment are endless. The ready-made furniture elements are available across various showrooms and e-commerce websites. The most common materials that ready-made furniture is available are particleboard, MDF, HDF, acrylic, moulded plastic, etc. In the recent past, ready-made furniture has gained prominence over traditional handcrafted furniture. Owing to the ease of availability, hassle-free installation and growing urban sprawl and migration, the ready-made furniture market is ever-growing.
Here, we have compiled some interesting buying recommendations by our Interiors team to buy ready-made Home Furniture online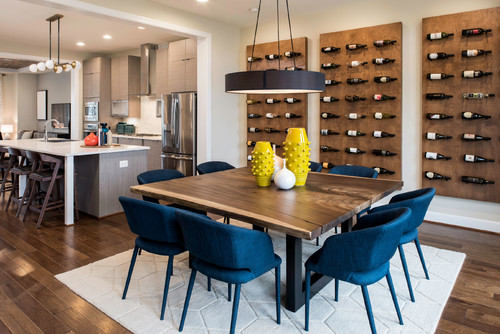 Photo by Miller and Smith Homes - More dining room photos
Custom Furniture
Custom furniture is usually crafted as per the requirements and fancies of the user. The furniture can be crafted both on and off-site depending on the preferences of the user. Custom furniture gives complete flexibility in terms of design, sizes, material choices, colour, etc. to the user. There is a vast range of materials that can be employed when the furniture is being custom made. The highlight is that the custom-made furniture reflects the personality of its user through its overall design language.
Do read this to know more about different styles of furniture A Comparative Analysis Between Modern, Contemporary and Traditional Furniture
When one is looking for the best furniture for their spaces, going in for ready-made or custom furniture is based on the sole discretion of the user. The decision, however, might depend on certain factors that help in determining which type of furniture best fits your requirements. Following are few factors to help you brainstorm –
1. Budget
Budget or the spending capacity determines the choice between ready-made and custom furniture to a large extent. Owing to mass production, ready-made furniture usually falls a little reasonable when compared with its custom-made counterparts. However, one can work out amazing custom furniture with a specific budget. The difference in price between a ready-made piece and a piece of bespoke furniture may vary depending on the location.
While for the moment, readymade furniture might look like a good choice monetarily, the custom furniture is sure to last you for a longer period, even a lifetime!
Read, Why Should You Invest In The Best Piece Of Furniture?
2. Purpose
One of the key factors that leads you to choose between the ready-made and custom-made is the purpose. If one requires homogenous furniture in bulk or is short on time and wants to install the furniture at the soonest, then going in for ready-made furniture options is one of the practical choices. However, if one wants to go in for bespoke furniture or has the luxury of time, an item of custom-made furniture is a good choice.
Determining the purpose is essential to take the plunge in the concerning direction.
Read How To Find The Furniture That Will Suit Your Place? on tips to finding that right furniture piece.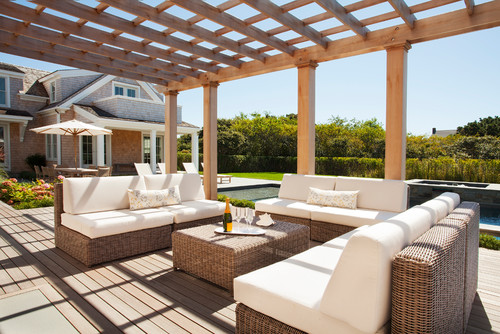 Photo by Cynthia Hayes Interior Design - More terrace & balcony photos
3. Material Choice
Ready-made furniture has the limitation of material choice in comparison to custom-made furniture. One has to make do with the available material choices in the case of ready-made furniture. In the case of custom furniture, one has the flexibility to choose from a diverse range of materials. This even allows one to micromanage the quality of the material chosen in addition to the choice based on tactile and visual aspects of the material.
In a dilemma to choose the right material? Let's read this Leather Sofa vs. Fabric Sofa- Which Suits You best?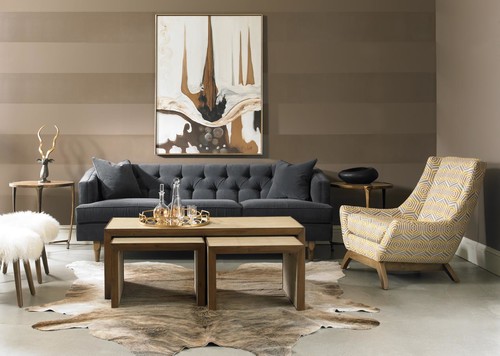 Photo by DutchCrafters Amish Furniture - Search living room design ideas
4. Space Availability and Utilization
The furniture choice at times depends on the profile and size of the space available. The choice of furniture can help in determining the effective utilization of the space. Therefore, for certain spaces (spaces with irregular profiles) to be utilized efficiently a customized piece of furniture would be more suited than the ready-made options. Not only space, to be able to perform a function efficiently, but a person might also innovate a furniture element, thereby giving the custom furniture an upper hand.
5. Design, Customization and Exclusivity
When one considers the factor of design, the custom furniture is more flexible in all spheres. Ready-made furniture is manufactured in standard sizes, patterns or limited colour palettes, therefore offering limited design choices and no possibility of customization to the user.
On the other hand, custom furniture has the advantage of complete customization as per the user's preference. One can make room for more seats or more drawers, depending on the requirement in addition to complementing the overall aesthetics of a space. Many a time custom or bespoke furniture can deliver a unique feel thus gaining points for exclusivity as well. The design flexibility gives an option to innovate the furniture details too, resulting in foldable or multipurpose furniture.
Read our piece, Sit And Enjoy, Beautiful Furniture To Bring Class To Any Home to know more about various styles of furniture.
and 9 Designer Tricks to Choose a Right Sofa Colour for Living Room
Image Courtesy - Pexels
6. Quality and Durability
While ready-made furniture in no way says that they do not possess the quality or adequate durability, with custom furniture a person can be sure of the quality and durability. The quality of craftspeople one employs for their custom furniture also determines the quality and durability of the furniture. However, for ready-made furniture, make sure to go in for reliable brands with standard certifications.
7. The Factor of Time
The factor of time is another great determinant especially when one is inclined towards custom furniture. Since custom furniture is specifically designed and crafted for a project, it takes a little time to come to fruition. If you can afford the luxury of time, custom furniture should be your go-to. However, if you are someone who doesn't want to spend time there are several options available in ready-made furniture that can be bought from the stores and installed in almost no time.
Image Courtesy - Pexels
In my opinion, there is no generic right choice when it comes to furniture. To go for ready-made furniture or custom furniture is a choice that should be determined by weighing the various factors at play and a little bit of foresight. NEVER opt for a furniture piece in haste, try to explore your options before deciding on a piece of furniture. Ready-made or customized, a furniture element requires a considerable investment. Such investments or expenditures do not happen on a regular basis and at times last for a lifetime too. Therefore, do your research, be wise and think about the long-term.
Additional Tip –If you are someone who is constantly on the move, go in for designs (ready-made or customized) that are minimalistic, not bulky, multipurpose and may be collapsible!
Please feel free to share your ideas and thoughts in the comments below!
Read, How Important is Furniture for a House to know more about the relevance of furniture in a space.
And an example of one such video uploaded on our Youtube channel
Join our newsletter!
Enter your email to receive our latest newsletter.
Don't worry, we don't spam
Relevant Articles
Looking for new furniture for your space? OR upgrading your furniture? OR Contemplating whether to go for ready-made furniture or
<em>Every piece of furniture has got some specific use and it is the place where one can put the best
Changes are present in all aspects of life and furniture is not an exception. If you trace the difference in
A coffee table is an important piece of furniture that should be chosen carefully. Learn what makes a good coffee
The type of furniture that you have in your place holds phenomenal importance. It is extremely mandatory to choose the
A lot of people often find it hard to spot the perfect piece of furniture that will rev up the
Most Viewed Articles
A perfect kitchen includes amazing kitchen counter designs, smart space-saving kitchen storage ideas, modern kitchen lighting ideas along with alluring
After a long day or a busy schedule, everyone starves to get back home as soon as possible. After all,
Lighting plays a very important role in interior design and when it comes to living room design, to add in
Add spark to the bathroom and make it look stylish by adding various interesting lights and create an ambiance worth
Reading a book is merely not a reading for a reader who is deeply in velvet with a book and
When we are talking about bedroom it directly refers to comfort, passion, romance, privacy, relaxation and overall the touch and