Facts You Must Know before Installing Glass Facades For Indian Homes
Glass in India- A Brief History
Glass as a material is old, it has been used in cathedrals and palaces of Europe since the 16th century. But its use has dramatically increased since the modernist movement in architecture. Large buildings of steel frames with glass facades are the new architectural style of the late 20th and early 21st centuries.
It was here when the glass facade became popular in India. With modern architecture style gaining momentum in India, the use of this material became common in office buildings as well as homes. And it is not just the big cities where the glass facades of homes blend into that of the large commercial complexes, even the rural areas can be seen using glass facades for the houses.
Why is Glass so Popular?
Lately, glass has become one of the most conventional building materials. It has a variety of uses and advantages. And here are the reasons why.
It's a 'MODERN' Material:
One of the biggest reasons for the extensive use of glass facades is the sleek and glossy look it gives to the building, going along well with the modernist style vision. The modernist movement emphasizes form over the ornament and the simplicity of glass helps aid the notion.
Also read Importance Of Glass In Architecture Design
Glass is Sustainable!
At the same time, glass is durable, contrary to popular beliefs. And it is also a sustainable material (glass can be recycled up to 31.3% globally, though it is 100% recyclable).
Flexible:
It is a flexible material that can be molded into any shape, making it a very versatile and most frequently used construction material of the modern era.
Visual Transmittance:
Another property of glass facade that makes it so popular is its transmittance. Glass is culpable of transmitting visible light into the spaces. It not only brings light in but connects the outside and inside of the building without any physical openings. This is a great property when it comes to bringing the outer world in mechanically ventilated and/or air-conditioned spaces.
Durable:
Glass is extremely durable. It is rust-resistant and hardly sufferers any damage due to sun exposure. On top of this, unlike other conventional building materials, glass does not suffer damage due to dampness or exposure to moisture in any form. It can withstand the effects of the environment very well.
Insulation:
In addition to all the things said above, glass is a very effective insulator of electricity. Due to the absence of any free electrons (that can be a credit to its non-metallic origin), glass is a poor conductor of electricity and ensures the safety of the users.
The Climate of India and Glass
India is a subtropical country with many areas experiencing harsh summers and heavy monsoons. Thus it should not come as a surprise that glass was never a part of the vernacular construction palette.
Since glass is a material that traps heat and prohibits it from escaping from the indoors, it makes the interior a lot hotter in the summers. This leads to a higher operating cost of the air conditioning system.
Though this is true for normal glass (which unfortunately was the most popular one until very recently), there have been improvements in technology that can efficiently alter this property of glass to a large extent and prevent it from even allowing heat to come inside.
What are these properties, and how they will help you? Everything that will help you choose is discussed in the following part!
What are the Options? What can you choose from?
Here are the most common types of glass that are being used in the facades of houses:
1. Tinted Glass
2. Stained Glass
This type is an excellent choice for a decorative facade. Light passing through the stained glass creates beautiful patterns on the surrounding surfaces. And it also limits the amount of sunlight that passes through it and gives the user privacy.
3. Laminated Glass
This type of glass can be used for increased safety. The lamination layer blocks the noise from entering, reducing noise pollution. The glass does not shatter easily. Some varieties are even bulletproof!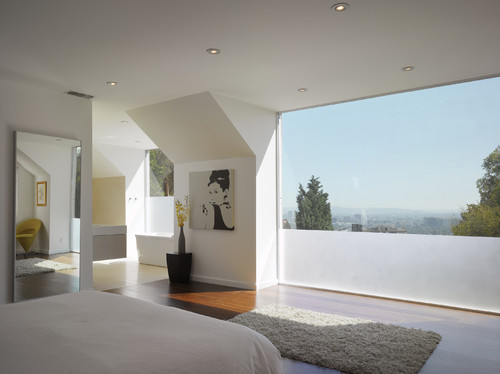 Photo by Griffin Enright Architects - Search bedroom pictures
4. Insulated Glass
This has two glass surfaces with a layer of dry air between them. Air being a bad conductor of heat insulates and doesn't allows heat transmission through conduction. It is also an excellent solution for soundproofing.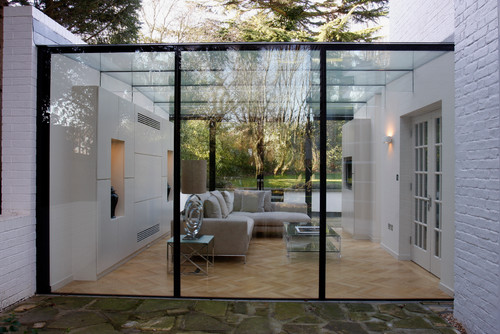 Photo by IQ Glass UK - More exterior photos
5. Glazed Glass (Single, Double, and Triple Glazing)
Similar to insulated glass, glazed ones have a layer of glass. However, instead of air, there is a thing layer of gas that reflects the harsh sunlight, cutting out even the radiation component. It is a perfect choice for the subtropical hot climate.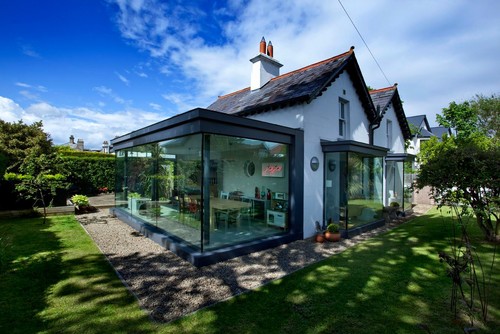 Photo by Leon Smith Architects - More exterior photos
6. It's not just about Glass!
And at least, it is not just about the glass, many additions can be made to and around the glass to make it more suitable for the Indian climate. Some of them are:
Adding curtains- for privacy and prevent heat.
Adding external shutters- this keeps the heat out, when necessary, movable, opaque shutters can be added to the glass window to prevent it from trapping heat during peak sunlight hours.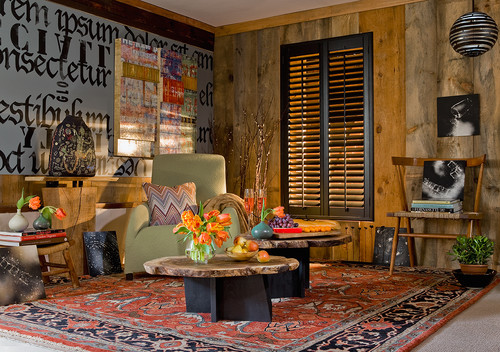 Photo by Ana Donohue Interiors - Search living room design ideas
Conclusion
Choosing the right thing for your own home is very important. And glass can affect the looks as well as the feel (in terms of environment and comfort) of your house. Thus it becomes important to choose right one!
We hope this article guided you and helped you make a decision. Not only will this make your house look better, but the right choice will help you save on that electricity bill.
What do you think about this article? We would love to read your thoughts and experiences in choosing your facade materials. Please share your thoughts and experiences with us in the comments below!
Lastly, take a read to the most important Types of Glass- You must know as Interior Designer
And 8 Most Popular Materials for Home Elevation, Every Architect Must Know
Relevant Articles
Technology is constantly changing and evolving, which means that future architects will need to use new solutions to keep up.
Want to be the top student in your architecture class? Here are brilliant tips from an expert for becoming a
Discover the hottest architecture trends that are shaping our city with this guide!
.Do you want to live in one of the most fabulous and well-planned cities in the world? Discover and check
Want to learn more about the architecture profession? These are the 10 best cities in the world to start your
Do you want to learn about the difference between architecture and interior design? Look no further! This guide will teach
Most Viewed Articles
In spite of the fact that there are various drawing projects out there, one can reckon Auto CAD as one
To a designer's advantage is AutoCAD<em>.&nbsp;</em>AutoCAD is computer-aided design software that allows professionals from various fields to use it to
There are many new technologies that have already made their mark in this field.  But that's not the end of
<em>Every piece of furniture has got some specific use and it is the place where one can put the best
  The front yard of the house might be something like only showpiece but in the backyard if you have enough
3D designing has so far been one of the most top rated styles of designing for interiors, decors, and architecture.