9 Pro Tips to Build a Green and Healthy Home
What is a Green Home?
In today's time, everyone needs to do their part for their environment. There are different ways one can employ to accomplish this, building greener homes is one of the topmost things you can do. And it is easy too!
A green home simply is a type of house designed to be environmentally sustainable. This includes efficient use of water, electricity, and construction materials. This also entails using sustainable energy, eco-friendly materials, and recycling whole and parts of the house.
What does Safe Home mean?
A safe home provides a comfortable environment to the users it shelters. This means better ventilation and spaces that are free of pollutants and other toxic materials, that can adversely affect the health of the user, as well as the building.
The design, construction as well as maintenance makes the home conducive to good occupant health. There are 7 checkpoints to ensure your home is healthy. All of them will be discussed below with tips for you to make your home green and safe.
Tips for Green and Healthy Home
1. Go for the Insulation Technique
The right insulation technique for your home depends on the spaces, their usage (occupancy), and most importantly is affected by the climate of the region. Construction materials like walls, roofs, floors, and even windows can be swapped with more eco-friendly alternatives.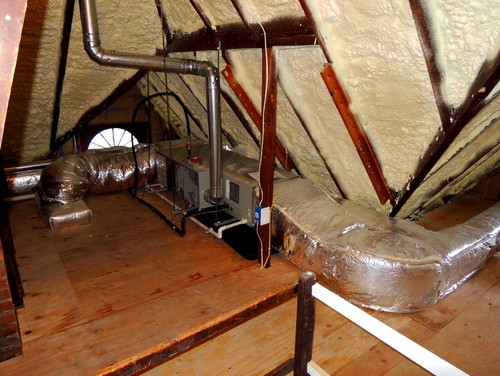 Photo by WJM Architect - More home design photos
Insulation is important in deciding the amount of heat that enters the living space. Heavy thermal mass in walls and/or using materials that do not allow heat to enter the house are ideal choices for the hot and humid climate of the Indian subcontinent.
2. Stop the Leaking Water
Moisture in the house is linked to a wide variety of health problems. Not only that, leakage in fixtures and pipes can seep into construction and affect the life of your home. It thus is best to use good quality piping and fixtures and use waterproofing, physical or chemical wherever necessary to keep your home free from dampness. Some of the common sources of water entering homes can be the roof, rainwater, and plumbing fixtures.
Moisture also creates an environment favorable for rodents, mites, and pests which can adversely affect the health of the users.
3. Solar Panels are a Great Choice
Did you know that you can run your entire house on solar panels by using additional batteries for power reservations?
It is true, and although batteries can be a bit pricy, there are many outlets and equipment that can be powered using solar panels. It will reduce electricity costs and fulfill your dream to establish an off-grid solar power system. Generally, an average home requires 4500-5000 kWh of electricity for a year. Think of all the savings you can make on that electricity bill!
4. Invest in Good Star Rated Appliances
Lights are an essential part of the equipment we use at our home. And not only do they consume electricity all the light emitted eventually turns to heat and increase the environmental temperature.
There are a variety of options available one can choose from when it comes to installing lights. The most popular choices are LED bulbs and tube lights. They consume less electricity and last longer than the traditional CFL and old lighting technology. Plus they are affordable and available in a variety of shapes, colors, and sizes for you to choose from.
Energy-efficient appliances are becoming must-haves in modern homes. These include appliances of a wide range of variety. One can go for the more eco-friendly star-rated electrical appliances like washing machines, refrigerators, air conditioning systems, etc.
Not only this, but efficient appliances also include using plumbing fixtures that use a lesser amount of water when compared to their traditional alternatives.
5. Set setpoints for Heating and Cooling Systems
Did you know that not all homes require air conditioning? Or you don't really need a full-size air conditioning system?
There are many other technological advances made in the field of mechanical ventilation. Based on the type of weather conditions different technologies can prove to be beneficial to employ in your homes. These not only are more efficient and suitable to the location. They also consume less energy and eventually can save you thousands on the electricity bill.
For example, a well-designed water cooler can perform better than a split air conditioner in the hot and dry weather of arid Rajasthan. The type of technology suitable for your home will be affected by a variety of factors, yet once chosen it can perform better than its predecessor.
6. Use indoor plants
7. Energy-Efficient Products
There are many materials that can be hazardous to humans. Some of them include VOCs (Volatile Carbon Compound), tobacco, smoke, cleaning supplies. One needs to see that these potential contaminants if used in the house, are stored in a safe place and not in a concentration more than required.
8. Use Eco-friendly and Sustainable Building Materials
To maintain a healthy and safe environment the quality of indoor air also needs to be checked. It is important that you make sure there is ample natural ventilation throughout the spaces.
Other things to keep a check on are to identify the source(s) of dust and contamination entering the house and reduce it. Smooth surfaces that do not strap contaminants and dust particles also add to the health of a house. Items like carpets and fabrics that may trap contaminants must be cleaned from time to time.
Reducing clutter can also help you easily achieve this goal and maintain a good quality of indoor air. Sealing cracks and openings throughout the house can help you keep the pests and rodents from entering your home.
9. Safe and Maintained Spaces
Lastly, it is important to maintain a safe environment at home. This includes keeping the fire extinguishers on hand, checking their expiry. Keeping poisons out of reach of children and away from daily use products. One can go a step further and install smoke and carbon monoxide detectors for the same.
Maintenance also includes cleaning and making any repairs that are necessary to your home.
Conclusion
Making your home safer and greener is easier than you think it was. There are different aspects to what this could mean. You can choose to employ some or all of these techniques to make your house more efficient and greener.
Not only will this help you save money in the long term, many of the tips make your lifestyle more comfortable.
What do you think about this article? We would love to read your thoughts and experiences regarding the ways to make your home greener and safer. Please share your thoughts and experiences with us in the comments below!
Lastly, take a read to the 10 Unique Building Materials That are Perfect for Modern Homes
Join our newsletter!
Enter your email to receive our latest newsletter.
Don't worry, we don't spam
Relevant Articles
Whether you are an architecture student looking to break into the industry or an experienced professional, our guide will help
3D printing is changing the way we build materials, and the future looks bright for this ever-growing technology. Discover how
Step into the future of living with smart homes! Uncover whether the convenience and innovation of smart homes are truly
Learn about sustainable building materials and the benefits of using them in your next construction project.
How do you make your portfolio shine? Look no further – our experts have found the best tips for enhancing
Want to know how to get a good raise as an architectural professional? Follow these simple tips!
Most Viewed Articles
Letting the world into their homes via Architectural Digest, Gauri and Shahrukh Khan presented an untold tale that their home
Designing a small kitchen can be fun and can turn out to be stylish. All you need to do is concentrate
Colors can change the overall look of any space and bring in drastic changes and here you will find various ways
You finally got that swanky apartment you always wanted, it's close to work, close to the gym and has the
When it comes to painting, paint plays a major role in interior designing as it provides color to a blank
No idea of what career to move ahead with after architecture? OR Not sure if you want to be an