How Effective is Social Media to Get More Architecture Business?
Why use Social Media for your Business?
In today's fast-paced world of web-based and mobile-based technologies, the interaction between people using the internet is at its all-time high. With more than 4.2 billion people active on social media, through various platforms, social media is a quick and inexpensive way to reach out to your user base and be known around the world. And the number of users is only growing day by day. It is a fast and effective way to interact with almost half of the planet. It also enables one with many tools and resources, they need to become successful irrespective of their field of work.
Today, traditional and old advertising techniques are not enough. People now spend more time consuming online advertisements than print media, or television. Social media is the most effective tool to gain the attention of various parties and stakeholders involved in the business. It helps people connect easily through networking, and promote one's business to relevant audiences. It also allows people to interact with each other. For a variety of reasons, this fact alone can prove to be very beneficial for a business.
Image source- Pixabay
Hence it is not wrong to say that, the ones who are not using social media and are not employing digital marketing strategies, are missing out on many advantages. These opportunities can make any business flourish.
Regardless of the size; small or large sector business or type of business; online or offline- there are opportunities available on social media platforms that can be advantageous for everyone.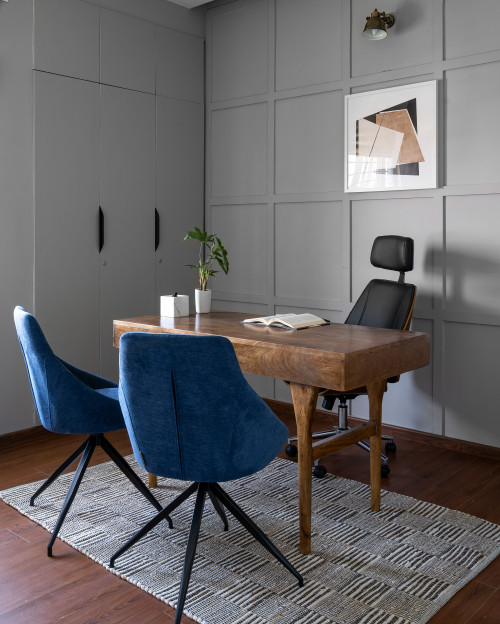 Photo by Sunita Yogesh Studio - Search home office pictures
How are Architects using Social Media now?
It is always good to know what exists before we discuss and develop ideas of what is possible. So, let us look at how architects around the world are using social media today.
Various social media platforms are available for one to use. The use of social media in architecture is not a new concept. Architects today have grown with time and technology, and some of them have developed a good social media presence on some of these platforms.
Social media platforms are used by architects to advertise their work and communicate with their existing and potential clients.
Tools of Social Media
1. What Platform?
It is important to choose the right platform for sharing your work and target the right audience. Each of these platforms has its pros and cons and is suited for a particular type of media.
The platforms that are generally favored are the ones with an existing user base that aid in connecting with the stakeholders quickly and without extra effort. These are the apps and sites that are already quite popular amongst the general masses and thus one can immediately connect with them using them.
Another criterion for the selection of platforms is the visuals. Architects tend to favor an app that has a good visual value when compared to others. The platforms like Facebook, Linked In, Instagram, YouTube, etc are well suited to share visual, technical, and intellectual content, and are already a few of the most popular social platforms.
2. Which Platform should YOU choose?
Where on one hand Facebook, Instagram, and YouTube are generally used to share and make one's presence known. LinkedIn on the other hand is used for business-to-business connections and communication. While Pinterest and Twitter are used to share new ideas and explore trends.
3. What to Share?
Businesses; firms and architects create their pages and post a variety of content that is dedicated to their profession. Through their social media pages, the businesses can share updates of their projects, photos, videos, and opinions on the subjects that concern their stakeholders. The stakeholders can be potential clients or even industry partners. They can be other firms or architects looking to collaborate.
The posts that provide the most value are best suited for social media. That means the post should provide the best content, in whatever format is suitable and should be visually appealing. Secondly, the posts should be scheduled, so the people know when to expect new content. It also keeps them engaged.
4. What can Social Media Achieve?
Social media is used to create a strong brand value, whether the brand is a person or a firm. These platforms are used to create a unique identity. Not only do the big names in architecture use social media platforms to share their content, many budding architects and designers also share their work and their passion with the masses. The platforms are being used to raise awareness of different technology and techniques ideas and passions one may have.
Here are the best 7 Tricks to Get More Clients for Your Architecture Business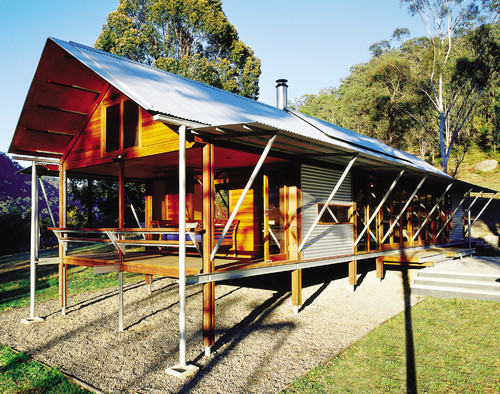 Photo by CplusC Architectural Workshop - Search exterior pictures
5. Professional to Connect and Exchange Trends
Social media paves the way for professionals to connect and exchange trends, and developments, as well as inspiration. One of the most important features of networking through social media is that not only do you share your work, but others do the same. If used effectively, social media enables you to stay at the top of the trends in this quickly changing world.
It can help one connect with the experts of various fields, interact with them quickly and efficiently, and possibly collaborate.
Do check out What makes Online Interior Design Service so Popular?
6. Helps you Share your Work Live
All these tools can be easily translated to increased visibility and client base and increased interaction and sales. One can receive good feedback on different projects. And all this can be achieved easily, efficiently, and quickly through an inexpensive platform.
Image source- Pixabay
Some Other Ways to Get More Business
7. Promote your Business
Who doesn't want to expand their business? And when this can be done without any additional costs, why not use this opportunity. Social media has various advantages apart from the ones mentioned above and discussed broadly, there are many more ways you can tap the potential of the internet and use it to your advantage.
You must check out the Top 10 Social Media Tips to Boost Your Architecture Business
8. Maintain the Reputation of your Business
Social media can be a good tool to maintain a reputation for your business. This includes sharing works and projects as well as the feedback and positive review others give you. This makes sure that your potential clients know that your business has a record of excellent customer service. Any feedback or negative comment should be dealt with as quickly as possible.
9. Showcase your Work Globally
Another advantage of social media is that you have a global reach, irrespective of the scale of your business, you can use the internet platforms to promote your business and ideas on a global level and reach people around the world.
Conclusion
Social media is a powerful tool that you can use to promote your business effectively and efficiently. The tools of social media, allow one to connect and interact with numerous people quickly. Not only does social media connect you to the world, but it also opens the gate to learning, which knows no bounds.
Employing digital marketing techniques can be very beneficial to the business. In a time where everyone is updating every second, using social media is almost a necessity.
Lastly, take a read to the Top 10 Skill Set Every Architect Must have
Join our newsletter!
Enter your email to receive our latest newsletter.
Don't worry, we don't spam
Relevant Articles
If you're a prospective architect looking to get a higher salary, Here are some powerful tips that will help you
Find out everything you need to know about choosing a specialization to pursue a masters in! This guide will help
Whether you are an architecture student looking to break into the industry or an experienced professional, our guide will help
3D printing is changing the way we build materials, and the future looks bright for this ever-growing technology. Discover how
Step into the future of living with smart homes! Uncover whether the convenience and innovation of smart homes are truly
Learn about sustainable building materials and the benefits of using them in your next construction project.
Most Viewed Articles
<h2><br /> Introduction</h2> <br /> With time of project implementation becoming very important in every industry, numerous applications have evolved
When you are planning to garden your place, there are a lot of details that you need to keep in
"It's so good to be home" indeed it is the best feeling ever for everyone who is out of home
The world of Auto CAD begins form it's endless and detailed 3D models that one can create using its helpful
Changes are present in all aspects of life and furniture is not an exception. If you trace the difference in
Interior designing is one of the most interesting and creative professions in itself, but when it comes to design a