10 Unique Building Materials That are Perfect for Modern Homes
Building a modern home means rummaging through the material and finishes options that can help in converting your dream to reality. While some people like to go with the flow and adopt conventional materials for their homes, some people like to adopt unique materials and techniques to build their dream projects. Being unique gives one an edge when it comes to aesthetics, it presents a way to explore material for unique finishes.
Does it have to be a new material in the market to qualify as being 'Unique'?
Maybe or maybe not. One can certainly count the new materials and techniques as unique, however, there might be certain old materials and techniques that could be considered unique. It's all about how you use a material to give a unique appeal to your home. One should also try to contemplate the sense of uniqueness for oneself – what qualifies and what does not? Material selection is one of the most important steps in the process of building a home. Therefore, most sincere efforts should be put into the research of materials and their application. To take you a wee bit closer in your search for unique materials for your modern home, here is a list of 10 building materials –
1. Bamboo - The Best Green Building Material
Bamboo is a material that has been used for centuries, but the interesting part is that it is now that people are exploring the potential of the material. With many architects and designers adopting the material as their primary choice, there have been numerous innovations in the field of construction with bamboo. Bamboo is being used as a structural material as well as for decorative purposes. The best part about the material is that it is a renewable source. A bamboo plant can be harvested in just 3 years, presenting it as a green choice for building material. One should not mistake the material to be fragile as it is being used to construct robust structures throughout the world. This material is truly unique when explored creatively. Moreover, the material gives a warm and rustic feel to the structure and space.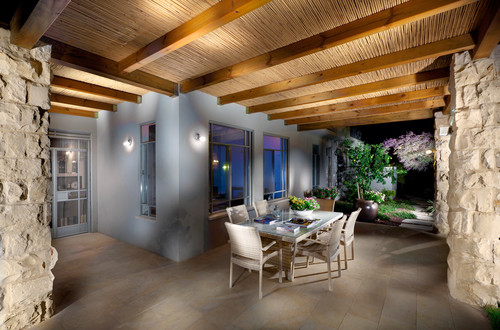 Photo by Elad Gonen - More patio photos
2. Rammed Earth- A Traditional Yet Modern Building Material
Rammed earth is a combination of material and technique that has been in the brain pool of the construction industry for millennia. However, with the advent of technology and the discovery of materials, rammed earth construction lost its way. Though with the mindful building practices taking the forefront and heightened awareness for the use of sustainable building practices, rammed earth is steadily carving its niche. This material has a unique charm to it that can impart a rustic and rather urbane look to the space. The possibilities of forms and applications are endless with the material. A traditional building practice with modern explorations is sure to deliver a modern dream home.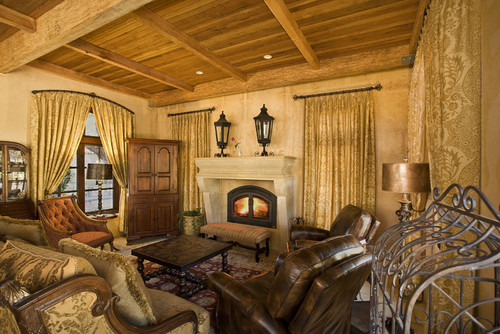 Photo by Noel Cross+Architects - More living room photos
3. Hempcrete- A Sustainable Choice
A bio-composite, hempcrete is a sustainable choice over concrete. It is a material that is gaining popularity steadily owing to its negative carbon footprint. The advantage is that it is extremely light in weight and highly durable. The material is being explored and innovated to its potential for green building practices. This is a material that is suitable for diverse locations due to its amazing thermal insulation properties. Exposed hempcrete surfaces can impart a nice aesthetic to the space.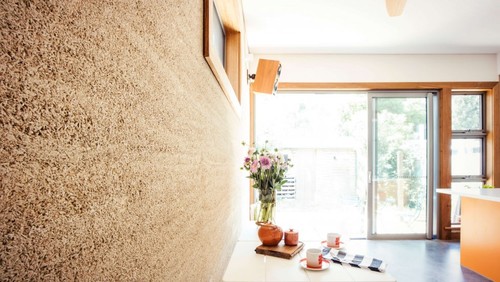 Photo by Hemp Gallery Australia Pty Ltd - More kitchen photos
4. Mycelium- A Sustainable and Environmental Friendly Materials
Mycelium is derived from mushroom root fiber. It completely supports the sustainable movement and promotes the use of environmentally friendly materials as building blocks. It offers strength greater than concrete and is a lightweight solution for construction. This can easily be used to replace foam, timber and plastics in the construction of a house. Mycelium offers high resistance towards moisture, mould and fire in addition to insulative properties. This material is under research and innovation to make it a mainstream material. It sure is a unique material! Mushroom to construction material for home!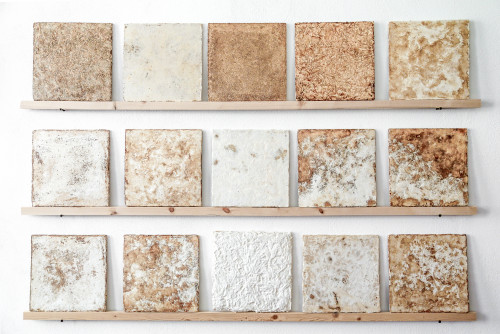 By Giulia Z8+appa - See more Home Design Photos
5. Smart Glass- Amazing and Unique Material
With everything around us getting 'smart' it is about time to adopt the 'smart' concept to our building materials. One such amazing and unique material is smart glass. Smart glasses are based on certain technologies that make the glass reactive towards a factor such as electricity, light, heat, etc. These glasses can change their transparency based on the technology (electrochromic, photochromic, thermochromic, suspended particle, micro blind, and polymer dispersed liquid crystal) they are based on. Moreover, these can be used to construct climatic adaptive structures.
With these glasses in place, one can certainly build a glasshouse at a whim!
Read Importance Of Glass In Architecture Design, to know more about glass.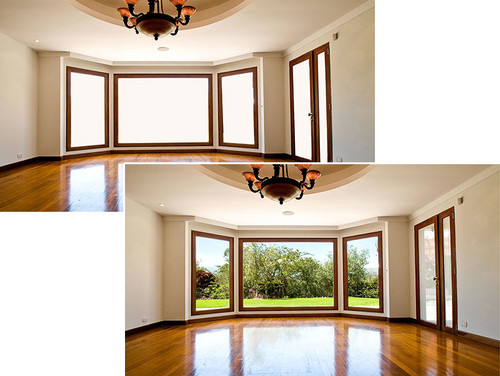 Photo by Smart Glass Inc | Smart Glass Manufacturer - Search home design design ideas
6. Engineered Wood- The Most Preferred Building Materials
Wood has been one of the most preferred building materials for constructing and decorating homes. While we all like to use wood in our homes, the resources for the same are limited and depleting. To counter this and restrict our use of hardwood, the solution is engineered wood. Engineered wood or manmade wood has carved a niche in the building industry today. From wall panels to furniture elements, designers and carpenters have taken up engineered wood as their choice of material. These materials give ample flexibility when it comes to design, application, techniques and aesthetics. Common examples of engineered wood include - plywood, particleboard, blockboard, MDF board, etc.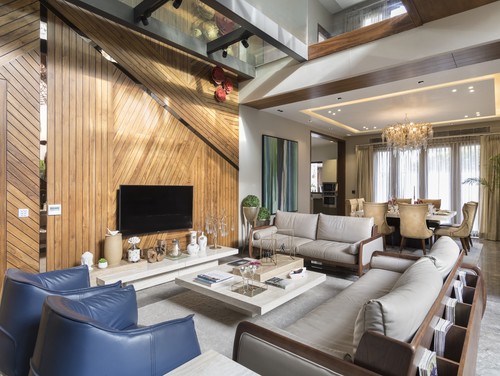 Photo by PURPLE STUDIO - Search living room pictures
7. Bricks from Waste- A Sustainable and Environmental Friendly Materials
Being mindful and conscious while constructing your home can lead you to unique materials, that are made out of industrial and agricultural waste. Bricks made of fly ash, cigarette butts, rice husk, straw, etc. are materials that are gaining popularity in the modern construction industry. These bricks are strong and help in curbing dumping in wastelands, thus promoting sustainable practices. There are a lot of waste materials that can be used to create bricks with structural strength more than conventional bricks.
Bricks made from extracted carbon, recycled plastics, various fiber, sawdust, etc. are being made and tested upon to efficiently use waste for construction.
If you adopt such materials, you can definitely boast of being an energy-conscious house owner!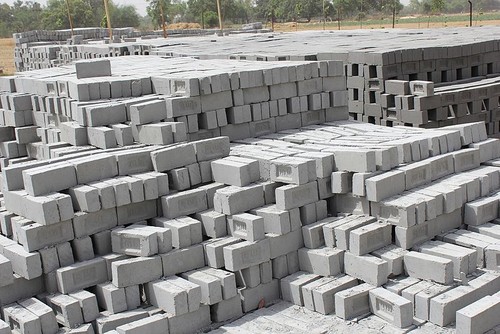 By Shristi Nangalia Brahmapur - See more Home Design Photos
Go through the 8 Most Known Materials Used in Modern Architecture
8. Ferrock- A Great Alternative for Concrete
Ferrock is a carbon-neutral material. It is a great alternative for concrete and is made using recycling scrap from the steel industry. It can be easily applied to spaces and elements that are cast from concrete. It provides the structure with enhanced strength as compared to concrete. Ferrock has an interesting property of trapping carbon dioxide during the drying and hardening phase. However, the availability of the material is dependent on the volume of waste from the industries, thus limiting its application in large-scale projects. But, if you can get your hands on this material, it is one of the sustainable and unique products to choose for your home.
9. Stainless Steel- Versatility at Its Best
Stainless steel is a material that is unique in its varied forms to build your perfect modern home. The material with its diverse applications and versatility can be used from structure to surface in a house. The material can be innovatively and creatively used to build or decorate a space. The gloss finish of the metal imparts elegance to a space, depending on the application and usage. Steel can be used to create drama on the façade or the interiors. However, with steel one should keep the motto – 'Less is More' in mind.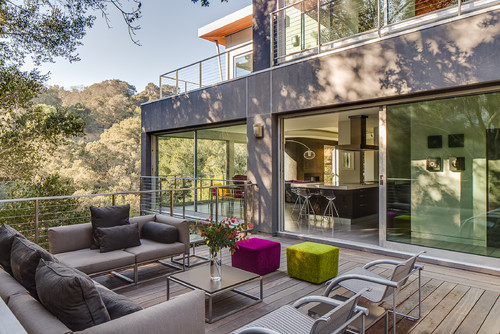 Photo by Mark Brand Architecture - Search terrace & balcony design ideas
10. Salvaged Materials- Adopt the Old, Get Unique!
If one is looking for a truly unique abode, then there is nothing better than to explore salvage elements and materials. Salvaged or reclaimed materials open up a host of possibilities for creative explorations to impart a 'one in a kind' look to your home. To exploit this possibility, one has to be observant enough to identify and transform the trash into treasure. This is not a single material and encompasses an array of materials and elements like shipping containers, old doors or windows, stone, timber, etc. However, one should be certain about the condition of the element to determine the life of the element to be reclaimed or repurposed. This is a route not taken by most people, yet gives amazing results (both cost-wise and aesthetically). One has to certainly wear creative caps to work with salvaged elements.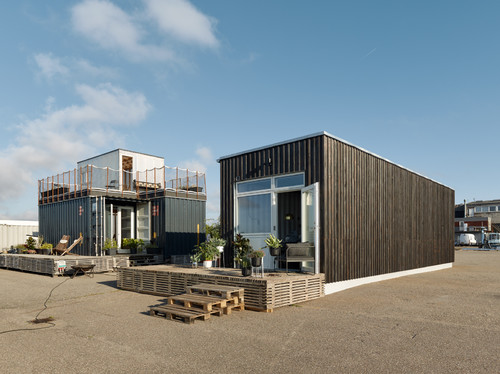 Photo by CPH Containers - Search exterior design ideas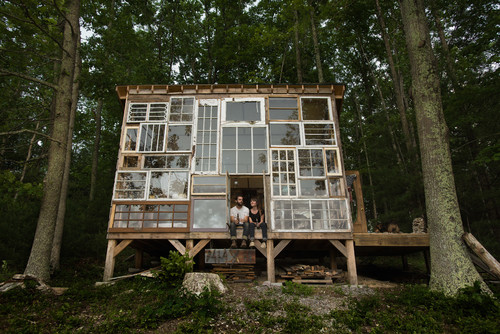 Photo by halfcuttea.com - Search exterior pictures
To conclude I would say that the uniqueness of the house is a sum total of materials selected, design and execution. The aforementioned are 10 unique materials that can be chosen to build that perfect modern home. While this is a list of materials, one should bear in mind that a unique look can be imparted with conventional materials as well, depending on the design and application. Quite a few materials chosen for the list conform to the sustainable or eco-friendly sentiment being carried around the world. Materials are a segment of the construction industry that is ever-evolving, a material might evolve today and a new material might be discovered tomorrow. Similarly, the choice of materials is also ever-evolving!
We would certainly love to read about your thoughts and experiences regarding the material choice for your home. Please feel free to share them with us in the comments below!
Lastly, take a read to the 12 Modern Building Materials Every Architect Must Know!
Join our newsletter!
Enter your email to receive our latest newsletter.
Don't worry, we don't spam
Relevant Articles
Whether you are an architecture student looking to break into the industry or an experienced professional, our guide will help
3D printing is changing the way we build materials, and the future looks bright for this ever-growing technology. Discover how
Step into the future of living with smart homes! Uncover whether the convenience and innovation of smart homes are truly
Learn about sustainable building materials and the benefits of using them in your next construction project.
How do you make your portfolio shine? Look no further – our experts have found the best tips for enhancing
Want to know how to get a good raise as an architectural professional? Follow these simple tips!
Most Viewed Articles
The importance of furniture is felt by everyone. One of the things that complete one's house is furniture. These live
Here, we share the expert tips and tricks to brighten up the kitchen interiors with some color pop and presents how
Check out the affordable ways to turn your bathroom into a spa for a rejuvenating experience that would let you
During the busy times of 21<sup>st</sup> century, terrace garden is the area where you could have your own time in
Are you contemplating on ways to design a small living room and wishing to combine the dining space as well?
The feel of any home is directly or indirectly linked to the outdoor environment around it. Such indoor-outdoor connection is