12 Modern Building Materials Every Architect Must Know
While there are building materials that are being used for centuries, yet every period has a set of materials that are more commonly used than the others. A set of materials form the vocabulary for architects of a shared period. One tends to wonder about the materials that are prevalent in modern times and the ones that form vital materials in the material palette of architects. Knowledge of materials is an essential part of an architect's life. The following article discusses 12 modern building materials that every architect must know about –
1. Concrete - A Versatile Building Material
Concrete as a material was used in ancient architecture and quite extensively in modern and contemporary structures. Owing to its strength, concrete finds use in the construction of an array of structural elements (floor, slab, columns, beams, etc.), roads, bridges, underwater construction, etc. It is a composite formed by mixing cement, water, aggregates and admixtures in certain proportions. The ratio of the materials used to make the concrete determines the strength of the mix. In elements where tensile forces need to be balanced, concrete is strengthened using reinforcements.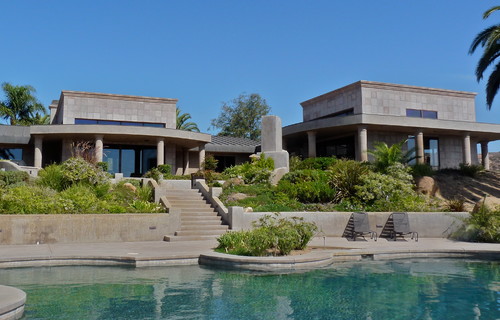 Photo by Wylie Architecture Planning Interior Design - More exterior photos
Once the concrete mix is ready it is poured into the formwork. One of the most important steps is curing, as it adds to the strength of the concrete. The concrete surface can be finished with textures. One can even add a hue to the concrete mix to add colour to the concrete element. Though greener alternatives are being researched to replace concrete, it is quite extensively used as a modern building material by most designers.
Once the concrete mix is ready it is poured into the formwork. One of the most important steps is curing, as it adds to the strength of the concrete. The concrete surface can be finished with textures. One can even add a hue to the concrete mix to add colour to the concrete element. Though greener alternatives are being researched to replace concrete, it is quite extensively used as a modern building material by most designers.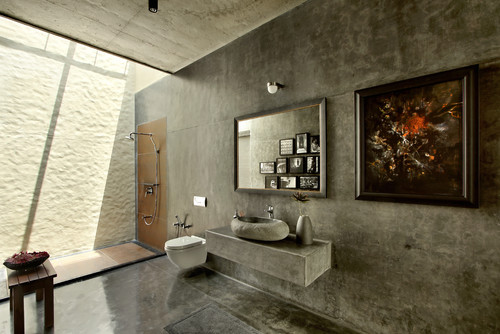 Photo by Dipen Gada and Associates - Search bathroom design ideas
Studies are going on to perfect innovations such as self-healing concrete and light-emitting concrete. These could well be materials of the future!
To know more about various styles of architecture, Different Styles Of Architecture...
2. Bamboo - Sustainable and a Green Material
Bamboo is a sustainable and very adaptive material. In the past decade, bamboo has been used in various forms for construction. It not only is a greener material for construction but also exhibits high strength, so much so that it can replace steel reinforcement in concrete construction. Though it has existed for eons, the potential in modern architecture has been realized now. The best part about bamboo is that it can be reproduced in a matter of 3 years. The use of bamboo has evolved from being a material for temporary use to a material being used to construct permanent structures. It has a diverse set of uses. With an innumerable number of architects and designers adopting bamboo as their primary material, for explorations and applications, one can say that the 'sky is the limit'.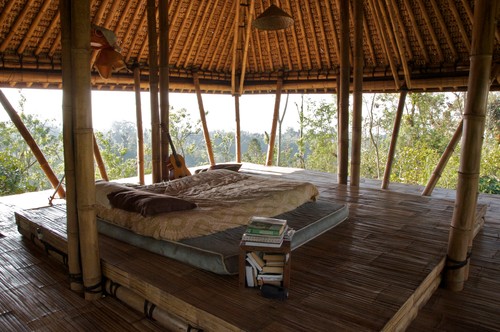 Photo by Jeni Lee - Search bedroom pictures
3. Stainless Steel - Highly Durable with Low Maintenance
Stainless steel was a by-product of the industrial revolution. It fared as a popular building material through the years and remains a favoured product amongst architects. This material is known for its incredible strength. With its corrosion resistance and availability across various finishes and sections, the set of applications for it has increased, thus enhancing the versatility of stainless steel. The plus point with this material is that it is cent percent recyclable, thus proving to be a sustainable choice too. It is a highly durable material with low maintenance requirements and a high aesthetic quotient.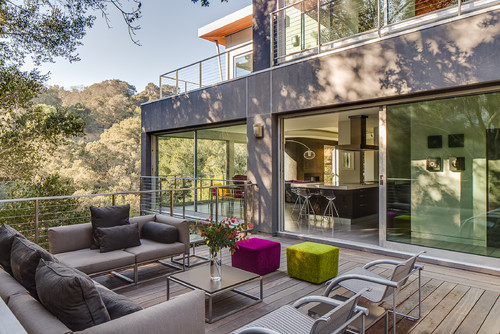 Photo by Mark Brand Architecture - Search terrace & balcony design ideas
This building material is extensively used in structural elements as well as for décor, external as well as internal elements. Some common applications include cladding, handrails, plumbing elements (pipes, faucets, etc.), wall support systems, hardware, roofing, reinforcement, so on and so forth. This material continues to carve a deeper niche for itself. Construction in these times seems nearly impossible without the use of stainless steel in one form or the other.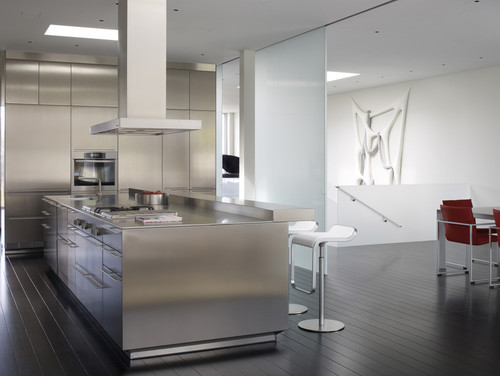 Photo by Matarozzi Pelsinger Builders - Search kitchen design ideas
4. Plastic - Cent Percent Recyclable and Cost-Effective
Plastics in various forms have carved a niche in the building material segment. With the variations available, it is being used in interiors as well as exteriors. The various plastic being used is – acrylic, composites, expanded polystyrene (EPS), polycarbonate, polyethylene, polypropylene and polyvinyl chloride (PVC). While choosing the type of plastic, one should study its strength and recyclability to adopt greener materials in construction.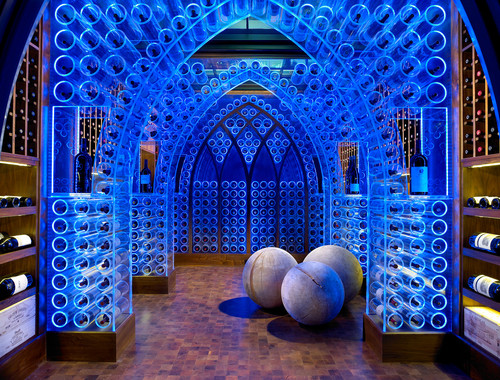 Photo by Beckwith Interiors - Search wine cellar design ideas
Owing to their characteristics such as strength, light in weight, corrosion resistance, cost-effectiveness, ease of transportation, high durability, easy installation and maintenance these have made a place for them in the modern building materials palette. These are being incorporated by designers as they are very versatile when it comes to exploration and innovation as these can be shaped employing an array of techniques such as bending, engraving, moulding, etc. They can acquire any pigment and work with light, thus giving an edge to the designers to play with this material. The applications include – pipes (plumbing, electrical), cables, flooring, roofing options, windows, doors, panels, hardware accessories, temporary structures (such as portacabins, tents, etc.), insulation, etc. With recycling becoming the norm of the century, recycled plastic elements such as panels and blocks are also being used in construction.
5. Glass - The Most Gorgeous Material
Glass is one of the most gorgeous materials that one cannot imagine a structure without. With the innovations in construction energy, glass has evolved from a material reserved for window panes to a material with structural strength and insulation. Though glass is used for its transparent nature but is available in various finishes such as tinted, translucent, laminated, etched, stained glass, etc. Glass is used in the form of panels and bricks to diversify the application. With the modern era of construction being marked with the use of glass and steel, one can see glass being used for curtain walls in commercial complexes and skyscrapers.
To deal with the aesthetics, innovations concerning solar heat gain absorption have led to the development of technology where the glass doesn't absorb heat. There are innovations in the field that will help in generating electricity with solar energy through glass. Glass is a modern and green material as it is 100% recyclable with a wide vista of applications.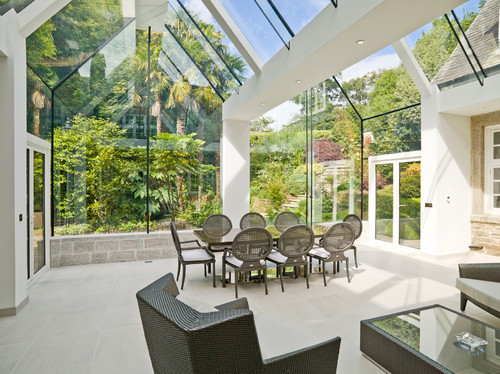 Photo by The Bazeley Partnership - Search living room design ideas
There is a form of glass that one should be aware of, that is smart or intelligent glass. These are laminated in a way that the glass alters based on the reaction towards light, heat or voltage. The glass alters from transparency to translucency and vice versa based on these factors.
Read Importance Of Glass In Architecture Design, to know more about glass as a material.
and Types of Glass- You must know as Interior Designer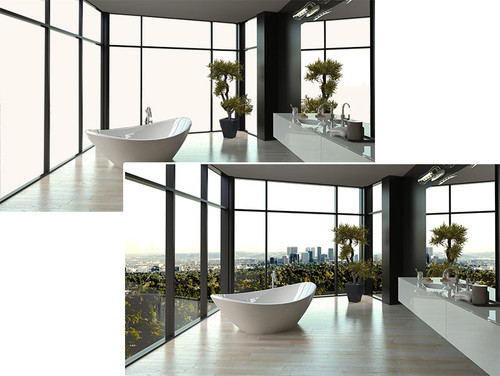 Photo by Smart Glass Inc | Smart Glass Manufacturer - More home design photos
6. Building Textiles- Suitable for Temporary and Permanent Structure
Fabrics can eternally extend the possibilities of form exploration in architecture. There are a lot of fabrics that are being used for the construction of both temporary and permanent structures. This tensile material finds application as a roofing material, awnings, canopies, scaffolding, hoardings, etc. The innovations can lead to endless possibilities in the application of building textiles. Some properties that the building textiles exhibit are strength, resilience and light in weight.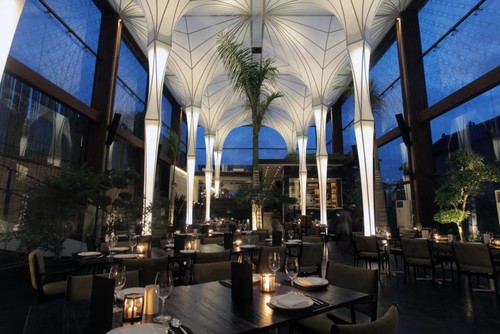 Photo by ZIGOURAT COMPANY - Search home design design ideas
There are a variety of construction or building textiles available in the market, one can choose the best based on the requirements. Innovation and technologically led textiles offer intelligent solutions too. The textiles can enhance the ambiance of spaces too by changing the colours. This is possible with textiles of chromic materials that react to light, heat, pressure and electricity. Other notable innovations under this category include phase-changing materials (PCM), conductive optical fiber and shape-memory materials.
Looking for materials for facade design, here are 7 Materials That Look The Best On The Facade.
7. Hempcrete - A Sustainable Alternative to Concrete
Hempcrete is a bio-composite material that is an alternative to concrete. It is light in weight and extremely durable, however, it is not quite suitable for constructing load-bearing elements. It is a sustainable material with a negative carbon footprint. This material is very easy to work with and holds a lot of potential for explorations in the construction field. It has good insulation properties in addition, it provides moisture regulation too, making it suitable for diverse locations.
Take a look at Top 10 Natural Building Materials For Sustainable Architecture to adopt environmentally friendly construction practices.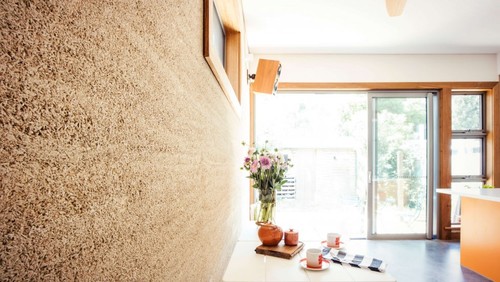 Photo by Hemp Gallery Australia Pty Ltd - Search kitchen design ideas
8. Wood - A Most Popular Construction Material
Wood has been a popular construction material through the eras. It is an extremely versatile material that has served as a structural element, for formwork, functional elements and decor. It still is a popular material of choice amongst designers and their clients. One certainly is aware that wood is popular owing to its aesthetics, insulation properties and massive strength (depending on the type of wood).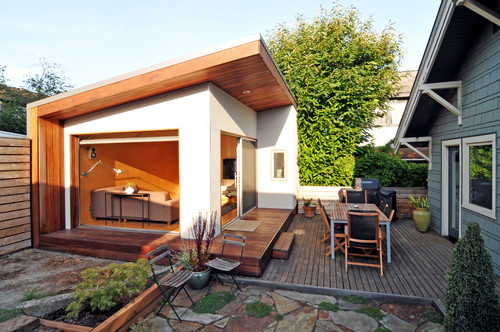 Photo by Fivedot - Search patio pictures
This material can be worked upon by machines to carve out the desired form. In view of the sustainable context of the materials, this is a recyclable and biodegradable material. Since natural wood is a source that requires time to grow and acquire, there have been innovations in this regard to preserve natural resources. Manmade wood or engineered wood are some products that offer an alternative to natural wood with a lot of similar properties.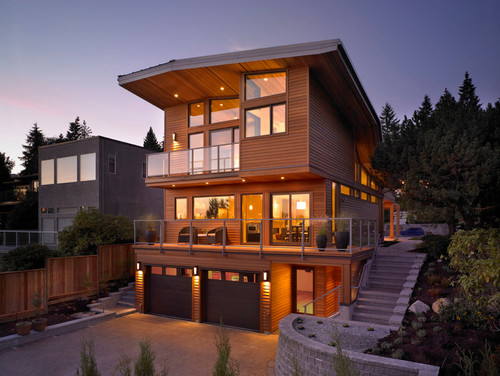 Photo by My House Design/Build/Team - Search exterior design ideas
9. Stone - An Evergreen Choice
Stone is yet another material that is being used in construction from prehistoric times. The feel and finish of the surface depend on the type of stone being used in a structure. Stone is a material that is used both externally as well as internally. Applications of this material include façades, cladding, flooring, wall panels, accent walls, kitchen tops, window sills, etc. Stone has been a popular material due to its strength and resistance to abrasion. The surface can be polished to give the desired look (coarse to matte to mirror).
Some commonly used stones are granite, marble, sandstone and Kota stone. The material is an evergreen choice to suit several design languages.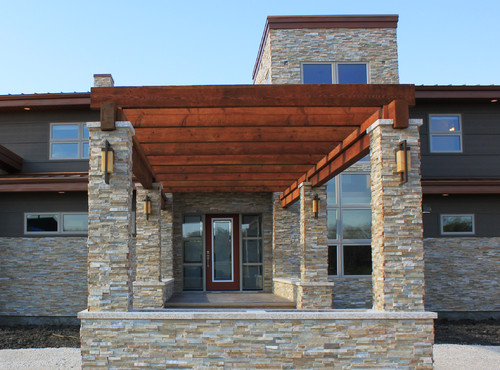 Photo by Realstone Systems - Search exterior design ideas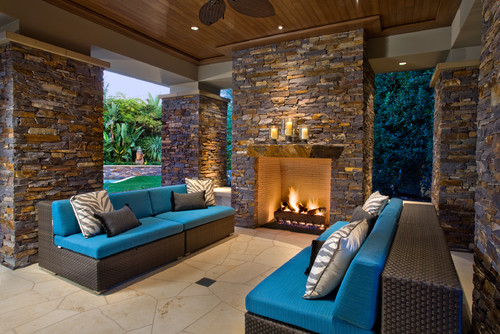 Photo by David A. Kaech & Associates, Inc. - Search patio design ideas
10. Aluminium - A Lightweight Material with Great Strength
Aluminium is a material that is primarily used for window and door frames, window and door panels, roofing systems, staircases, ducting, HVAC systems, furniture, etc. Aluminium responds well in almost all climate types. It is a lightweight material that has great strength too. It is extensively used in high-rise structures to reduce the dead load of the structures. Since the material is compliant with polishing and anodizing, it can be given colour according to the requirements of the designers. It is a metal that the architects must certainly know about.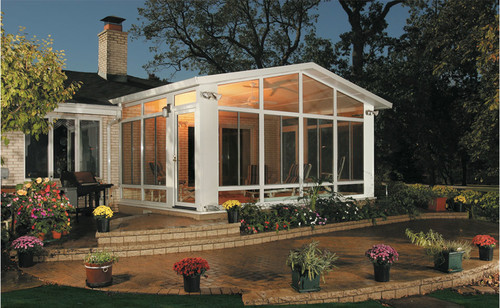 Photo by Statewide Remodeling Houston - Search living room design ideas
11. Paper Tubes - A Recyclable Material
One certainly would not be able to imagine paper being used in the construction industry as a construction material. However, this material has been explored and innovated by designers to build many structural as well as decorative elements. Of the paper elements, paper tubes have greater strength and are being used to build ceilings and pavilions. The construction with paper tubes is pioneered by Shigeru ban through a system of columns made of paper tubes. This is a recyclable material and can be mounted and dismounted easily to make temporary structures. This is quite durable while being light in weight. A beautiful material that is worth knowing and exploring if one gets a chance.
Take a look at how Futuristic Buildings can be constructed Using Natural Materials.
Picture Credit - Flickr
12. Bricks - A Primary Building Material
Bricks have been a primary building material and are one of the first materials that an architect studies about and even a common man is familiar with. Bricks are the building blocks of a structure and can be given various finishes or left exposed according to the likes of the users and the language of the designer. This is one material that is going to be an eternal part of a designer's vocabulary. While we were all acquainted with clay or terracotta sun-dried bricks, with the evolution in the field, we now have an array of bricks to choose from. Apart from the clay bricks, the other options available are AAC (Autoclaved Aerated Concrete) blocks, Hollow blocks and bricks made using waste such as fly ash, cigarette butts, rice husk, etc. Bricks are essentials of a structure with high strength and durability.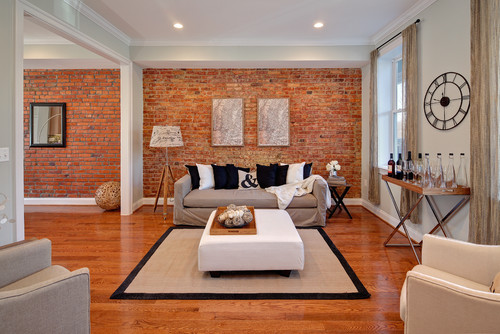 Photo by StruXture Photography - Search living room design ideas
Every designer should have knowledge of diverse materials in order to achieve the desired looks and finishes in their structures. With time the materials and material palettes evolve, however, there will always be a set of materials that an architect must know about. These materials should never restrict a designer to explore other materials that might be more suitable for their designs. The above article discusses 12 modern materials that every architect must know to efficiently employ them in their designs. These materials are a mix of a few evergreen and few innovative materials, the application of which can be designed appropriately in the structure. Certain materials are still evolving by means of research and innovation.
While this was my list of the building materials that one should know about, feel free to post your suggestions to add to the list!
Read 10 Unique Building Materials That are Perfect for Modern Homes, to know about some unique materials and technologies to adopt while constructing your home.
Join our newsletter!
Enter your email to receive our latest newsletter.
Don't worry, we don't spam
Relevant Articles
Whether you are an architecture student looking to break into the industry or an experienced professional, our guide will help
3D printing is changing the way we build materials, and the future looks bright for this ever-growing technology. Discover how
Step into the future of living with smart homes! Uncover whether the convenience and innovation of smart homes are truly
Learn about sustainable building materials and the benefits of using them in your next construction project.
How do you make your portfolio shine? Look no further – our experts have found the best tips for enhancing
Want to know how to get a good raise as an architectural professional? Follow these simple tips!
Most Viewed Articles
It's that time of the year again. Architecture firms around the world start receiving a multitude of resumes and portfolios
When choosing between wood veneer and laminate, there are many factors to consider. Read on to see what makes each
How the days of our youth seems to quickly pass away the instance we are about to graduate from college.
Where do you think the heart of a home resides? Yes, you guessed it right- It's the Living Room! Not
Check out the few ideas and inspirations while planning a Modern Bathroom that can help you in getting the right
The unfolding of 3D software has revolutionized the way in which architecture is practiced throughout the world. 3-D models not