Ceiling Guide- Everything about False Ceiling, Materials and Costing
False ceilings are interior design elements that can change the dynamics of the space through their design. Not only add the aesthetics of the space but also aids in concealing hideous wiring, pipeline, ducting, etc. These ceilings can be used to add a focal element to your space, introduce art, play with lighting, and so on and so forth. Depending on the design of the false ceiling a tone could be set for the interiors. There is an array of materials that can be used to install the false ceiling. One can use a combination of materials to create an intriguing false ceiling. Following is our comprehensive ceiling guide, which talks about the concept, purpose, process, materials, costing, etc. of the false ceiling –
Understanding the Concept of False Ceiling
False ceilings are faux, secondary or dropped ceilings that are suspended from the true ceiling through metal or wooden frames. They add to the aesthetics through the play of levels of surfaces. The minimum distance between the true ceiling and the false ceiling is usually 8 inches. These are a versatile ways to add drama and/or elegance to spaces. These can be installed for multiple purposes using various materials and finishes.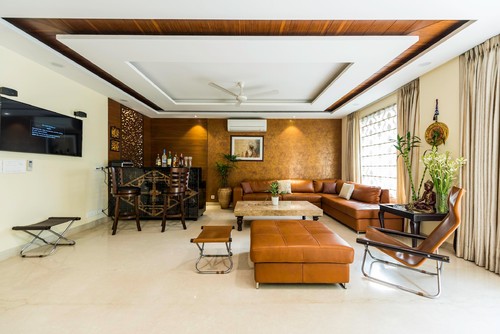 Photo by Vijay Kapur Designs - Search living room pictures
Purpose of False Ceiling
In addition to adding to the aesthetics and concealing the services, false ceilings also aid in thermal insulation, soundproofing, better acoustics, ambient lighting and impeding fire damage.
Styles of False Ceiling
False ceilings can be designed in various styles –
A single layer is consistently laid below the true ceiling. These do not overwhelm the spaces and go very well with the minimalistic decor. The minimalist style gives a blank canvas for ample effects and finishes.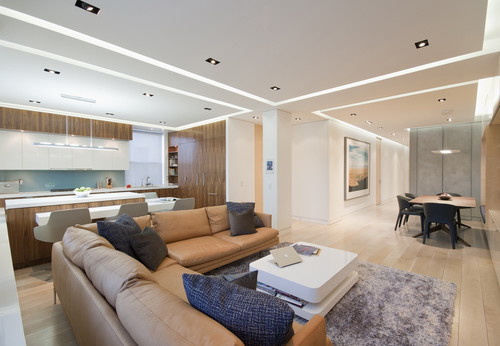 Photo by StudioLAB - More living room photos
These help in breaking the continuity and monotony of the ceiling by adding a play of levels. These can be installed using a combination of materials and finishes to enhance the overall decor.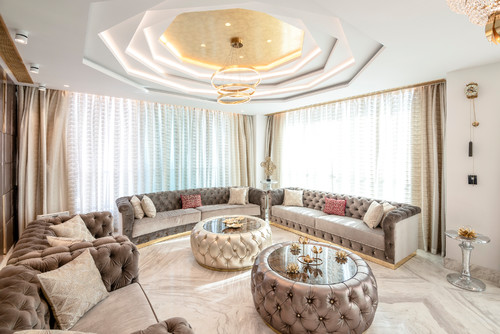 Photo by Viaanca Interiors - Search living room pictures
This multidimensional style is incorporated to create a ton load of drama by articulating the surfaces. These are a good way to add ornamentation to your ceilings. To be able to create an adequate effect, this ceiling is preferred for larger spaces.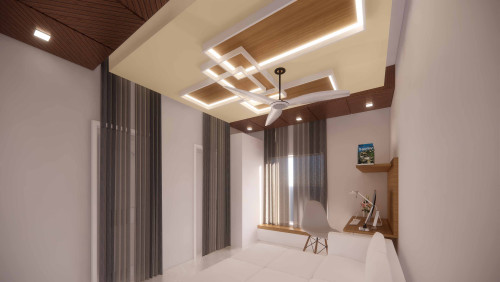 Photo by Studio Singh plus Partners - More home design photos
Coffered false ceilings (just like a coffered grid) are composed of squares or boxes, thus adding to the drama of the space. This multidimensional style bestows an illusion of higher ceilings on the space. These go very well with backlit ceiling panels and ambient lighting fixtures.
Have a look at Clever Design Hacks to Decorate the Low Ceilings to add a nice look to your spaces.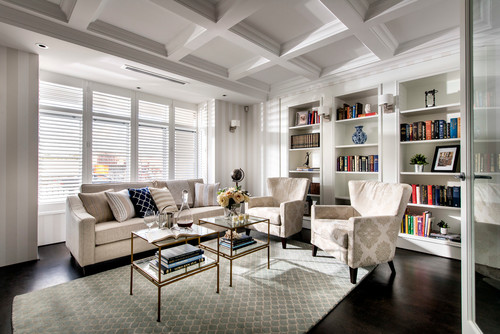 Photo by Webb & Brown-Neaves - More living room photos
Lighting in False Ceiling
The aesthetic quality of a false ceiling can be enhanced with the help of various types of lighting fixtures to suit the design and aesthetic quality of the interiors. The various types of light fixtures that compliment false ceilings are - LED recessed lights, cove lights, gimbal recessed lights, flush lights, backlit panels, task lights and track lights.
Here is the ultimate guide on How to Instantly Brighten up your Living Room with Ceiling Lights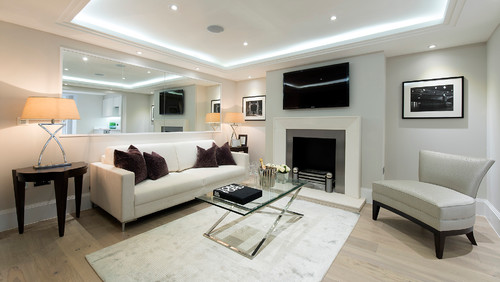 Photo by Emblem Furniture - More living room photos
Pros and Cons of False Ceiling
False ceilings however versatile, come with their set of pros and cons, which are discussed as follows –
Pros:
These are easy to install and help in achieving an overall smooth and consistent surface.
Gives adequate fire protection.
Provides thermal and sound insulation due to the cavity formed between the layers of true and false ceiling. It, therefore, helps in improving the efficiency of air conditioning.
Conceals the unpleasant sight of wiring and service ducts quite well.
Cons:
The biggest disadvantage of false ceilings is that they can harbor pests, leading to a breeding ground for them.
Since it is also known as dropped ceiling, it reduces the overall height of the room, therefore the choice to install a ceiling should be given due consideration.
While it conceals the services perfectly, it makes the detection of any issue in the services a little delayed.
Materials Used
There are a lot of materials that can be used to install and finish the false ceilings. Depending on one's budget and design aspirations, one can choose a material or combination of materials to create an interesting false ceiling. Some most popular materials that are used for creating false ceilings are –
Wood or Timber
Plaster of Paris (POP)
Gypsum Boards
Perforated Gypsum Boards
PVC
Metal
Glass or Mirror
Fabric
Fiber
Read Gypsum Vs. POP Which False Ceiling Material is Best for Home? to help you make your decision.
Process of installing a False Ceiling
While the process of installation of the false ceiling might differ a little across different materials, the general steps are as follows –
Marking and leveling
Fixing or suspending the frame
Laying the pipelines, ducts, wires (for electrical fittings), etc.
Fixing the wire mesh over the frame (For POP ceilings).
Attaching the panels of chosen material or spreading the POP slurry.
Finishing through sanding, painting, wallpapers, texturing, etc.
Fixing the lighting fixtures, fans and any other electrical fittings.
And Voila! There you have your false ceiling.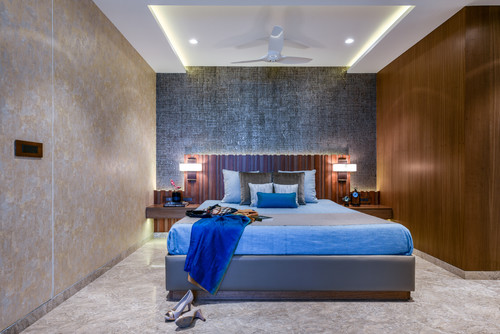 Photo by Prashant Bhat Photography - Search bedroom design ideas
Costing
While all the aspects are important to lead you to a decision, one of the most vital factors to consider is cost. Costing can help in deciding the material, guide the design, finishes, etc. The overall cost of a false ceiling is dependent on the following factors –
1. Area of the space
The overall cost of the false ceiling is dependent on the total area where the false ceiling has to be installed. The idea of the overall cost can be gathered from the per sqft cost.
2. Design
The complexity of the design would determine the labour and time required to achieve the finished surface. Therefore, it is a primary element when it comes to cost.
This will help you to select the Latest False Ceiling Design Ideas (POP & Gypsum) for Bedroom and Hall
3. Availability and quality of Material
The easy availability of materials ensures no added cost of logistics. Therefore, one should check the local availability of material before choosing the final material. Moreover, the cost differs based on the type and quality of the material chosen.
4. Quality of work and Labour charges
Depending on the quality and finish that one wants for their false ceiling the cost can vary. For fine work, one needs to hire skilled labour, thus escalating the cost a little.
5. Additional and Contingent costs
Like anything, the additional and contingent costs should be kept in mind. These could include the cost of fixtures, finishes, cutting, repair work, etc.
The average cost of false ceilings for a few materials are as follows –
Gypsum – ₹ 75 to 150 per sqft
Wood – ₹ 400 to 550 per sqft
POP – ₹ 45 to 120 per sqft
PVC – ₹ 35 to 80 per sqft
Glass – ₹ 450 onwards
Fibre – ₹ 65 to 450 per sqft
Fabric – ₹ 400 onwards (Will vary based on the fabric chosen)
Metal – ₹ 90 onwards
Also, read False Ceilings are Cool, only when the Right Material is Chosen!
* Please note that the cost mentioned is approximate and subject to change depending on current rates, location, dimension, design, brand considerations, the material is chosen, etc. Cost is subject to change based on the region and availability. It is inclusive of material, labour and installation costs.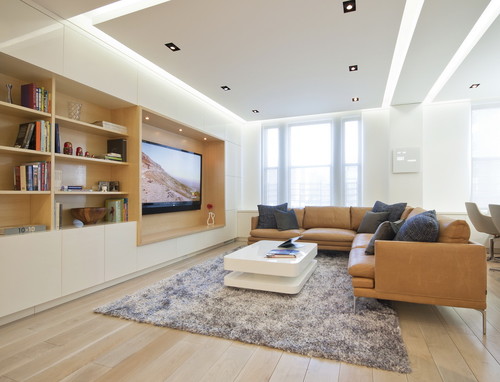 Photo by StudioLAB - Search living room design ideas
This false ceiling guide touches upon the prominent pointers that one thinks about while deciding upon a false ceiling. The above article gives a peek into the world of false ceilings. If you are wondering whether you should install a false ceiling or not, this is a decision that you have to make. These highlights would certainly help you in taking decisions relating to the false ceiling. To wrap up, here are a few bonus tips for you –
Adopt designs that reveal the true ceiling partially. This can help in attaining one more level and make the room feel more spacious at the same time.
Play with a combination of materials to break the monotony and introduce drama to spaces wherever feasible.
Don't go overboard with the design and finishes of the false ceiling. Try to create a synergy between the false ceiling design and the space design.
In case of any suggestions, please feel free to post them in the comments below.
Lastly, take a read of the most important 7 Most Popular False Ceiling Materials You Must Know
And an example of a video uploaded to our Youtube channel
Join our newsletter!
Enter your email to receive our latest newsletter.
Don't worry, we don't spam
Relevant Articles
Looking to increase storage space but are short on space? Are you someone who likes to experiment with storage hacks
Want to spruce up your bedroom but don't know where to start? These tips will give your bedroom an instant
Let's welcome spring all over our bedrooms with beautiful green bedroom decor! Explore different design ideas and find the perfect
Bring life to your stark black-and-white bedroom with a splash of color! Learn how to decorate your bedroom the right
Choosing the right wardrobe for your home is a big decision- do you want a sliding wardrobe or a hinge
Confused between Gypsum and POP for your home's false ceiling? Uncover the ideal choice for your space with our comprehensive
Most Viewed Articles
Want to know how to maximize natural light from your windows? Read this post for expert tips on creating beautiful
Do you want to learn about the difference between architecture and interior design? Look no further! This guide will teach
Time to get bold with colors! Here we share expert tips to get the bright and colorful kitchen with neutral
Who wouldn't want to have a luxury living room that looks stunning! So if you want to turn your ordinary living room into
As we all know nothing is constant in this world nor our life, neither the weather conditions we are living
Kids are said to be most tiny, cute and delicate creature on this earth. But, these tiny sweet little creatures