7 Most Popular False Ceiling Materials You Must Know
False ceilings have evolved from a mere fad to an integral element of modern interiors. The designers play with materials and patterns to design false ceilings to enhance the aesthetics of the space. False ceilings could be functional in addition to adding to the aesthetics of the overall interiors of a room. False ceilings can be designed to portray the character of the space, create a focal element, conceal wiring and fittings, so on and so forth. These can range from classy to rustic depending on the choice of the users. To create the false ceilings of different characters and aesthetes, the following discussed are 7 most popular false ceiling materials that one must know –
1. Gypsum- The Most Popular False Ceiling Material
Gypsum is one of the most popular false ceiling materials when it comes to choosing the materials for false ceilings. It is popular as it is a light material and results in the construction of lightweight ceilings. It is available in the form of prefabricated boards of varied thicknesses. The boards are mounted on a metal frame suspended from the ceiling, which can be finished by a coat or two of paint, wallpaper or laminates.
This will help you to select the Latest False Ceiling Design Ideas (POP & Gypsum) for Bedroom and Hall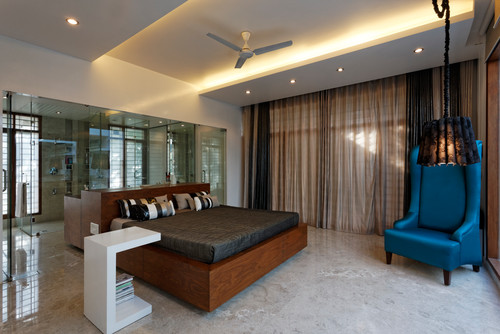 Photo by Fulcrum Studio - Search bedroom pictures
In addition to being lightweight and highly durable, gypsum is fire resistant, provides sound and heat insulation. These can be easily used to conceal any wiring, ducts or services. Along with being easy to install, these panels also generate less dust and offer a less messy process of installing a false ceiling. Though the material comes with its advantages, the major disadvantage with gypsum is that it can be affected by moisture, leading to fungal growth. Therefore, care has to be taken to avoid any kind of seepage to the false ceiling. Another notable disadvantage is that the process of repairs and uninstallation is cumbersome.
Application – These are very versatile and can be used in any space.
Gypsum boards have a variant too – perforated plasterboards or Gyptone panels. These panels are essentially used in offices or commercial spaces as they have better sound-absorbing qualities. In addition to helping with better acoustics for space, they also contribute to efficient air conditioning and aesthetics.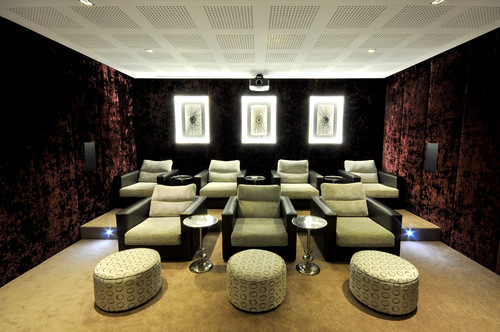 Photo by FOC Design - Search home theatre pictures
2. Wood- Adds Richness to your Space
Wood has the quality to impart elegance and sophistication to space. Wood has been used for quite some time to create ceilings and false ceilings. Plywood, wooden battens, veneers and laminates are used to create wooden ceilings. Wood helps in accentuating the beauty of the interiors and imparting warmth and serenity to space. Wooden ceilings can be used in modern as well as rustic settings. The type of veneer or laminate used for the ceiling can impart a specific language and feel to space.
You must take a read to the Clever Design Hacks to Decorate the Low Ceilings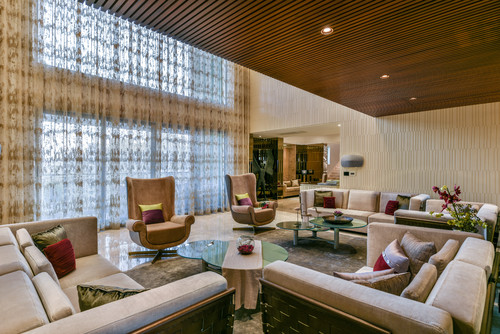 Photo by Prashant Bhat Photography - More living room photos
Though wood is an expensive material it can add a factor of panache to your space with its natural texture. Wood as a material offers high strength and durability. This material can be used to adopt designs such as coffered, panel, textured, suspended, plus-minus false ceilings and the likes. This material offers a huge scope of experimentation with design. Moreover, the ceilings look classy but they require ample maintenance in order to retain the appeal of wooden false ceilings. One should be careful while selecting this material as it is prone to termites, mold, warping and many issues that are inherent with wood.
Application – Wood false ceilings can be used in an array of spaces – living room, lobbies, bedrooms, etc. depending on the look that goes with the overall design concept and/or the whims of the user.
3. Plaster of Paris (POP)- Most Versatile False Ceiling Material
Plaster of Paris or POP is another material that tops the list for the most popular materials for false ceilings. It is a material that gives ample flexibility in designing. One can experiment with curves, ornamentations, mouldings, etc. with POP in the picture. It imparts a smooth finish to the service and pairs well with other false ceiling materials. One disadvantage that it has is that the installation process can be a little messy as POP paste is prepared on-site and applied onto the suspended mesh and metal framework.
It is one of the most versatile materials for false ceilings as it can be shaped practically into any and every form, thus giving complete freedom of design. Apart from being versatile, POP is light in weight and extremely durable, resistant to fire and heat. POP false ceilings are easy to maintain in the long run and can be repaired without much hassle.
Application – POP can be used for creating false ceilings in almost any space from residential to commercial.
This will definitely help you to select the between Gypsum Vs. POP Which False Ceiling Material is Best for Home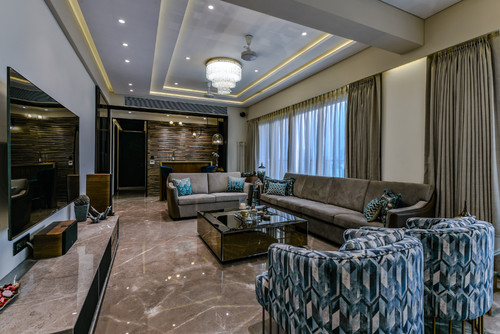 Photo by CTDC - Search living room pictures
4. PVC- Highly Durable and Maintenance-Free
PVC or polyvinyl chloride ceiling panels have been in the market for quite a few years. These panels are factory-made and extremely light in weight. Being a plastic, PVC comes with the advantage of moisture resistance, therefore is suitable for places and areas which have a high percentage of moisture. In addition, these are resistant to both termite and fire. PVC panels come in an array of colours, patterns and finishes. These offer high durability, easy installation and maintenance.
Application – PVC is preferred in spaces that are more moisture prone like toilets, balconies, etc.
Looking for styles of ceiling design, read Stylish Ceiling Designs that can Change the Look of your Home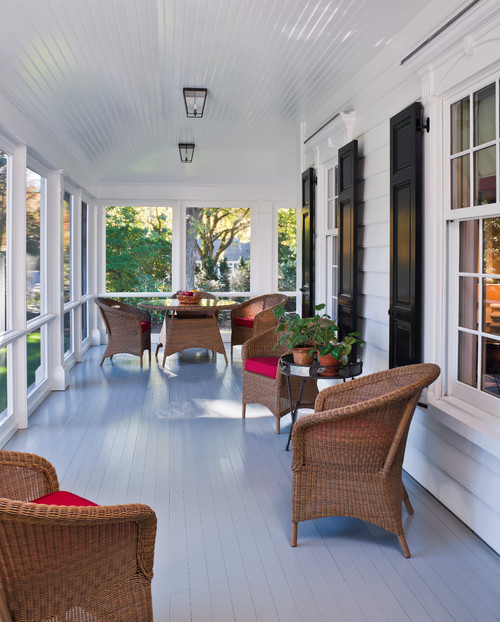 Photo by Peter Zimmerman Architects - More patio photos
5. Metal- Easy and Quick Installation
Metals such as aluminium and galvanized iron are generally used to create impressive ceilings. However, one can even consider metals like brass, copper, etc. depending on the preferences and availability of material as well as labour. These ceilings can enhance the value of intrigue in the spaces almost instantly. With easy and quick installation, metal false ceilings can become statement pieces in the overall decor. Metals can be used in sheets, panels, bars, etc. to create a striking ceiling. Metals offer high strength inherently and are very easy to maintain with a long life span.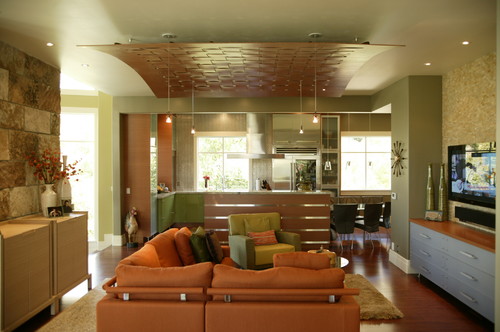 Photo by Lloyd Architects - More living room photos
These can help in adding sophistication and elegance to the space owing to their lusture. To protect the metals from any corrosive damage, these can be treated with a protective layer or coating. The sleek appearance of the metal false ceilings is unmatched. These can be moulded into an array of forms (certain limitations depending on the choice of metal would prevail) thus giving a certain degree of flexibility for design. Some metal sheets can also provide crafted results owing to the process like carving, cutting, engraving, etching, etc.
Tip – The designer should study the metal to be used in-depth while designing the ceiling to be able to do justice with both – the design and the metal of choice.
Application – Metal false ceilings are very versatile and can be used in any space. These can be used in combination with other materials to create an interesting false ceiling.
6. Glass or Mirror- Aid in Creating Beautiful False Ceilings
Glass and mirrors are materials that can aid in creating beautiful false ceilings. These can serve aesthetically and functionally very well. However glass/stained glass and mirror will be used in combination with other materials. Glass in its varied forms – stained glass, etched glass, etc. creates a nice ambiance. The back-lit glass can amp up the interior spaces and transform them instantly. While glass with its transparency and translucence can create a nice ambiance, the mirror with its reflectance can create the illusion of a bigger space.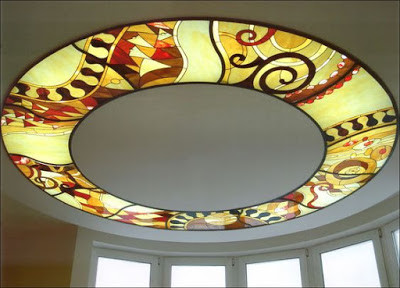 Photo by Gamila Alex - Search home design design ideas
Though the material has limited uses but is easy to maintain. Not only is it easy to maintain but it even provides thermal insulation. If one is looking to add aesthetics and a regal appeal to their spaces, glass in its various forms and mirrors can do the magic. This is a nice way to infuse art in your spaces and add to the functionality too.
Application – Glass and Mirror as materials for false ceiling find limited use, though they can practically be used in any space – living rooms, bedrooms, lounge, bar, toilet, bathroom, bar, lobbies, etc.
Also, read Importance Of Glass In Architecture Design and Types of Glass- You must know as Interior Designer to know more about glass and the construction industry.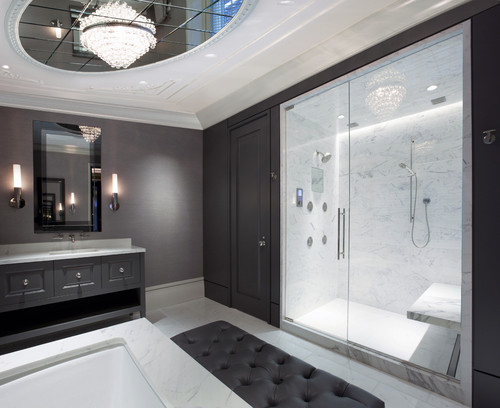 Photo by dSPACE Studio Ltd, AIA - Search bathroom design ideas
7. Fabric or Leather- Create Soft False Ceilings
Fabric, leather, leatherette or the like can be used to create soft false ceilings. If one is looking for merely ornamental false ceilings, the fabric can be used for the same. The type, pattern and colour of fabric chosen will contribute to setting the ambiance of the space. The advantage of fabric is that it can take any desired form. The material should not be used solely but in combination with other materials. These are difficult to maintain as they attract dust and mites, therefore cannot be thought of as long-term solutions for false ceilings. However, if they are framed or empanelled, these can serve a little longer as a false ceiling. In addition, they can also serve as art pieces.
Application – These can be used in spaces such as lobbies, lounges, bedrooms, living rooms, passageways, etc.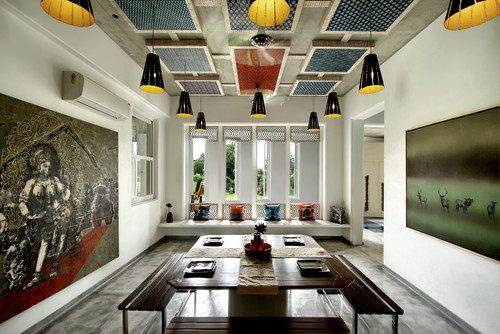 Photo by Dipen Gada and Associates - More dining room photos
The aforementioned are the 7 most popular false ceiling materials that one should know about. While certain materials can be universally used, certain materials can be explored based on the project, design, site, requirements or preferences. Of these materials, an interesting false ceiling can be designed by using a combination of materials. This would depend on the type of mood, aesthetics and ambiance one is looking for in their spaces. The materials could also be decided based on the longevity of use of the false ceiling. One could even think of coupling materials in a manner that a part of the ceiling is of permanent nature while a part of it uses materials that can be replaced to change the ambiance of the space after a specific time period. The palette of these 7 materials is sure to help you in your process of achieving a state-of-the-art false ceiling for your space.
If you feel there could be some other materials that could be added to the list, please feel free to post your suggestions!
Lastly, take a read of the most important Ceiling Guide- Everything about False Ceiling, Materials and Costing
And an example of a video uploaded to our Youtube channel
Join our newsletter!
Enter your email to receive our latest newsletter.
Don't worry, we don't spam
Relevant Articles
Want to spruce up your bedroom but don't know where to start? These tips will give your bedroom an instant
Let's welcome spring all over our bedrooms with beautiful green bedroom decor! Explore different design ideas and find the perfect
Bring life to your stark black-and-white bedroom with a splash of color! Learn how to decorate your bedroom the right
Choosing the right wardrobe for your home is a big decision- do you want a sliding wardrobe or a hinge
Confused between Gypsum and POP for your home's false ceiling? Uncover the ideal choice for your space with our comprehensive
Want to spruce up your home with a unique wall paneling idea? These 8 ideas will give you inspiration!
Most Viewed Articles
Planning to give your kitchens a makeover and contemplating ways to turn your kitchen into an amazing space? Well, then
For creating a relaxing ambiance in your bedroom what can be better than the use of calm colors! Here you
Depending upon the size of the kitchen, the kitchen can be laid out in various shapes. And the U-shaped kitchen
Discover inspiring decor ideas to elevate your in-house bar counter. From stylish storage solutions to trendy accessories, create the perfect
Want to know what to expect during an interview at an architect's office? This guide will show you everything from
A highly underrated component of a well thought and designed house is the Balcony. A space that is also a