Gypsum Vs. POP Which False Ceiling Material is Best for Home?
False ceilings or suspended ceilings have become an essential part of modern interiors. From bedrooms to lobbies, office spaces to lounges, the false ceilings can be installed in almost any space. in addition to adding to the aesthetics of the space, false ceilings can help in concealing the hideous electrical wiring and air-conditioning ducts. These enhance the beauty of the space by giving it a clean look. The ceiling can be designed in several ways. False ceilings can be achieved in varied finishes and styles depending on the taste of the residents. Many materials can be used to construct a false ceiling; however, Gypsum and plaster of Paris (POP) are two materials that are used the most to create false ceilings.
When there are options available, it is natural to be confused while deciding on the best one for your home. If you are confused regarding the two materials while opting for or renovating a false ceiling, fret not! Following are discussed both the materials in detail to help you clear the confusion and decide the best option for your home –
Gypsum False Ceiling
Gypsum false ceilings are shaped using prefabricated gypsum boards. These are then mounted on a metal grid that is suspended from the ceiling. Gypsum boards are available in various sizes. Since these are manufactured in the factories, they provide a consistent and seamless finish to the spaces. The boards can be cut according to the design and screwed to the metal frame. However, to understand if gypsum is the right material for constructing a false ceiling in your home, the following are the features of gypsum false ceiling –
This will help you to select the Latest False Ceiling Design Ideas (POP & Gypsum) for Bedroom and Hall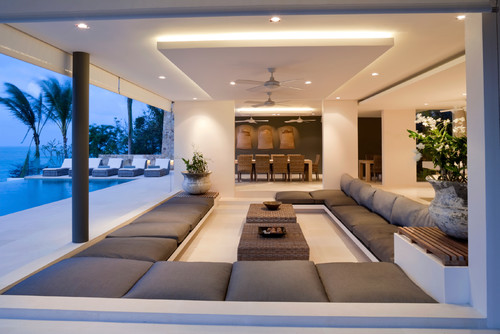 Photo by Synergy Property Group - Search living room pictures
1. Design and Customization
Gypsum boards are efficient where the ceiling designs are simple, as these are not very flexible when it comes to creating curves. Since these are available in standard panel sizes, mouldability is an issue when it comes to intricate designs. The material can be easily paired up with glass, plywood, etc. to create an interesting play of surfaces. In case there are curves or cornices to be incorporated, then POP would have to be used to get the job done for that particular segment.
Tip – To avoid excess wastage, one should consider the available board sizes while designing the ceiling.
2. Installation and Labour Requirements
Installation is fast and time saving since the prefabricated boards have to be mounted over the metal grid suspended from the ceiling. It is easy and mess-free at the same time. The installation can be handled by semi-skilled labour.
3. Finish
Owing to the factory-made nature of the gypsum boards, a seamless and neat finish is achieved with minimal joints. The surface achieved therefore is homogenous and consistent. The joints between the boards are finished with POP paste to give it a jointless finish.
You must take a read to the Clever Design Hacks to Decorate the Low Ceilings
4. Cost Feasibility
When it comes to the cost feasibility, these are a little costlier when compared to POP false ceilings.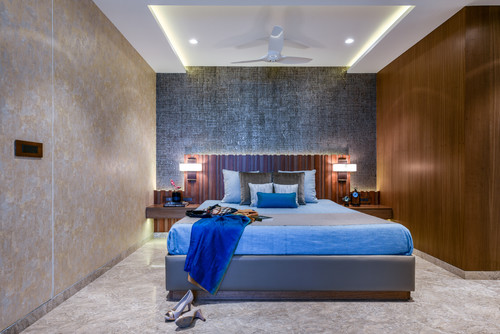 Photo by Prashant Bhat Photography - Search bedroom design ideas
5. Durability and Life
Gypsum boards are highly durable and can last for many years, however, cracks may develop on gypsum boards around the joints.
6. Maintenance and Repairs
Gypsum false ceilings are easy to clean. However, care has to be taken as these can be affected by moisture that seeps in through the ceiling seepage or seepage from air conditioning ducts. The moisture can result in fungal growth thus distorting the form of the ceiling. Therefore, select the boards that are treated and moisture resistant.
The repairs or un-installation (if required) are very tedious and labour intensive. It has to be carefully done; else one tends to damage the entire ceiling.
7. Thermal Insulation
Gypsum False ceilings provide thermal insulation and are fire retardants as well.
POP False Ceiling
A POP false ceiling is made using a slurry of Plaster of Paris and water. The slurry is applied on a suspended metal frame covered with chicken mesh. After the paste dries off the surface is sanded to attain a smooth finish and Voila! It's ready! Following are the features of the POP false ceiling to help you decide on the best material for the false ceiling that you desire –
Looking for styles of ceiling design, read Stylish Ceiling Designs that can Change the Look of your Home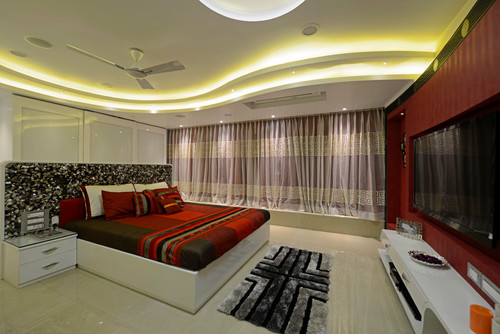 Photo by AIS Designs - Search bedroom design ideas
1. Design and Customization
POP is a material that gives the flexibility to design and play with geometry as the material is mouldable and adapts nicely to the curves too. The material can be used to create seamless corners. It gives maximum flexibility for design and customization. It creates the perfect base for the paint. The false ceiling can be designed incorporating materials such as plywood, glass, etc. with POP.
2. Installation and Labour Requirements
Installation of POP ceilings is a little slow and time-consuming as one needs to make the proper framework to support the POP paste. The paste has to be prepared in the right proportions to avoid any cracks. The paste has to be completely dried up before sanding to achieve smoothness of the surface. The process is a little messy as well. To achieve a seamless finish with POP, one needs to involve skilled and experienced labour to create the false ceiling.
3. Finish
The finish achieved can vary from average to fine depending on the skill and workmanship of the labour involved. Thus, it becomes absolutely important to hire experienced labour to work with POP to achieve a seamless finish.
4. Cost Feasibility
When compared with gypsum false ceilings, these prove to be a little reasonable (on an average 25% reasonable), however, the labour charges are comparatively higher. As the labour charges are dependent on the design of the ceiling, and more importantly on achieving utmost precision and finesse.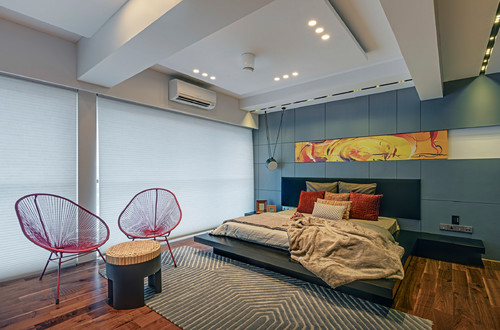 Photo by AVN Interiors - More bedroom photos
5. Durability and Life
POP false ceilings are quite durable with a long life span with minimal signs of wear and tear in the long run.
6. Maintenance and Repairs
These are quite easy to maintain and care for. In addition, in a scenario where repair is required, that particular segment could be cut and reworked upon without damaging the entire ceiling. However, one should be careful in case of any impending seepage from the roof or air conditioning ducts.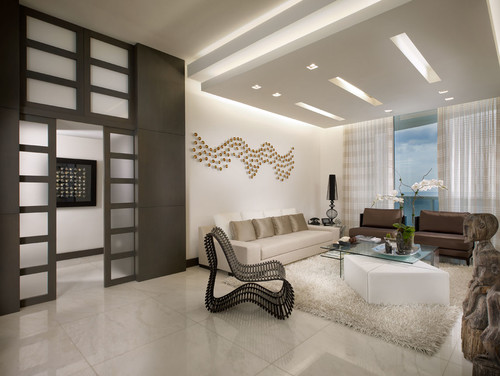 Photo by Guimar Urbina Interiors, Corp. - Search living room design ideas
7. Thermal insulation
POP false ceilings have thermal insulation properties in addition to being fire retardants.
False ceilings have become an indispensable element of modern interiors. It is a way to impart a clean and clutter-free look to your space. There are several ways that one can design a false ceiling with the desired finish and effects. Both gypsum and POP have their sets of advantages and disadvantages. Analyzing both materials across seven features will help you decide the best material for your home. Remember that out of the two none is inferior, it is a matter of preferences that comes into play while finalizing the material. However, if you are still confused, there are experts in the industry who can help you in making the right choice based on the micro conditions of your site.
Bonus Tips:
Whether you go in for Gypsum or POP, for the long life of your false ceilings, ensure that you use good quality metal for the frame.
If you are short on time or the design is very simple and includes straight lines and you do not hesitate in spending a tad bit more, go for a gypsum false ceiling. However, if you are someone who has the luxury of time and a heart set upon a curvilinear design, do choose POP for your dream false ceiling.
Please feel free to share your ideas and thoughts in the comments below!
Lastly, take a read of the most important Ceiling Guide- Everything about False Ceiling, Materials and Costing
And an example of a video uploaded to our Youtube channel
Join our newsletter!
Enter your email to receive our latest newsletter.
Don't worry, we don't spam
Relevant Articles
Want to spruce up your bedroom but don't know where to start? These tips will give your bedroom an instant
Let's welcome spring all over our bedrooms with beautiful green bedroom decor! Explore different design ideas and find the perfect
Bring life to your stark black-and-white bedroom with a splash of color! Learn how to decorate your bedroom the right
Choosing the right wardrobe for your home is a big decision- do you want a sliding wardrobe or a hinge
Confused between Gypsum and POP for your home's false ceiling? Uncover the ideal choice for your space with our comprehensive
Want to spruce up your home with a unique wall paneling idea? These 8 ideas will give you inspiration!
Most Viewed Articles
Discover the advantages of a smart home in architecture. Learn how integrating advanced technology in your home can enhance energy
Have you been considering a smart home? Here's everything you need to know about the pros and cons of this
Finding the right green building material for your specific project can be a daunting task. But this comprehensive guide will
Are you curious about what is the future of building materials? Read this out.
Are you ready to transform your home into a modern, luxurious interior paradise? Well then you are in luck! We've
Step into the future of living with smart homes! Uncover whether the convenience and innovation of smart homes are truly