Modular vs Carpenter-made Kitchen: Which is the best for your home?
The modular kitchen fad has been taking over the market by the storm. Whenever we come across a nicely finished modular kitchen, the urge to have our kitchen upgraded or redone grows. The question then arises, should one go for a factory-made, branded modular kitchen or have it done by the carpenter. While both the types are sustaining in the market, the key query arises as to how to pick one. To settle the confusion, the following article discusses both the types in detail based on factors such as design, finishes, durability, installation, efficiency, costing and maintenance–
Modular Kitchen
Modular kitchens or factory-made kitchens are practically manufactured part by part in the factories and are later assembled on site. These have gained popularity in the last decade, so much so that most of us want to have a modular kitchen unit in our homes. To make the choice clear, let's get to know the features of a modular kitchen –
Also, take a read to 7 Things to Know Before Installing a Modular Kitchen and Do's and Don't while installing a Modular Kitchen.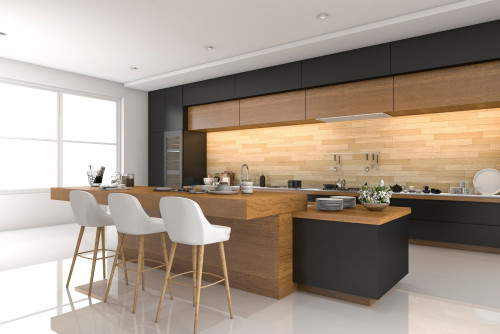 Photo by Home2decor- Navi Mumbai - Search home design pictures
1. Design
The possibilities of design for a modular kitchen are vast depending on the space, layout, brand innovations, personal choices and inspirations. The modular kitchen is designed in a way to effectively use every millimeter of the available space efficiently.
Read Open Kitchen vs. Closed Kitchen, Which suits the best for Indian Homes? when deciding between the two.
2. Finishes
Modular kitchens tend to have a neat and crisp finish to them. The use of materials to the surface finish can be accommodated based on the user's requirements and choices. Modular kitchens have an overall sleek finish thus imparting a sophisticated look to the kitchen. The finish is of the order that apart from getting neat edges, one can achieve the elements with perfect dimensional synchronization, owing to the machine-made factor of the modular kitchens.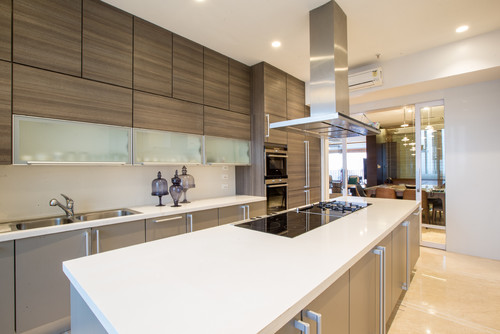 Photo by Moriq - Search kitchen pictures
3. Durability
These are usually quite durable and last for many years with the right kind of care. There might be times though, if you compromise with the brand or money, it might affect the quality of the material, thus affecting the durability. Be cautious of what you choose and don't ignore the fine print.
4. Efficiency
The modular kitchens are known for their efficiency in a lot of spheres. They are very efficient when it comes to the usage of space in addition to storage. The accessories and units of the modular kitchens are such that they help in increasing the storage space on the whole. The other factor that makes them efficient is organization. The kitchen accessories help in compartmentalizing thereby resulting in better organization of the kitchen goods.
5. Maintenance
The ease of maintenance is directly proportional to the quality of the materials and hardware used. If the materials and finishes are of good quality, the modular kitchens are certainly a little easy to maintain. On the other hand, if the materials have been compromised upon, the maintenance of the kitchen can take a toll on the user. With the modularity on the path of advancement, it would even become difficult to find a spare part if your hardware goes bad.
Invest wisely! Choose all the more wisely!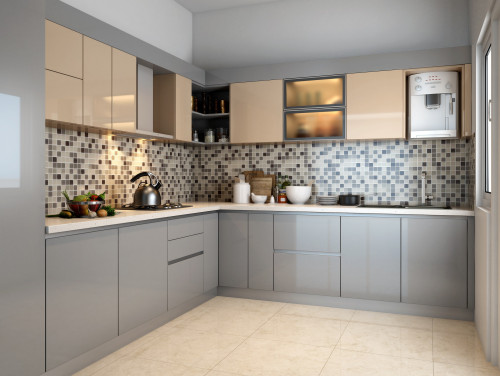 Photo by EYEPOPPING INTERIORS - More kitchen photos
6. Assembling and reassembling
Modular kitchens are easy to assemble. All the manufactured parts are delivered and installed on-site by the experts. These can even be dismantled and reassembled easily, thus prove to be advantageous in scenarios where the users move around a lot. The entire kitchen can be dismantled and packed. What's more, the process is fast and saves a lot of time when compared with the carpenter-made kitchen.
7. Cost
The modular kitchens, without a second thought, fall a little expensive when compared to the conventional carpenter-made kitchens. The quality, build and finishes add to the cost of the kitchen. Be prepared to shell out more money than a carpenter-made kitchen but for a reduced hassle, better organization and efficiency.
Carpenter Made Modular Kitchen
Today carpenter-made kitchens can feel like factory-made modular kitchens when it comes to looks and designs. But conventionally carpenter-made kitchens are the ones that are made from part to whole on the site itself. Though the modular kitchens have their fandom, these have not lost their charm. To make a clear choice, the following are the features of a carpenter made kitchen –
Photo by Home2decor- Navi Mumbai - More home design photos
1. Design
The possibilities of design when it comes to a carpenter-made kitchen are slightly more than with modular kitchens. Owing to the flexibility with the hands-on approach one can experiment with an array of designs and themes. The manipulations and adjustments can also be factored in the design if required. The design is your baby in this case and you can oversee the process personally therefore any sort of alteration and customization can be done at any step.
Dimensions are important, read 8 Standard Kitchen Measurements, You Must Know.
2. Finishes
The finishes are dependent on the skill of the carpenter and the choice of materials. They might not be as perfect and neat when compared to modular kitchens. Nonetheless, if you can appreciate the skill of the carpenter and a hands-on approach to your kitchen, you might want to go for a carpenter-made kitchen. These give you a better range of materials and finishes to choose from. In a nutshell, the finish can be amazing or questionable, depending on the skill of your carpenter.
Tip – Choose a carpenter with a proven skillset.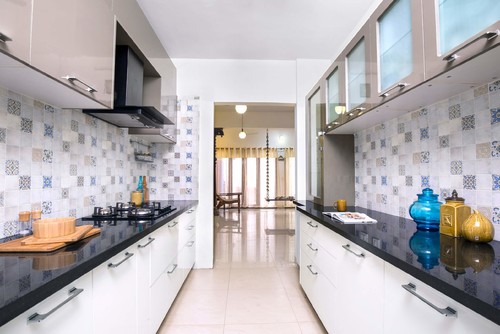 Photo by Urban Interiors & Home Decor Solutions - Search kitchen pictures
3. Durability
The durability would depend on the quality of materials and hardware you choose for your kitchen. One can be in total control of this domain when considering a carpenter-made kitchen. Always use good quality materials for a long-lasting and efficient kitchen.
4. Efficiency
When compared with modular kitchens, carpenter-made kitchens are considered less efficient when it comes to space utilization and storage organization. But, when you are in charge of managing the space of your kitchen, it totally is at your discretion to select the right accessories to make your kitchen more efficient. The accessories and hardware are all available to equip a kitchen better. However, a slight difference would always be there because of the basic factor of machine-made vs hand-made.
5. Maintenance
Overall maintenance and cleaning are a little harder as everything is fixed and built-in. Thus, dismantling and cleaning it is not a possibility, leading to unwanted grime in unreachable locations of your kitchen. To a large extent, the ease of maintenance depends on the type of fixtures, materials and details that are being used in your kitchen.
You must check out Built-in Hob or Traditional Cooktop? What to buy?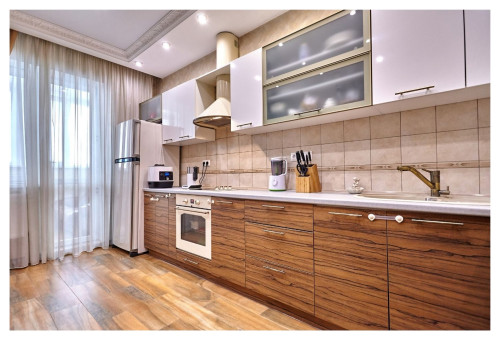 Photo by Home2decor- Navi Mumbai - Search home design design ideas
6. Assembling and Reassembling
It takes a lot of time to assemble, as everything is created on the site part by part. In this case, the assembly can be messy and time consuming. This type of kitchen is hard to dismantle and reassemble.
7. Cost
The beauty of carpenter-made kitchens is that you can work and make your own budget for the kitchen. Carpenter-made kitchens when compared to modular kitchens would fall cheaper, but the costs can go haywire depending on the whims of the carpenter.
To avoid any surprises relating to cost be sure to factor in the margins and contingencies when creating a budget for your kitchen.
Conclusion
To conclude I would say that whether you go for a modular kitchen or a carpenter-made kitchen, you should analyze the pros and cons of both against your requirements and pattern of usage. The above article discusses the two types on seven broad and practical features, but the rest depends on your personal likings and habits. To sum it up -While Modular kitchens are what you see and pay for and seldom end up surprising you, Carpenter-made kitchens are unseen visualizations that may or may not take you by surprise.
Choose wisely and make a well-informed decision. We would certainly love to read about your thoughts and experiences regarding the two types. Please feel free to share them with us in the comments below!
Also, read Modular Kitchen Guide and How Much Does It Cost!
And an example of one such video uploaded on our Youtube channel
Join our newsletter!
Enter your email to receive our latest newsletter.
Don't worry, we don't spam
Relevant Articles
Looking for some kitchen ideas? We've got you covered! In this post, we'll show you 10 things you must have
Got a tiny kitchen? These clever ideas for boosting kitchen storage will help you maximize every inch of your
The kitchen is the heart of any home and the perfect place to showcase your style with cabinets that reflect
Designing your kitchen and are confused, whether to go for a modular or a carpenter-made kitchen? Fret not! And read
Whether you're upgrading your kitchen or just starting out, we've got the perfect guide for choosing the perfect built-in hob
Time to time the kitchen needs to be upgraded with slight changes as it will make the kitchen look interesting.
Most Viewed Articles
<h2><br /> Introduction</h2> <br /> For any software developed by the IT industry, utility and scalability are very important factors. The software
<h2>Introduction</h2> <br /> Imagine, one has just started his own business. He has decided to operate from home. After much conjecture, he
<h2><br /> Introduction</h2> Homebuyers are getting more demanding. Builders are providing additional facilities in their buildings in order to pander
<h2><br /> Introduction</h2> <br /> With time of project implementation becoming very important in every industry, numerous applications have evolved
When you are planning to garden your place, there are a lot of details that you need to keep in
"It's so good to be home" indeed it is the best feeling ever for everyone who is out of home