Modular Kitchen Guide and How Much Does It Cost!
The kitchen is certainly one of the most important spaces in a residence. With the modular kitchen trend on the rise, all of us want to embrace it at some point; either while upgrading our traditional kitchens or incorporating it into our new homes. Though modular kitchens present an opportunity to ease out a lot of traditional ways and make space to accommodate more in a relatively small space, there are certain points that one should be conscious about while opting modular kitchen. Most of us have a notion that building a modular kitchen is a costlier affair and fret from opting for it. However, it depends on a whole lot of things in your modular kitchen that decide the overall costing of it. If done rationally the costs can be modulated to your advantage. From design to the choice of accessories to finishing and overall costs, here is a concise guide for you to create a modular kitchen and thereby a seamless experience –
1. Planning and Design- Modular Kitchen Design Tips
It is imperative to keep in mind the standard work triangle while planning the kitchen. This can help in determining the locations for your stove, sink and refrigerator. Based on the available space and position of the openings one can plan the kitchen profiles vis-à-vis U-shaped, L-shaped, G-shaped, parallel or island. The profile and locations of the sink, stove and refrigerator can further help in designing and planning the over-the-counter cabinets, under-the-counter cabinets, appliance rack, tall units, etc.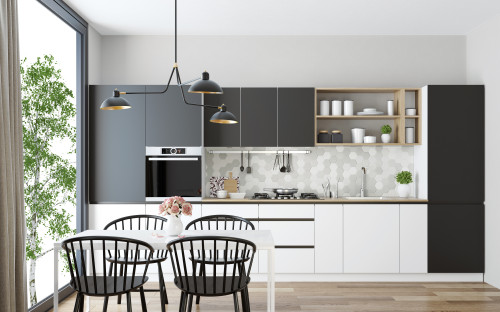 Photo by Home2decor- Navi Mumbai - More home design photos
Remember that the planning and design of the kitchen are directly proportional to the needs and requirements of the users of the house. Synchronization of the personal needs, style of working and the planning – design phase would lead to an efficient kitchen. This is a very important step when considering a modular kitchen.
Ponder upon! List down! Plan! Design! And Execute!
To know more about standard dimensions while planning your kitchen, read 8 Standard Kitchen Measurements, You Must Know!
Also, read the Do's and Don't while installing a Modular Kitchen.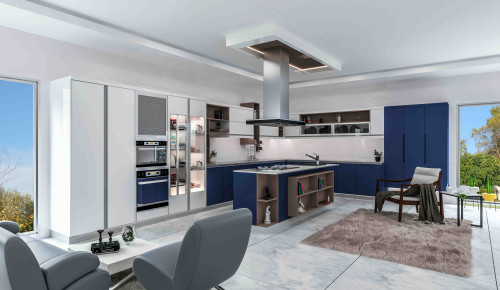 Photo by Ordinato Interior - Design - Search kitchen pictures
2. Choose the Materials Right- Keep Your Kitchen Maintenance Free
While choosing the materials for your modular kitchen, try to opt for materials that require less maintenance and have a long life too. For instance, you can opt for a combination of stainless steel and granite or quartz for the areas that require cleaning daily. Besides, both of these materials have a long life and are highly durable. While choosing the materials it becomes important to consider the materials for internal and external finishes as well. For example, the internal finish for a sink cabinet is lined with an aluminium sheet to avoid any damage due to moisture.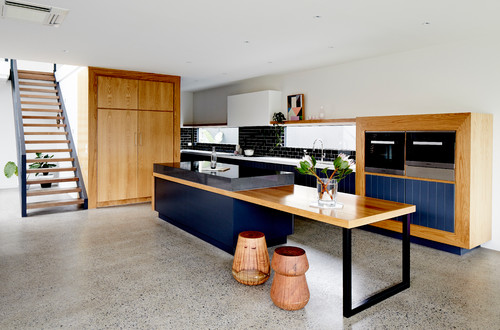 Photo by Thomas Archer Homes - More kitchen photos
Since the kitchen (especially Indian kitchens) surfaces are in the company of moisture and grease, one should opt for materials that are not easily affected by moisture or grease. It is advisable to use BWR (boiling water resistant) plywood to create the structure of cabinets and PVC (polyvinyl chloride) or membrane foil, WPC (wood plastic composite) panels, laminates, acrylics and to finish the surface of the cabinets. Try to avoid the use of materials such as MDF or particle boards in your kitchen. One can even use frosted glass for cabinet panels which can be used to display your fine taste too.
Tip – Try not to compromise with the quality of materials and use standard certified materials.
Know more about How to Choose the Best Material for Kitchen Cabinets and Which Laminate to choose for Kitchen Cabinets?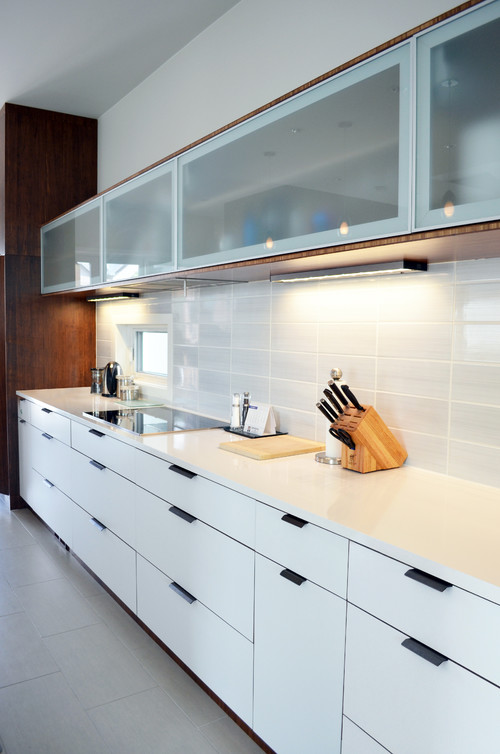 Photo by Hive Modular, LLC - More kitchen photos
Apart from the cabinetry, it becomes imperative to consider the material for backsplashes and floor. For backsplashes, the most popular option is ceramic tiles, which are easy to clean and is available in an array of options across various styles. Similarly, for the floor tiles, one should consider monolithic floors, or bigger tiles, that are anti-skid. This is simply for the reason, that the floors get quite messy while working and if the material is chosen wisely, it can help in preventing any kind of mishap.
Tip – Try not to compromise with the quality of materials and use standard certified materials.
3. Plan your Appliances
Take note of the appliance you require. Put on the list the ones you will require more than your desire. There are a lot of products that we wish we have in our homes which seldom find any use. So instead of going all out with the appliance, keep a strong check on the ones that you absolutely cannot do without. Once your list for the appliances is ready, head to the planning or allocation of spaces for the same. This will also help you plan your kitchen better. Apart from planning, there are a lot of options to integrate appliances in your modular kitchen, thus saving on a lot of valuable space.
Envision! List it out! Plan it! Execute it!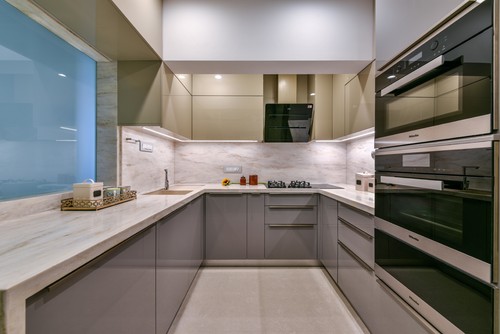 Photo by Zed designs - More kitchen photos
4. Colour Palette- The Theme of a Kitchen
As in any space, colours are very important in a kitchen. These can help in imparting the desired character or theme to your space. Go for colours that make you go, inspire you and create a happy place for you. The colour palette is, quite often, determined by the type of look you aspire for, the theme, the material palette, etc. While colour is a very personal choice, it should nonetheless be chosen adequately keeping in mind the space along with the overall taste.
To help you with the colour palette, here are 11 Beautiful and Colorful Kitchen Decor Ideas that Look so Inviting.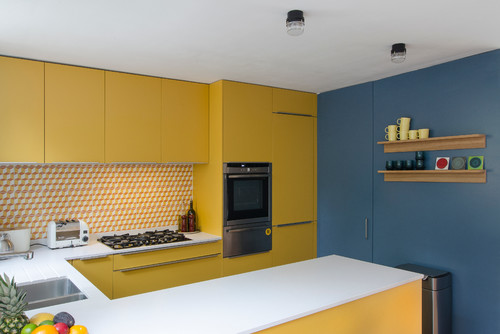 Photo by R2 Studio Architects - Search kitchen pictures
The palette is a combination of all the elements in the kitchen – cabinets, counter, sink, floor, backsplash, etc. Interesting contrasts can be created by opting for interesting colours and patterns for the backsplash and floors.
Tip – Try not to experiment with more than three colours in your kitchen.
10 Beautiful Countertop and Backsplash Combination to add a splash of colour in your kitchen.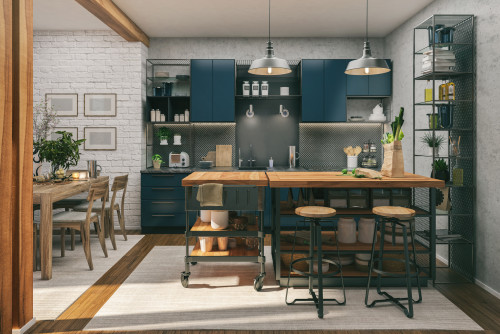 Photo by Home2decor- Navi Mumbai - More home design photos
5. Lighting- Brighten Up your Kitchen
For any space to function seamlessly, lighting is an important factor to consider while designing. The lighting in the kitchen has to be both functional and aesthetical. Consider the type of lighting and style of lighting in conjunction with each other. One should try to keep the workspace and cook space adequately lit up to help elevate the mood of the user.
A kitchen needs to be well lit! period!
Read, 7 Kitchen Light Fixtures that create a Style Statement to add in bling to your kitchen.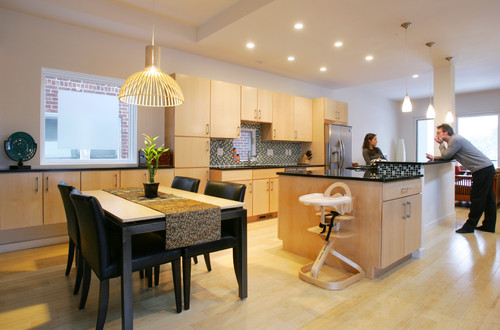 Photo by Tomecek Studio Architecture - More kitchen photos
6. Don't forget to Ventilate!
Ventilation is an important factor in the quality of spaces, this is more so in the case of a kitchen. A good natural and artificial ventilation system has to be worked out for the ambient and safe working of a kitchen. Try not to skip a natural window and chimney or an exhaust from your kitchen planning. These would act as the lungs for your kitchen by helping in the rotation of the air.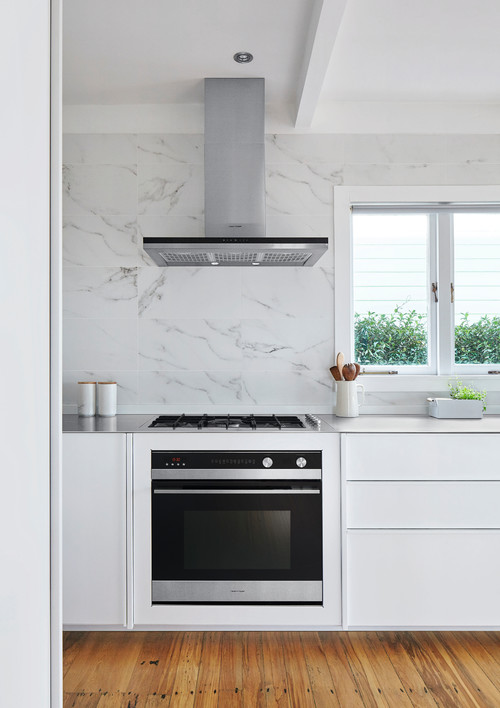 Photo by Fisher & Paykel - Search kitchen design ideas
Take a look at our buying guide for 10 Best Kitchen Manual Clean Chimney and 10 Best Kitchen Auto-Clean Chimney.
7. Compartmentalization and Storage: Accessories and Hardware
The best part of the concept of modularity is that you can efficiently use space by compartmentalizing the modules for storage. This not only helps in decluttering the kitchen but leads to a very well-organized space. It's like, having that apt space for every small thing that goes in the kitchen. The compartments can be determined by the size or type of things you want to organize in a particular section of your kitchen. The modular kitchens come with a lot of options to easily remove any troubles relating to organizing and thereby storing more in less.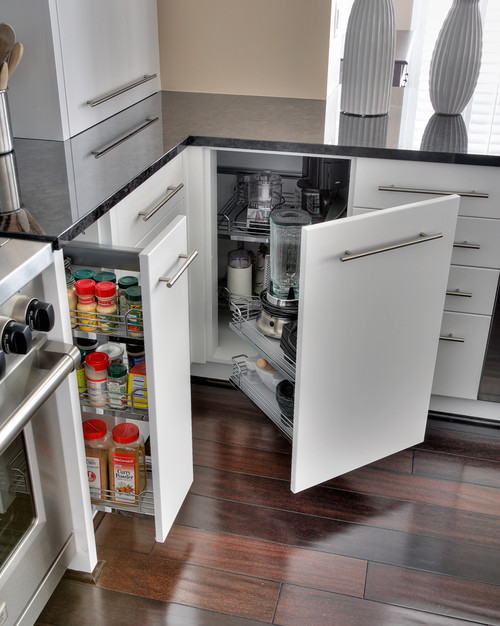 Photo by JACK ROSEN CUSTOM KITCHENS - More kitchen photos
It is important to know how and what you want to compartmentalize, based on which you can go in for the hardware and accessories for your kitchen. Hardware and accessories are like the bones of your kitchen. The better the choice, the more durable your kitchen. Know where you can put which accessory and hardware to maximize the use of that space, for example, a corner or a rotary corner accessory to effectively utilize the otherwise negative space. A market survey and a list of requirements would certainly help you in choosing the right accessories and hardware for your kitchen.
Some accessories to help you compartmentalize and store to get you started are – cutlery organizers, corner units, pull-out units, under-the-sink accessories, pantry or tall unit.
Tip – Avoid compromising on the quality of the hardware for your modular kitchen fittings. The quality of hardware determines the overall experience to a great extent.
Here are 7 Clever Storage Solutions For Your Tiny Kitchen!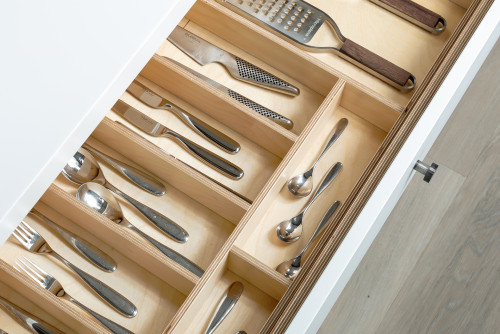 Photo by Rencraft Ltd - Search kitchen design ideas
8. More Storage = Tall Units
Storage is an important aspect of a kitchen. To incorporate more storage in your kitchen, plan and install tall units. The tall units along with the smart compartments and utility areas can help in providing storage for a vast range of items. The best part is that these units help in using every inch of the space. The alternative to a tall unit in the case of bigger spaces is the incorporation of pantries.
Read, 10 Best Storage Solution for your Tiny Kitchen!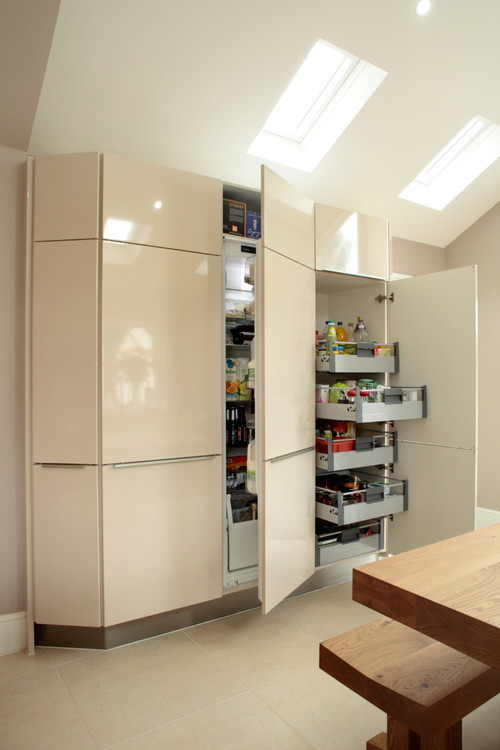 Photo by Design A Space Kitchens, Bedrooms & Interiors - Search kitchen pictures
While these were the guidelines to consider while thinking about modular kitchens, the question remains –
How much does a modular kitchen cost?
Modular kitchens, be it branded or carpenter-made, a basic and a good quality setup starts from ₹ 1500* per square foot. The cost would primarily vary based on –
Brand (like Hafele, Sleek, Glen, Faber, Hettich, etc.) – Part or whole.
The choice and quality of materials, hardware and accessories.
The choice of appliances.
* Please note that the cost mentioned is approximate and subject to change depending on current rates, location, dimensions required, design, brand considerations, choice of hardware and accessories, etc. Cost is subject to change based on the region and availability.
The cost is inclusive of materials, labour and installation costs.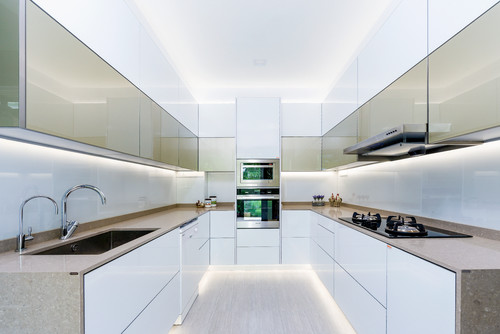 Photo by Blum SEA - Search kitchen pictures
Our modular kitchen guide is sure to motivate you to tread the path of a modular kitchen and enjoy the experience of it. While these are guidelines, a lot depends on personal opinions and more so on requirements and needs. One thing to remember while working on a kitchen is to not compromise with three things – the standard dimensions, the quality of materials and natural ventilation.
Do share your experiences of crafting your modular kitchen and if you wish to give us some suggestions, please feel free to post them in the comments below!
Also, read How to Modernize Your Outdated Kitchen.
And an example of one such video uploaded on our Youtube channel
Join our newsletter!
Enter your email to receive our latest newsletter.
Don't worry, we don't spam
Relevant Articles
Wondering how to add kitchen under cabinet lighting to your design? This guide offers tips and ideas on adding illumination
Looking for some kitchen ideas? We've got you covered! In this post, we'll show you 10 things you must have
Got a tiny kitchen? These clever ideas for boosting kitchen storage will help you maximize every inch of your
The kitchen is the heart of any home and the perfect place to showcase your style with cabinets that reflect
Designing your kitchen and are confused, whether to go for a modular or a carpenter-made kitchen? Fret not! And read
Whether you're upgrading your kitchen or just starting out, we've got the perfect guide for choosing the perfect built-in hob
Most Viewed Articles
Are you hunting for ways to turn your bathroom space into something more alluring as well as functional at the
Do you own a small bedroom and struggling to turn your small crib into a stylish one? Relax! You have
Do you own a larger home and on a hunt to find out ways to turn a large cold living room
If you are one among those owning a tiny home and contemplating on ways to decorate a living room, then
Be it a room for a girl or a boy, the basic teen bedroom design principles and teen bedroom decor
With several interior design styles, the process of choosing one interior style among all becomes a daunting process hence, We