8 Out-of-the-Box Wall Panelling Materials for Extraordinary Interiors
Wall panelling is one of the practical ways to consider when you are thinking of creating a decorative wall, utility wall, conceal a worn-out corner or wires and equipment, creating a backdrop, etc. Wall panelling is a good option to opt for for the interiors as it provides enhanced durability. It is the best way forward to give your space a neat look. With so many material options available in the market for wall panelling, it can at times be an intimidating task to choose the one for you. A wall panel can alter the overall aesthetic appeal of a space and is a more durable surface treatment when compared with wallpapers. The following article discusses the types of decorative wall panelling that one can choose from for the interiors based on the materials and their concurrent cost –
1. Wooden Wall Panelling
Wooden panels are the most common material considered for panelling for a long time now. Even when one visualizes a classic set up the first thing that comes to our minds is a wooden panelled room full of elegance. A classic wood panel can be polished to the tones of wood according to the likings of the users. These add an air of elegance and charm to space.
Here we share a beautiful example on Bedroom Decor Tips With Wooden Themed Wall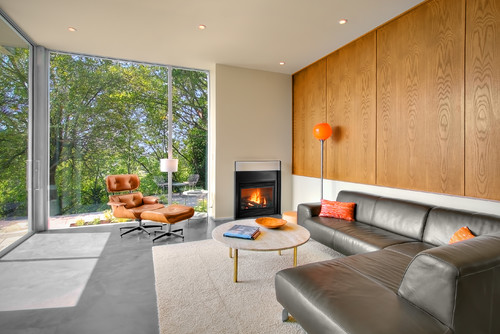 Photo by Ambrose Construction Inc. - Search living room pictures
The wooden wall panelling can be made interesting in the present day with the options stretching across various adaptations of wood.
The types of wooden wall panelling that one can explore are –
1.1. Laminate and Veneer
Laminates and veneers can be used to create an elegant focal point in space. The choices today are immense when it comes to colour, finish, textures and prints when it comes to aesthetics. The choice of the finish can alter the overall look of the space and impart a character as per the likes of the users.
Cost – Laminate: ₹ 250 per square foot
Veneer: ₹ 400 per square foot
Check out for better understanding Which one to go: Wood Veneer or Laminate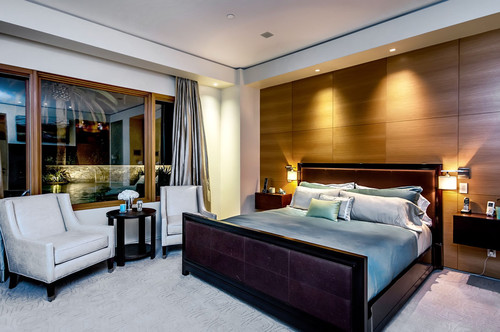 Photo by Stotler Design Group - More bedroom photos
1.2. Wooden Panels
Wooden panels are one of the popular choices when it comes to wall panelling. The panels can impart a feel ranging from classical to rustic, elegant to ripped depending on the taste of the users. The panels can be arranged horizontally or vertically depending on the type of space, dimensions of the room, and the room's overall theme.
Cost – ₹150 per square foot onwards (depending on the type of wood and finish thereof)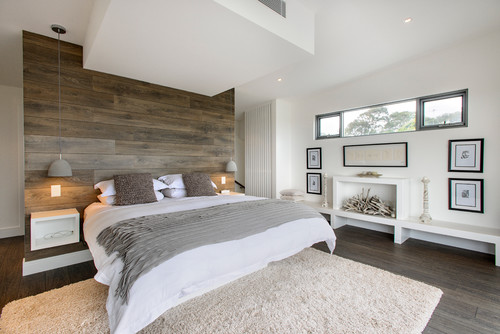 Photo by CAPITAL BUILDING - Search bedroom pictures
1.3. Board and Battens
Boards and battens for wall panelling are other elegant choices to go for. It has been a choice for interior wall panelling for centuries. The advantage of this choice is that these impart a classy surface modulation, which if used rationally or creatively can create a factor of interest in the space. these can handle any finish, natural wood to a matte solid finish to a textured or a dual colour finish. To add in the panache one can choose to line the battens with nice beadings (with or without a contrasting accent).
Cost – ₹150 per square foot onwards (depending on the type of wood and finish thereof)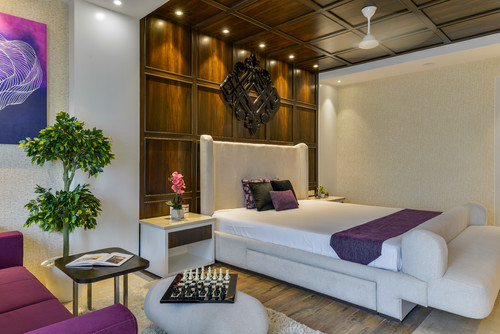 Photo by - More bedroom photos
1.4. MDF Panels
MDF (medium-density fibreboard) panels have taken over the contemporary material market. This engineered wood is not only finding its place in home decor products but is also being favoured as a material for wall panelling. The material gives a lot of flexibility to explore decorative techniques such as laser cutting, embossing, engraving, etc. This is a very versatile material and can match any theme or achieve any look you desire. It can give in the essence of actual wooden wall panels.
Cost – ₹160 per square foot onwards (depending on the type of finish and labour)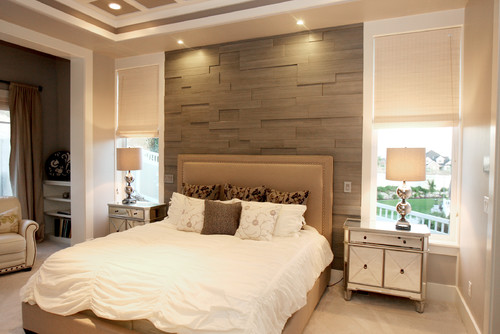 Photo by Soelberg Industries - More bedroom photos
2. Mirror Wall Panelling
As we know mirrors in a space can elevate the ambience of the room completely. Mirrors help in adding volume to space due to the principle of reflection. These are ideal for panelling the walls of a small room, a passageway, or any such space that one wants to expand visually. While this is one of the easiest ways to panel the walls, it also gives you the flexibility to experiment with geometries and textures (etching, engraving, etc.). These will add an extra glow to your space when put in a space with exquisite lighting.
Tip: One can even add textured or tinted glass for wall panelling instead or along with the mirrors.
Don't miss out a beautiful example of 12 Ways To Warm Up Your Room With Mirror
Cost – ₹ 350 – 400 per square foot onwards (depending on the type of wood and finish thereof)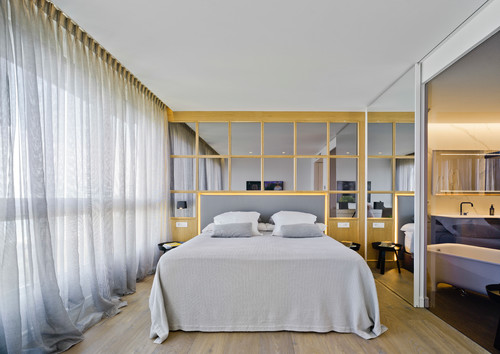 Photo by Estudio CODE - More bedroom photos
3. PVC Wall Panelling
PVC is plastic-based material that offers high resistance to moisture and durability. The panels are mounted on a grid made of aluminium channels. These are available in various designs and offer 3D textured and patterns to decorate your walls with. These are versatile panels that can easily be used in any space including wet areas. They are gradually becoming a popular choice amongst wall panelling materials.
Cost – ₹ 35 per square foot onwards (depending on the texture and dimensions)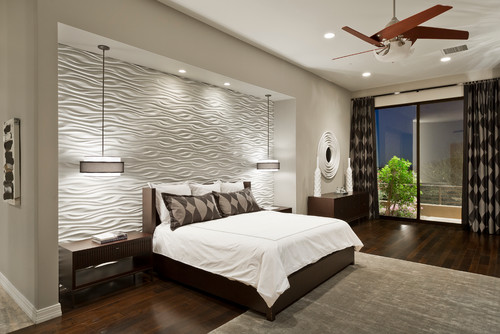 Photo by Chris Jovanelly Interior Design - Search bedroom design ideas
4. Leather Tile Wall Panelling
Leather tiles are innovative, easy to install, and easy to maintain when it comes to wall panelling. There are a lot of textures and patterns available in the market for leather tiles. Wall panelling made out of leather tiles looks elegant and imparts a rich look to space. These can be used to cover complete walls or a part to create a focal element in the room.
Cost – ₹ 350 – 400 per square foot onwards (depending on the quality and finish)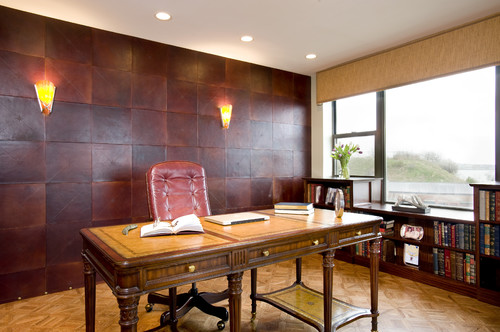 Photo by Mary Courville Designs - Search home office design ideas
5. Upholstered Wall Panelling
If you are looking to turn your walls into a comfort pad or give a cosy feel, upholstered wall panels are perfect for you. The upholstered wall panels can be made using an array of materials ranging from natural fabric to synthetic, the likes of which are velvet, silk, brocade, jacquard, leatherette, etc. one can opt for the pattern and texture based on the personal likings and the overall decor language of the room.
Cost – ₹ 200 per square foot onwards (depending on the type of fabric, quality, and pattern)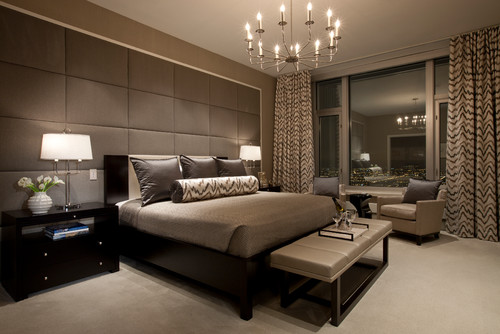 Photo by Michael Abrams Interiors - Search bedroom pictures
6. Concrete Fibreboard Wall Panels
If you are looking for a rugged or contemporary look, or if you are someone who adores the raw look of the materials, cement fibre board panels are the answer for you. The material is highly durable and has a great amount of structural strength too. The fibre boards can be mount on the walls or partitions to create a nice modern ambience. A material that suits an array of themes and moods.
Cost – ₹ 60 per square foot onwards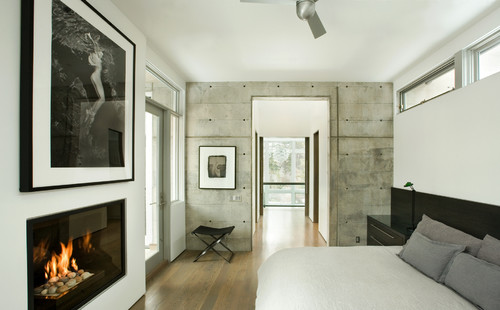 Photo by Kaegebein Fine Homebuilding LLC - More bedroom photos
7. Faux Stone Wall Panelling
Stone walls are ethereal and add a warm appeal to the room. While these have become a thematic element in a space, wall panelling using faux stone panels is an easier option to achieve the look.
Cost – ₹ 250 per square foot onwards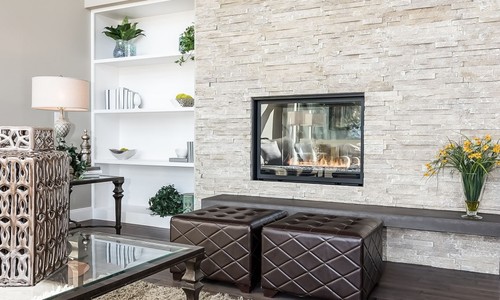 Photo by Eagle Stone & Brick, Inc. - Search living room design ideas
8. Sculptural Wall Panelling
If you want to create a nice sculptural and artistic wall, but do not want to get into any kind of onsite hassles, the best option to go for is sculptural wall panels. These are available in a lot of materials that can be carved or engraved using CNC machines. The patterns add an aesthetic appeal to your space making it more welcoming and artistic. The material, patterns, and colours can be chosen based on the theme you have in mind. The 3D element makes the wall a point of interest due to the play of light and shadow.
Cost – ₹ 1100 per square foot onwards (depending on the details and type of work)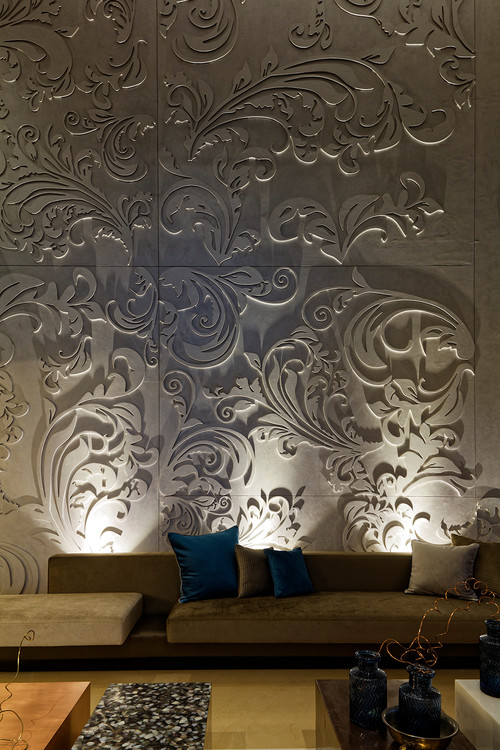 Photo by Fulcrum Studio - Search living room design ideas
The aforementioned are the types of wall panelling along with their starting costs, that can be considered to decorate your interiors. One can use these materials according to the look that one has in mind, overall cost, durability, and maintenance of the material. One can even attempt to combine two materials to come up with innovative decorative wall panelling.
Share your ideas and thoughts for wall panelling in the comments below!
To know about ideas to create accent walls, read here and click here for products that can help in accentuating a wall!
Disclaimer: Please note that the costs mentioned in the article are approximate and subject to change depending on current rates, location, dimensions required, design, etc. Cost is subject to change based on the region and availability. The costs mentioned are inclusive of material and labour charges.
Also, take a read to the most imporatant The Brick Wall Decor Is Always Classy & Different From The Ordinary One
And an example of one such video uploaded on our Youtube channel
Join our newsletter!
Enter your email to receive our latest newsletter.
Don't worry, we don't spam
Relevant Articles
Want to spruce up your bedroom but don't know where to start? These tips will give your bedroom an instant
Let's welcome spring all over our bedrooms with beautiful green bedroom decor! Explore different design ideas and find the perfect
Bring life to your stark black-and-white bedroom with a splash of color! Learn how to decorate your bedroom the right
Choosing the right wardrobe for your home is a big decision- do you want a sliding wardrobe or a hinge
Confused between Gypsum and POP for your home's false ceiling? Uncover the ideal choice for your space with our comprehensive
Want to spruce up your home with a unique wall paneling idea? These 8 ideas will give you inspiration!
Most Viewed Articles
We're in a whole new league all together and you probably hate us because you ain't us but thats going
No matter whether you have a small kitchen or a large kitchen it's essential to stay organized in order to cut
In order to be an architect, you must possess certain skills. These include creativity, problem-solving, communication, and more. Find out
Every architect faces the intimidating task of putting together a portfolio, at least once in their lifetime. The fact, that
Anything that has the word 'Modern' as its prefix is generally loved by all; Modern Architecture is no exception. Modern
A doctor cannot operate without his tools, a writer can not write without his; similarly an architect cannot perform, when