12 Clever Built-in Storage Hacks for Small Bedroom
Efficient storage space in our bedrooms is inversely proportional to the space of the bedroom. This is where we rack our brains to come up with ingenious storage solutions or hacks to make out more storage space in the limited bedroom area. With ample DIY options and inspirations to choose from one tends to get a little confident and confused all at the same time. Confident, because they can see it happening and confused, with the ample options available. To boost your confidence and eliminate your confusion, following are 12 clever built-in storage hacks for a small bedroom –
1. Build a Faux Plinth
One of the most interesting ideas is creating a faux plinth in your bedroom. A plinth that is a host for ample storage space. The top of such a plinth can host the bed or can be employed to create a study niche. The advantage of this built-in storage hack is that the area to be covered can be decided according to the storage requirements. Apart from the area factor, a faux plinth can be designed based on innovations and ease of use.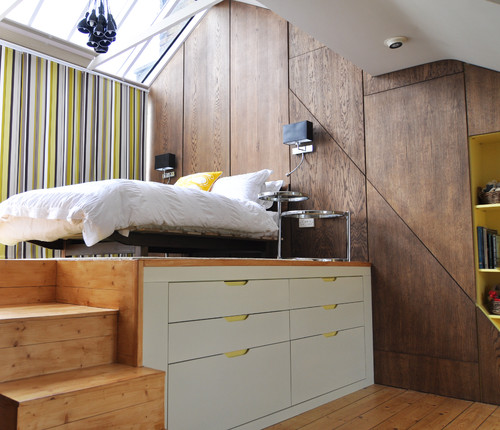 Photo by Kia Designs - Search bedroom design ideas
2. A Bed of Drawers
This is one of the oldest hacks in the book but works efficiently even today. A couple of drawers can be carved out in the bottom of the bed, creating a lot of space to store the extras. The best part about this hack is that the bed will conceal all the storage space and at the same time provide easy access to the things stored.
Tip – while going in for this hack, make sure to use good quality material and fittings. The base of the drawers should be of appropriate thickness to handle a load of your things so that it doesn't warp over the years of use.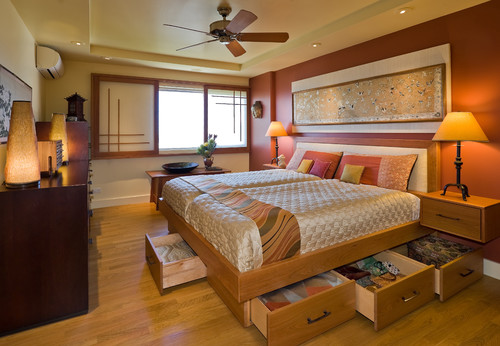 Photo by Archipelago Hawaii Luxury Home Designs - More bedroom photos
3. A Stepped Storage Unit
Most often, we have a space on the sides of our bed. This space can be efficiently used by planning a storage unit there. Like in the following example, the storage unit can take a stepped profile, thus giving room for a headboard and also utilize the area up to the ceiling to store the things that are seldom required. The profile of the cabinet will help in utilizing every inch of the space. You can certainly be creative with the stepped profile with respect to the context of your bedroom setting.
Let's get an insight on the Basic Interior Design Tips for a Bedroom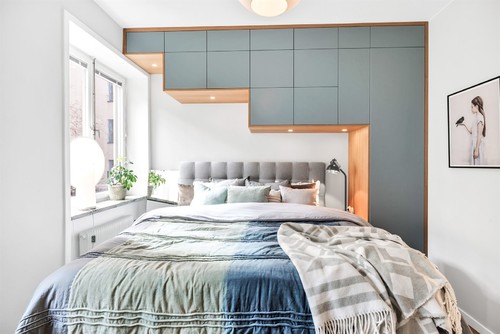 Photo by Move2 - More bedroom photos
4. Faux Wall for Storage
Another ingenious hack is to use one complete wall with cabinets. This hack not only adds to the storage space but also gives a seamless finish to the room. One can plan the faux wall of storage on the wall that has a door, to utilize the area above the lintel too. The added advantage with this hack is that the cabinets being on a complete wall will give a neat look to the space and can even act as a focal wall (depending on the design of the cabinets). The external surface of the cabinet can be designed according to personal likings, for which a lot of surface finish options in the market to choose from.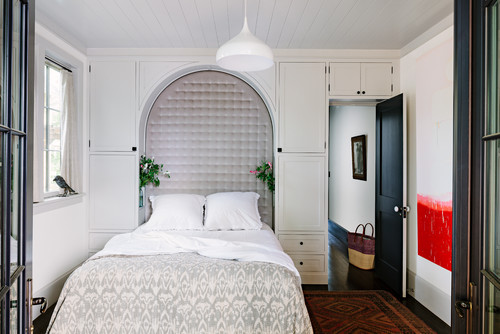 Photo by The Works - Search bedroom pictures
5. Bed Amidst the Storage Box
If you are someone who can never get enough storage space, worry not, this hack is for you! One can make a box for storage in all three dimensions of a room, parallel to the floor, walls and ceiling. This will leave you with a cavity similar to the following picture. The cavity can house a cozy bed.
Besides, the various cabinets can have varied styles of accessibility. For instance, the ones along the floor can have drawers, the ones along the walls can have shutters or sliding cabinets, so on and so forth. Think out of the box and you will be able to make the most of this hack and give your bedroom a nice edge.
You may also try our Designer Tricks to Make a Small Bedroom Look Bigger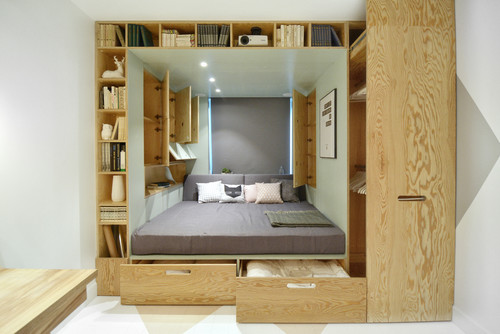 Photo by INT2architecture - More bedroom photos
6. Create a niche with a cabinet
Consider creating a niche in a built-in wall to wall cabinet. This way you can make an additional resting space along with storage space. This hack will not only provide you with storage space but will also help in enhancing the aesthetic quality of your bedroom. The carved out niche can be a personal and intimate space at your disposal. This idea can help in utilizing the wall with windows effectively and efficiently.
Why waste when you can use it!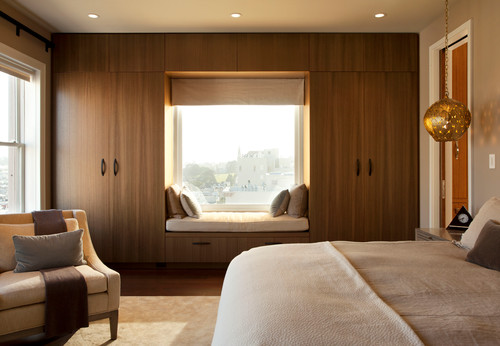 Photo by De Meza + Architecture - More bedroom photos
7. Clever Headboard Storage
Storage spaces concealed in a headboard have been in use for a rather long time. One can innovate their headboards to suit their storage requirements. There is an array of options to use your headboard effectively for storage. The benefit of this idea is that it can seamlessly conceal your stuff at the same time be a designed element in your bedroom space.
So go ahead and carve out extra space with Headboard Storage – A Clever and Functional Space-Saving Ideas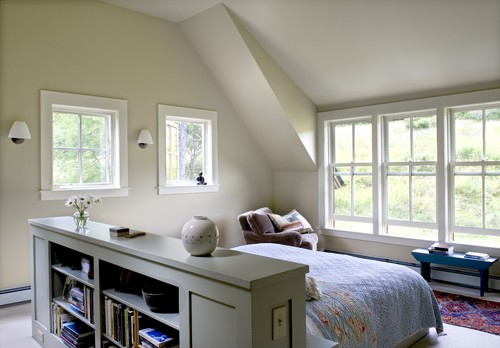 Photo by Smith & Vansant Architects PC - More bedroom photos
8. Multipurpose Furniture
When one talks about built-in storage, a piece of multipurpose furniture is a foolproof way to incorporate the same. A piece of furniture that plays a double role in your bedroom space can save a lot of space by decluttering the room. There are a lot of products available in the market that function as seating, coffee table, stools, etc. and at the same time have a well-planned storage space.
Make the most of your interior spaces with 15 Multi-Functional Pieces which are Perfect for Small Spaces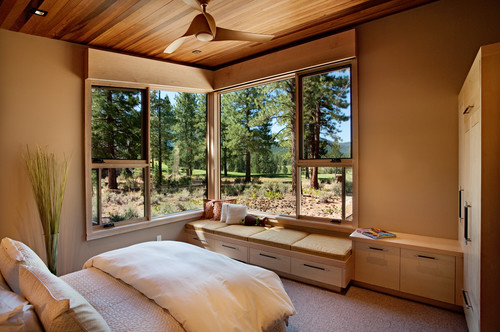 Photo by Ryan Group Architects - Search bedroom design ideas
9. Carve Out a Mezzanine
If you are someone who wants one separate room for storage, the best idea is to build a mezzanine for either the sleeping area or storage area. This way one can have a lot of floor area to provide for their storage. In fact, a single bedroom would double up literally to provide for all your functions and storage requirements simultaneously.
Tip - Be innovative with this approach but be mindful of keeping it breezy so that the setup doesn't overwhelm you.
To give your small bedroom a big style, read here for ideas.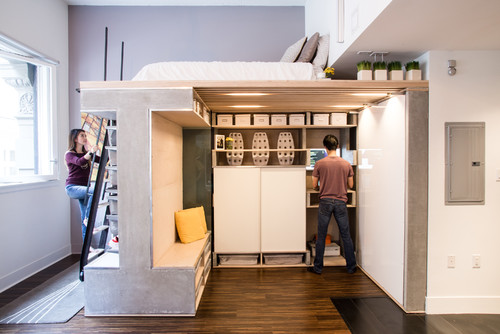 Photo by BL/SS - Search bedroom design ideas
10. Use the Negatives
To make room for more storage, you can make use of all the negative spaces or niches in your bedroom. This can be done through floating shelves, space organizers or DIY projects. This way you would be able to effectively use already available space. The catch here is to identify these spaces and use them.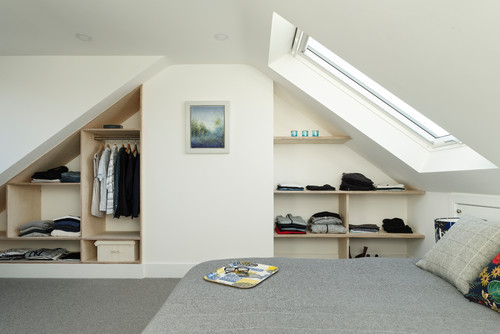 Photo by fiftypointeight Architecture + Interiors - Search bedroom pictures
11. Build a Bed Box
This is a storage hack that we are all familiar with, but with innovation in materials and technology, the bed boxes have become more accessible and easier to use. The bed box can be designed depending on the requirements. Being a customizable hack and long lasting one at that, it's a good idea to adopt even when we are not short on space.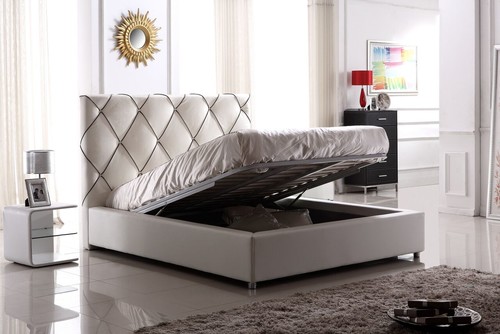 Photo by La Vie Modern Furniture - Search bedroom design ideas
12. Storage Stairs
One can plan a stair cum storage in a small bedroom. The advantage with this simple idea is that every step can be a separate storage area, in addition, can be used to access storage on higher levels. These can be planned in a way that creates an interest in the bedroom space. A simple yet effective hack.
Tip – if planning to get your cabinets or wardrobes done, you can definitely opt for a stepped profile.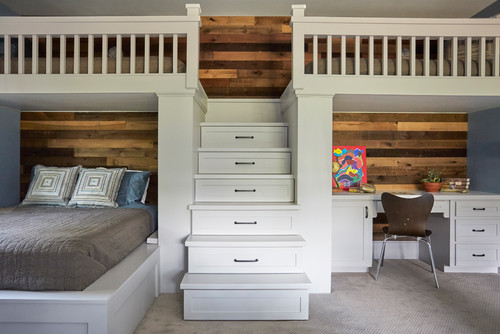 Photo by Michael Alan Kaskel - More kid's room photos
These were 12 clever built-in storage hacks that I liked the most and think are workable for a small bedroom. These hacks will help in increasing the storage without ever compromising on the decor or space of your bedroom. Get inspired with these hacks to come up with perfect solutions for your bedroom. However, if you feel we can explore more such clever hacks for storage, then please feel free to share them with us in the comments below.
Also, read 6 Designer Tricks to Arrange Furniture in a Small Bedroom
And an example of one such video uploaded on our Youtube channel
Join our newsletter!
Enter your email to receive our latest newsletter.
Don't worry, we don't spam
Relevant Articles
Want to spruce up your bedroom but don't know where to start? These tips will give your bedroom an instant
Let's welcome spring all over our bedrooms with beautiful green bedroom decor! Explore different design ideas and find the perfect
Bring life to your stark black-and-white bedroom with a splash of color! Learn how to decorate your bedroom the right
Choosing the right wardrobe for your home is a big decision- do you want a sliding wardrobe or a hinge
Confused between Gypsum and POP for your home's false ceiling? Uncover the ideal choice for your space with our comprehensive
Want to spruce up your home with a unique wall paneling idea? These 8 ideas will give you inspiration!
Most Viewed Articles
Kitchen countertop materials help in adorning the kitchen to a certain extent. Hence, we have listed out a variety of countertops,
In this era of digitization, several online organizations have come up with ways to help you design your dream home right
After spending five strenuous years of sleepless nights, countless cups of coffee, hundreds of redo's, frequent backaches and red eyes
It is a known fact that with numerous numbers of registered architects in India and with more than half of
Want to know more about indirect lighting techniques? Read on to discover some of the best ways to use them
The unique the chair gets, the more drama it adds to any room!  Hence, what can better than adding a hanging