10 Tips and Ideas to Make your Bedroom Look and Feel Romantic
A bedroom is a private and intimate space. it is the perfect space to spend a nice time with your romantic partner. There are a lot of ways in which you can make your bedroom more romantic or add a sense of romance. Some ideas could be taken into consideration if you are planning a new bedroom or refurbishing the existing one, however, there are a few tips that can impart a romantic feel to your bedroom. Following are 10 tips and ideas that can add the spice of romance in your bedroom –
1. Create a Bed Cocoon- Feel of a Romantic Bedroom
A bed is the perfect element to cuddle with your partner and enjoy some precious moments. To give your bedroom a romantic feel, you can add a canopy to your bed. This will help in creating a bed cocoon thus making it an intimate yet sophisticated addition to your bedroom. A feel-good addition that will give your space an air of elegance along with tossing in a romantic factor.
An ultimate guide for Stylish Curtain Canopy Beds to Make Your Bedroom Look Dreamy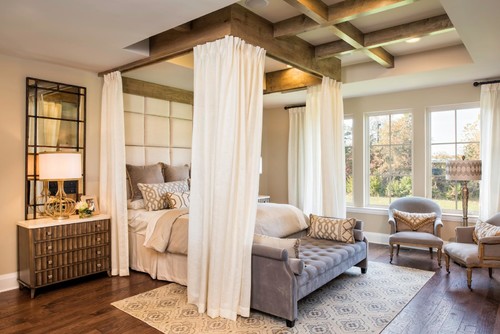 Photo by Drees Homes - More bedroom photos
2. Add Personal Pictures- Enhance the Romantic Feel
One of the best and run-of-the-mill ways is to add in some personal and intimate photos to keep the memories fresh. Not only will add to the memory gallery but would help in sparking the romance. You can either add a huge frame on the bed wall or toss in a bundle of small pictures. This can even be achieved by hanging the clip-on fairy lights that enable you to brighten up your space with light and memories. What better way to enhance the romantic feel than romantic memories!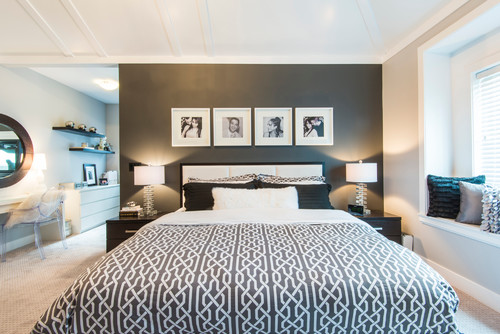 Photo by Douglas Williams Photography - Search bedroom design ideas
3. Add the Floral Essence
Flowers and romance are somehow synonymous. To make your bedroom feel more romantic, add in florals. This can be done by placing floral arrangements at various locations in the room. One should ideally go in for fresh flower arrangements, however, if you feel that you want to go overboard with the decor, and the fresh flowers would be a bit much, you can go in for artificial flower arrangements too. Flowers are a way to go about when it comes to creating a romantic space.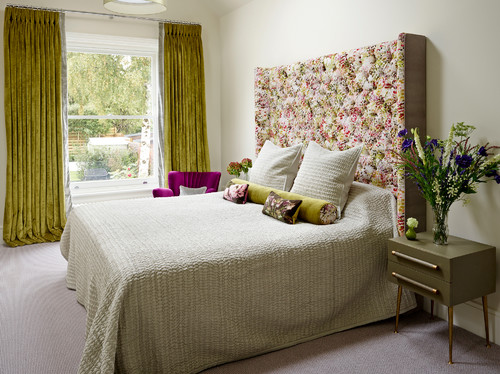 Photo by LEIVARS - Search bedroom pictures
4. Take Note of Colours and Textures- Romantic Bedroom Colour Combination
The colours and textures have the power to play with human psychology and can help in the overall perception of the space. These are the basic considerations to take into account when designing a space and more so for a romantic space. The colours and textures used should be in conjunction with the feeling of affection and love. Go for light tones and intimate textures to create interest in your space.
Get inspiration for colour themes with 7 Cool Color Scheme for a Calming Bedroom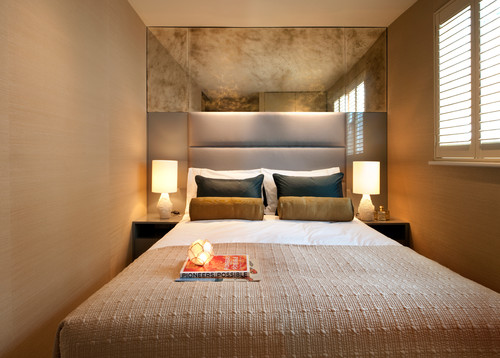 Photo by Zephyr Interiors - Search bedroom design ideas
Bonus Tip - You can even add a play of mirrors to the overall texture of your room, it will help in creating a nice overall effect to your bedroom space.
5. Light it UP- Romantic Bedroom Mood Lighting
Light is one factor that can help in setting the mood of the space. To aid this, space can be adorned by stylistic light additions or strings of fairy lights. The ambient warm lighting would help in elevating the intimacy factor of the space. Try narrowing down on the type of light source depending on the permanency you want for romantic lighting.
Here, we share with you the most important Tips to Choose the Right Lighting for Your Bedroom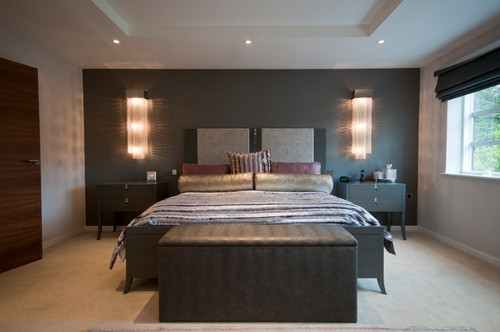 Photo by LANA FILIPPOVA INTERIORS by Svetlana Filippova - Search bedroom pictures
6. Go, Boho! Go, White! Perfect Balance for a Romantic Setting
If you are someone who likes to spice things up with a raw and natural look – Go Boho! Go, White! Completely white space with some added natural textures has the power to bring in a feeling of calm to the users. When the mind is calm, one can enjoy romantic moments all the more. This is a very versatile way to decorate your bedroom, thus giving a lot of scope for experimentation with lighting, flowers and accessories to strike the perfect balance for a romantic setting.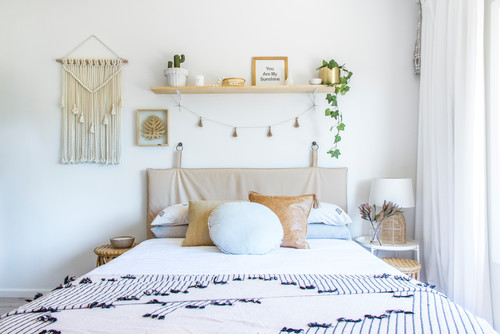 Photo by Jessi Eve - Search bedroom pictures
7. A Bundle of 'Pillows'
Pillows are synonymous with comfort, and that is one of the major factors you want when in the company of your partner. Stack ample pillows and cushions on your bed or comfort nook to enjoy a romantic feel. You can go crazy with the type of pillows you want to add the zing factor with – simple, coloured or of varied forms.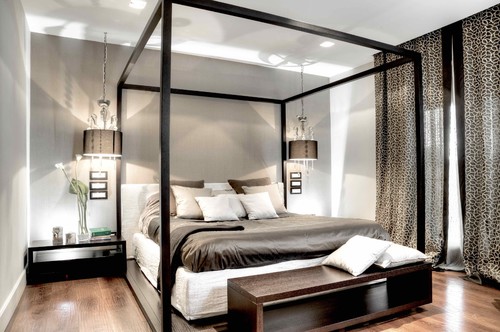 Photo by Ernesto Fusco Interior Designer - Search bedroom design ideas
8. Add Curtains
Curtains in a space help in elevating the desired levels of intimacy through their texture and pattern. These help in tossing an element that can help in romantic foreplay at the same time aiding in the privacy of the room. The texture and colour of the curtains would contribute to a great extent in creating the required feel in your bedroom. You can go in for layered curtains, sheers or opaques with the colour in conjunction with the overall colour scheme of your bedroom.
Confused about which curtains to choose, read An Expert Guide to Choosing Curtains for your Home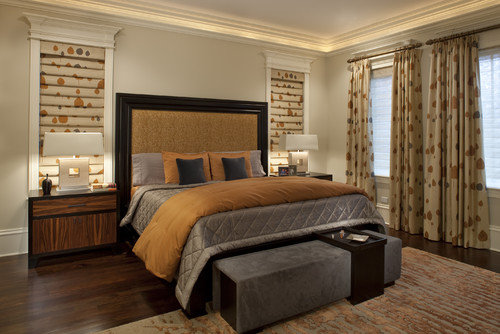 Photo by Michael Abrams Interiors - More bedroom photos
9. Spice it up with an Aroma- Feel of a Romantic Bedroom
When it comes to a romantic feel, aroma plays an important role in setting the mood. Go for aroma candles and nice potpourri arrangements to elevate the romance in your bedroom. Not only do these accessories help in bringing in romantic factors to your bedroom, but would also help in adding a chic factor to space, depending on the arrangement ideas you would take up.
An interesting read, you would love Honeymoon Suite Decor Ideas That Adds a Spark of Romance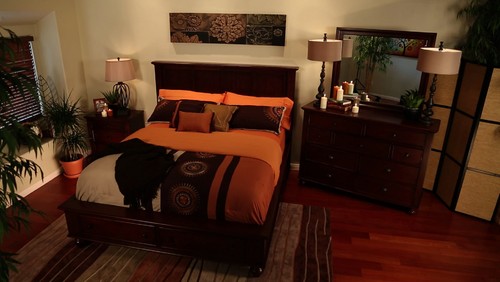 Photo by Jerome's Furniture - Search bedroom pictures
10. Material Warmth- Romantic Bedroom Decor Ideas
The materials used in your bedroom affect the space quite a lot. A space with warm and rustic materials, with undertones of the earthy palette, can elevate the romantic feel of a space. One can opt for natural finishes for the bedroom like wood, stone, mud, etc. to make your bedroom feel romantic. The overall material palette helps in setting the mood and the tone of a room. Choose what makes you and your partner set the mood right!
Get inspiration for an elegant Bedroom Decor Tips With Wooden Themed Wall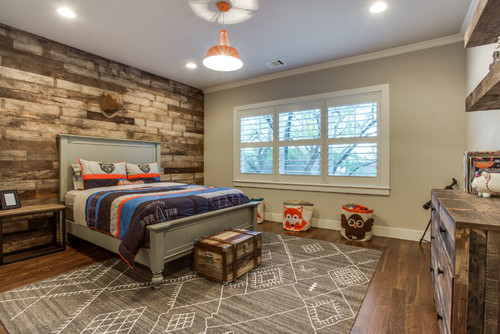 Photo by Montgomery Custom Homes - Search bedroom design ideas
These were a few ideas and tips that one can either take by a pinch of salt or by a spoonful to add romance to your bedroom. A romantic setup can be a single-day affair to make your significant other feel special or a permanent adaption to feel romance for every day of your life.
Share your ideas and thoughts to make a bedroom feel more romantic in the comments below!
Lastly, take a read to the most Sensational Romantic Bedroom Ideas for Couple
And an example of a Bedroom Decor video uploaded to our Youtube channel
Join our newsletter!
Enter your email to receive our latest newsletter.
Don't worry, we don't spam
Relevant Articles
Want to spruce up your bedroom but don't know where to start? These tips will give your bedroom an instant
Let's welcome spring all over our bedrooms with beautiful green bedroom decor! Explore different design ideas and find the perfect
Bring life to your stark black-and-white bedroom with a splash of color! Learn how to decorate your bedroom the right
Choosing the right wardrobe for your home is a big decision- do you want a sliding wardrobe or a hinge
Confused between Gypsum and POP for your home's false ceiling? Uncover the ideal choice for your space with our comprehensive
Want to spruce up your home with a unique wall paneling idea? These 8 ideas will give you inspiration!
Most Viewed Articles
Are you planning to give your bathroom a makeover? If yes, then a little planning along with some of the
Bedroom, a space within the home that is considered as a favorite zones, as it allows to unwind ourselves and is
Be it choosing pale muted color tones or overdramatic shades, there are no hard and fast rules to follow when
 Are you looking out for ways to create a 5-star hotel bedroom, with some creativity, technology, and inspiration? Then you have ended
Did you know a little attention towards the ceiling of your homes could result in the transformation of the space
Are you looking out for ways to decorate low ceilings? Then you have bumped into the right post! Here you