8 Bedroom Colour Schemes, You Never Knew You Wanted
While we are designing our bedrooms, we are constantly looking for inspirations for colour schemes and decor ideas. There might be a point when we look forward to breaking the conventional colour palettes and experimenting with it. Here arises a hesitancy to go forth or not. But there are a lot of unconventional colour schemes that impart a nice look for your bedroom. The colour schemes can help in adding colour, vividness and interest in a space. To feel confident about your decision and reinforce it all the more, the following are 8 colour schemes for a bedroom that you would end up falling in love with –
1. Grey with Accents of Vermilion
An interesting combination of colours is a base palette of tones of grey with accents of vermilion or neon orange. This combination is like a balancing act for the room. The subtle grey covers most of the portions while the vermilion is used to create accents in the form of furniture elements, moulding, soft furnishings or smaller elements of your bedroom. I for one fell for this combination over any other neutral colour scheme. This combination is simple yet vibrant.
Also, check out Neutral Colored Bedrooms Decor, You Will Fall In Love With!!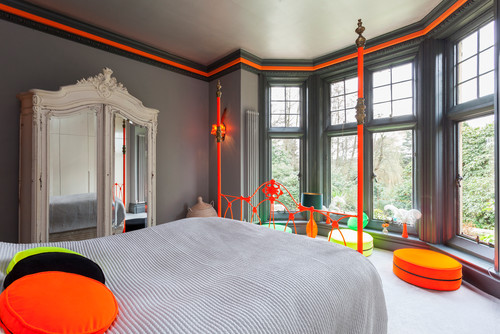 Photo by Chris Snook - Search bedroom pictures
2. Deep Blue and Mustard Yellow
This colour scheme derived out of the primary colours might look way too contrasting and bold, however, it has its perks. This colour scheme makes for a very bold and regal statement. It is a combination that grows on you eventually, making you fall in love with your bedroom every single day. Both colours have the power to instill calmness and happiness in the users. If you are not afraid of bold colours then you surely will adore the colour scheme.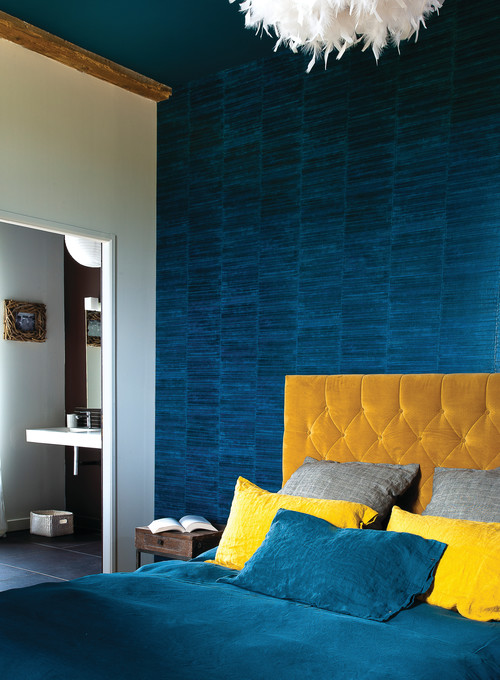 Photo by Dizing - Search bedroom design ideas
3. White and a Pop of Colours
If you want to play safe and still experiment, you can go for a base white palette with accents of pops of colour. The colours could be bright colour like red, yellow, orange, purple, indigo, etc. The benefit of this kind of a colour palette is that the white base makes room for a lot of adaptations. While the accents in the form of artwork, furniture or soft furnishings can add versatility to your space. The other plus is that the coloured accents on walls or nooks can help create colour blocks that can reflect upon the emotions of the users, at the same time making your bedroom space full of life and drama.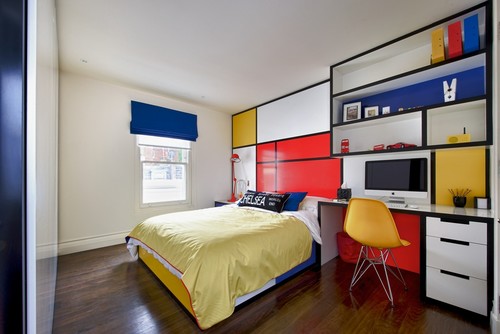 Photo by Suzy Harris Designs - More bedroom photos
4. Complementary Pastels
Pastels to some people might sound like the cliched concept and reserved for girls, however, it is not quite true. Pastels are suited for all age groups and their elegance adds to the overall feel of a calm and lively bedroom. The combinations of pastels are plenty, choose the one that appeals to you and you will find yourself falling in love with the pastels, and also your bedroom.
if you have an inclination towards soothing, calm colors and wish to bring in the cool effect right into your bedroom, read on 7 Cool Color Scheme for a Calming Bedroom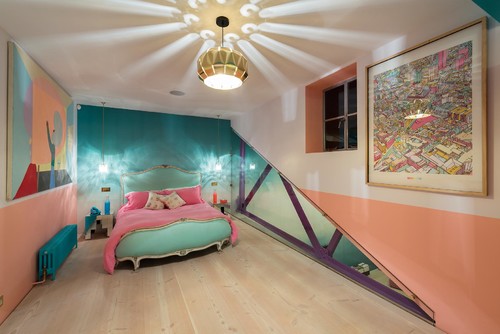 Photo by Alexander Owen Architecture - More bedroom photos
5. Grey and Purple
If you are looking to create a rather dark look or in literal terms, a cave, then without any reluctance go ahead with a colour palette consisting of grey and tones of purple. Honestly, this combination of colours would transform your bedroom into a soulful cave. With such a combination you have the option of creating nice accents with artificial lighting, thus making the colour scheme all the more appealing. It will help in creating a dreamy and playful bedroom.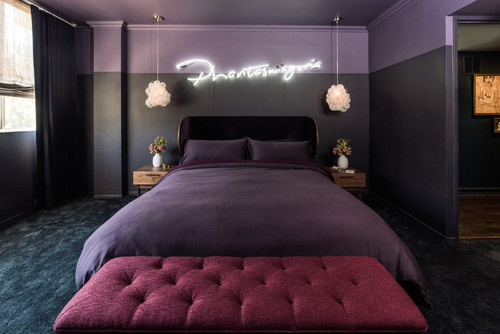 Photo by Sarah Barnard Design - Search bedroom pictures
6. White and Bright Turquoise
If you are looking for a dreamy yet a regal and practical colour scheme for your bedroom. Go for a white with a bright turquoise combination. This combination is bold yet simple, regal yet practical. Once you embrace the combination you would observe that it responds well with all styles, lighting conditions and other elements of the room. Both a white base and a bright turquoise can be opted for with accents of the other colour. Go overboard you're your experimentations with this colour scheme and you will never want any other colour scheme. This colour scheme imparts a dreamy appeal to your bedroom at the same time gives an upper hand to work with extravagance for your bedroom.
Want to know the colour trends for the year, click here!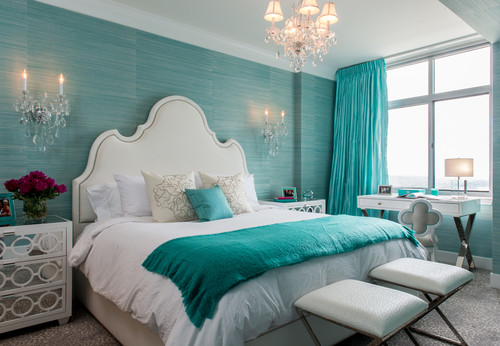 Photo by Erika Bonnell Interiors - Search bedroom pictures
7. Shades of Jade and Pink
A rather unusual yet a very soothing colour scheme is a choice of shades of the colours Jade and Pink. These are calming and soothing colours that will impart a sense of wellbeing to your bedroom. The colour combination adds a touch of elegance to your room. Don't fret from this unusual colour scheme, embrace it and your bedroom would be a talked about space in your social circle. Create a comfortable abode for yourself with this colour scheme. To impart a more royal feel to your bedroom, use hardware made of brass.
If you are looking for ways to select the colour scheme for your bedroom then you must read How do I choose the Best Color Scheme for a Master Bedroom?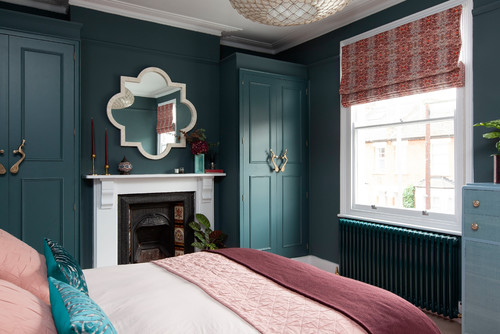 Photo by Kate Lovejoy Interiors - More bedroom photos
8. Black and 'Lotus'
A lotus has all soothing colours – lovely pink, hints of white and light green. The lotus-inspired colour scheme on black or darkest grey would set an elegant tone for your bedroom. The colour combination might look a bit too much, but once executed with the utmost care, it would bring a sense of vibrance to your space. If you are a person who appreciates contrasts in your space then this is the colour scheme to go for.
If you really like adding green to your bedroom Decor, then you must read Bedroom Decor To Welcome Spring With A Touch Of Green
Photo by MySmallSpace UK - Search bedroom design ideas
These were a selection of 8 unusual colour schemes for a bedroom that you might fall in love with. Colour scheme is quite a personal factor; therefore, the inspirations can be dealt with based on personal preferences. The only secret to exceptional spaces is that you should not fear experimentation and be open to embracing unusual ideas.
Go ahead and get inspired with these colour schemes. However, if you feel we can get inspired by some unusual colour schemes that you have tried out or love, please feel free to share them with us in the comments below.
Also, take a read of the most important How to Decorate a Black and White Bedroom with a Splash of Color?
And an example of one such video uploaded on our Youtube channel
Join our newsletter!
Enter your email to receive our latest newsletter.
Don't worry, we don't spam
Relevant Articles
Looking to increase storage space but are short on space? Are you someone who likes to experiment with storage hacks
Want to spruce up your bedroom but don't know where to start? These tips will give your bedroom an instant
Let's welcome spring all over our bedrooms with beautiful green bedroom decor! Explore different design ideas and find the perfect
Bring life to your stark black-and-white bedroom with a splash of color! Learn how to decorate your bedroom the right
Choosing the right wardrobe for your home is a big decision- do you want a sliding wardrobe or a hinge
Confused between Gypsum and POP for your home's false ceiling? Uncover the ideal choice for your space with our comprehensive
Most Viewed Articles
Looking for sustainable ideas to design an affordable home? Or Have sustainability in mind and want to know how can
Learn how to use social media platforms to boost your architecture business and see results!
Are you an architecture student looking for tips to stay focused in these tough times? OR Has the pandemic led
Contemplating the effects of Covid 19 on architecture business? Wondering if it affected the architecture fraternity positively or negatively? Read
Are you struggling to get more architecture business? Do you have a social media presence but aren't sure if it's
Do you want to make your home more sustainable and eco-friendly? If you are looking to start living a more