Style Up Your Bathroom with These 10 Modern Vanity Designs
The bathroom is a space where we tend to spend quite a lot of our time. These days bathroom decor has found a luxurious and stylistic appeal. The various elements also include a fully functioning vanity, to help declutter the dressing area or bedroom. Vanities are used to store daily essentials like cosmetics, towels, tissue rolls, refills, etc. in a concentrated space. There is a range of styles for bathroom vanities available in the market. In addition to the style, a user can choose the right vanity depending on the material, finishes, colour, placement, storage options, so on and so forth. This is a choice that depends on the overall theme of the bathroom styling. To help you in styling your bathroom to your satisfaction, here is a list of 10 modern vanity designs that add an air of style to your bathroom –
1. Vanity in a Nook- Great Idea of Using A Niche
If your bathroom has a nook or an awkward niche, then this is a great place to have a minimalistic and floating vanity. Since you are trying to utilize the niche effectively, try not o go overboard with the details in the vanity. Go in for a vanity that is minimalistic with a rich look of wood or stone. Throw in a few accessories on the countertop to enhance the elegance of your niche while making it functional.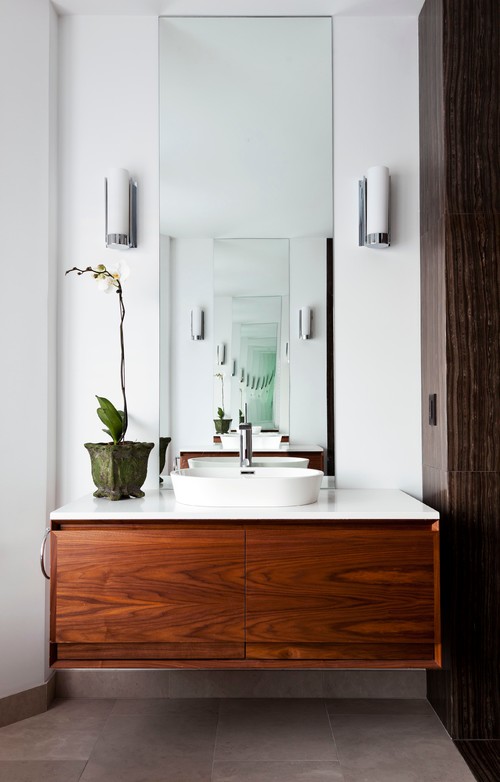 Photo by c3d design - Search bathroom pictures
2. It's a Set- Organize your Essentials Smartly
It is a good idea to go in for a set of vanity that hosts the countertop basin and also the mirror on the wall. This is an ideal choice as it imparts a homogeneity to the decor. Such vanities provide for a lot of storage as they have a concealed cabinet behind the mirror as well. The vanity with drawers and shelves to organize your essentials is a welcome element in a modern bathroom space. Not only does it provide storage while saving space, but it also adds to the style quotient of the bathroom.
If you are bathroom running out of storage space then you must read 7 Ways to Boost Your Bathroom Storage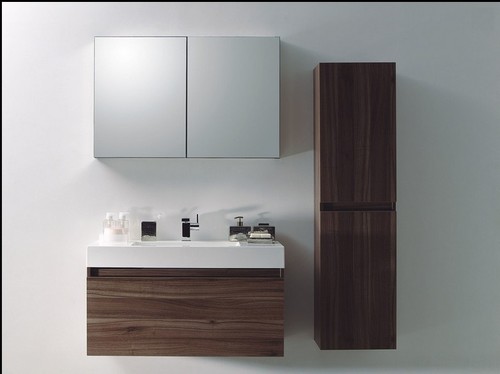 Photo by My Luxury Home LLC - Search home design pictures
3. A True Vanity- The Best for Your Bathroom
When a bathroom vanity comes with a dressing table and stool, I call it a true vanity. It helps in merging the two spaces and functions together. These can be customized depending on the available size of the bathroom. The styles can range from minimalistic to extravagant depending on the tone of the overall bathroom decor. This vanity with long mirrors helps in adding grandeur to the bathroom space.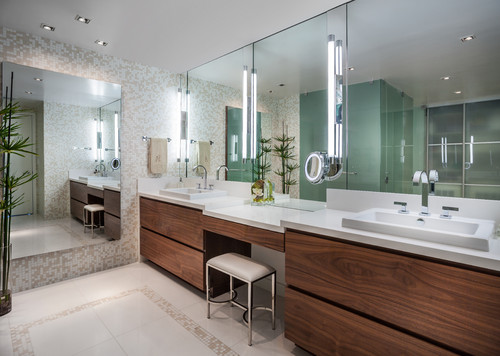 Photo by 2id Interiors - Search bathroom design ideas
4. A Curvilinear Countertop Vanity with a Wall Hung Unit
Today's design is all about going all out and exploring the possibilities of various elements through curves. The curvilinear profiles help in adding an edge to bathroom styling. This vanity is a combination of a curvilinear counter and a wall-hung cabinet. This provides ample space for storing daily essentials in the bathroom in addition to styling the space.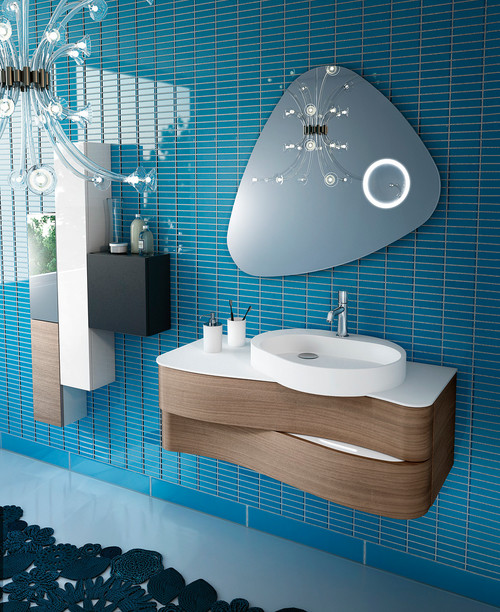 Photo by BKT LOFT Italian Kitchen Cabinets in San Diego - More bathroom photos
5. Classic Table Style Vanity- Flaunt Your Bathroom in Style
If you are looking to add a classic panache to your bathroom, go in for a classic table-style vanity. This may or may not host a washbasin. Decorate the vanity top with accessories matching the theme and voila! You are all set to flaunt your style through your bathroom.
Also, check out Bathroom Guide- How to Choose the Perfect Sink Basin for your Bathroom?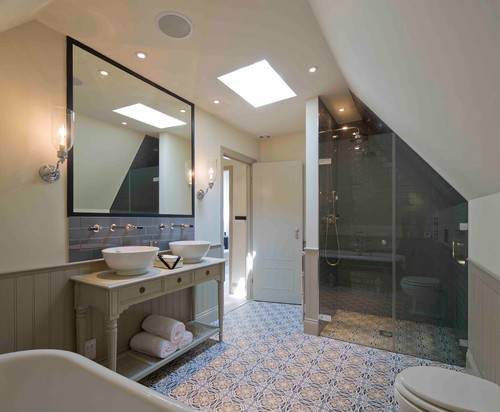 Photo by Peach Studio - More bathroom photos
6. Contemporary Long Cupboard Style- Minimalistic and Elegant
A long cupboard-style vanity is well suited for large bathrooms. This gives body to the space adequately. The cupboard style vintage helps in making space for a variety of things in one place. This contemporary vanity is both minimalistic and elegant a choice to style your bathroom with. The interesting part is that the sleek supports give you an illusion of a floating vanity while it is buoyed on metal supports.
Check out more ideas to create a Luxurious Bathroom That is Fuss Free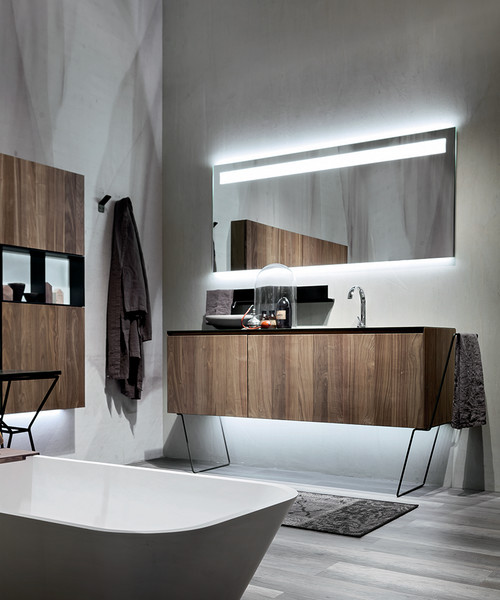 Photo by Exclusive Home Interiors - Search bathroom design ideas
7. A Multitude of Drawers- Helps in Organizing the Necessities
Vanity with a multitude of drawers might be a choice that a lot of people would go for. This helps in organizing the necessities according to the categories. A good choice for people who like their things organized and categorized to avoid any kind of clutter. The dimensions of the drawers can be customized as per personal requirements. The finishes could be in sync or contrast with the overall theme of the bathroom.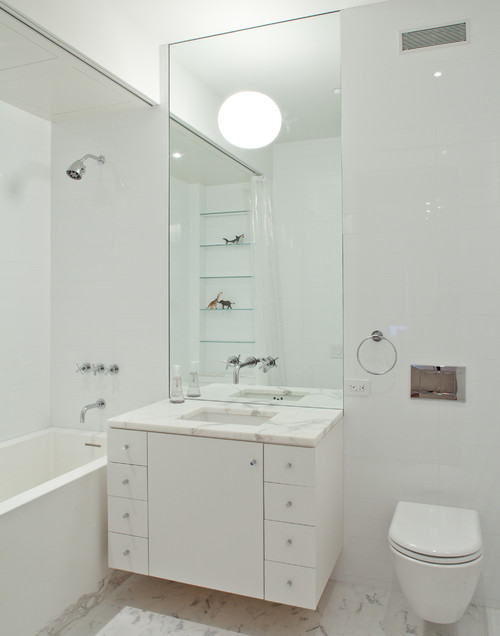 Photo by - More bathroom photos
8. Open Shelving- Styling a Modern Bathroom
If you are a person who doesn't like 'closed doors' then a vanity with open shelves is the right choice for you. It enables you to easily keep and remove stuff from the vanity as and when required. To create a dramatic look in your bathroom, contrast the colour or style of your vanity from the overall theme of the bathroom. A lot of people like to design open and free elements while styling a modern bathroom. Just be careful not to impart a messy look to your bathroom by adding things to the shelves carelessly.
Are you looking out for ways to give your bathrooms a makeover, but contemplating on how to get started off? Then you must go through Expert Speak: How to Modernize your Outdated Bathroom?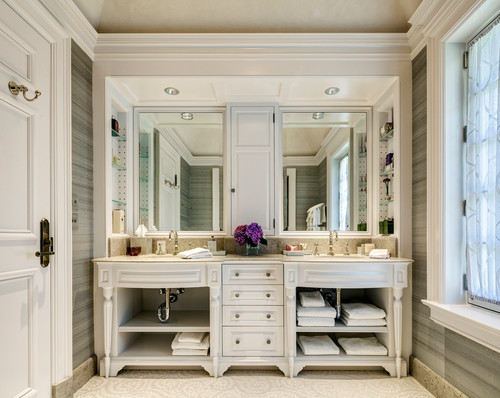 Photo by Charles Hilton Architects - More bathroom photos
9. Wall to Wall Vanity- Provides Ample Storage
A wall-to-wall vanity provides ample storage in addition to giving a linear and neat look to the bathroom. The style of vanity can be chosen in conjunction with the style of the overall decor. It also provides a lot of free countertop surface to let you decorate it with accessories – potpourri, candles, aromatic diffusers, showpieces, etc. In this scenario, a floating vanity would add elegance to the space.
This is really an interesting read Bathrooms with Stunning Vanity and Bathtub, You will Instantly Fall for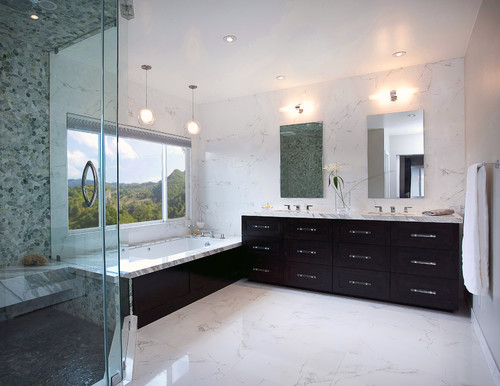 Photo by Claudia Interior Design - Search bathroom pictures
10. Monolithic Vanity- Have a Focal Wall in Your Bathroom
If you are planning to have a focal wall in your bathroom or a natural stone wall, you can integrate the vanity with the language of the wall. The monolithic vanity creates an impression of grandeur and luxury in a stylized bathroom space. The materials or finishes for such a vanity would be the same as those used for the walls.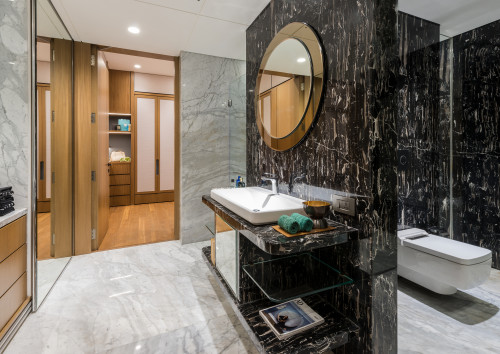 Photo by RC DESIGN STUDIO - More bathroom photos
These were 10 modern vanity design ideas that one can choose as inspiration when styling a bathroom. There can be a lot of other permutations and combinations based on styles, materials, finishes, space requirements, etc. Get inspired and style your bathroom with a modern vanity design.
If you have any creative vanity design ideas, please feel free to post your suggestions!
Lastly, take a read of the most important How To Select The Most Suitable Bathroom Vanity?
And an example of one such video uploaded on our Youtube channel
Join our newsletter!
Enter your email to receive our latest newsletter.
Don't worry, we don't spam
Relevant Articles
Choosing a perfect mirror can actually make your bathroom look WOW. Check out here to land upon a perfect mirror,
Wondering how to pick the right bathroom tub for your needs? Check out our guide on different types of bathtubs
Those homeowners, who are planning to bring in the ''spa-like''  experience right into their home, would know that without showcasing
Find out the few ways to separate the wet shower as bathrooms these days consist of designs and storage units
For most women, a bathroom is not merely a functional space; as it is so much more that provides them
Give your bathroom a twist and make it beautiful by adding up warmth, dimness and this time with bathroom candles or bathroom scented
Most Viewed Articles
Ones you have set up the bedroom interiors, the next element to focus on is the lighting. As to bring
Modern kitchens are not just known for their efficiency but also for the way they look. And it is always a
When it comes to kitchen sinks, you need to choose the one that suits you the best. Be it the
With the availability of numerous numbers of unique coffee table designs, all you need to do is to add the
Whether you prefer a leather or fabric sofa depends on what kind of style you're going for. Read our guide
When it comes to small kitchens or tiny kitchens, the role of kitchen storage gets more crucial. Since the role