9 Designer Tricks to Choose a Right Sofa Colour for Living Room
Believe it or not, the colour of your sofa is equally important to a living room as the element itself. The colour palette for a sofa is vast, but choosing the right one is the key. A sofa just by its colour choice can make a lot of difference in the overall visual perception and visual weight of the space. People today are opting for colours as neutral as brown and grey to as funky and pop as neon. If you too are confused about the ways to make the right colour choice for your sofa, then the following article will help you with 9 designer tricks to choose the right colour for your living room sofa –
1. Take Note of 'The Existing Decor'
If you are moving into an existing setup or remodeling your living room with most of the elements intact, then it becomes pertinent to take note of the existing decor. The Sofa though an important element in the room, its colour should somehow complement the other elements of the living room. In lieu of changing to a new colour don't forget the old elements.
If you are setting up a new living room from scratch, even then pay careful attention to the other elements of the space too to make the right colour choice for your sofa.
You must check out 9 Spectacular Ways to Design the Wall Behind the Sofa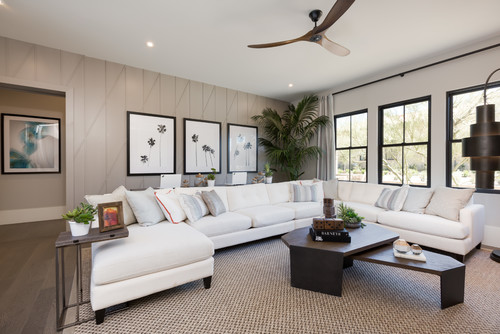 Photo by Younger Brothers Door and Trim - Search living room pictures
2. Take Note of the Material
Material is an important part of the sofa experience. Not only does it contribute to the overall looks of the sofa, but it also enables you to choose the colour. For instance, if you want a leather sofa in your living room, look for the colour options that look good on leather, in line with the context of your decor. A material choice will lead the path to the right choice of colour for your sofa.
In a dilemma to choose the right material? Let's read this Leather Sofa vs. Fabric Sofa- Which Suits You best?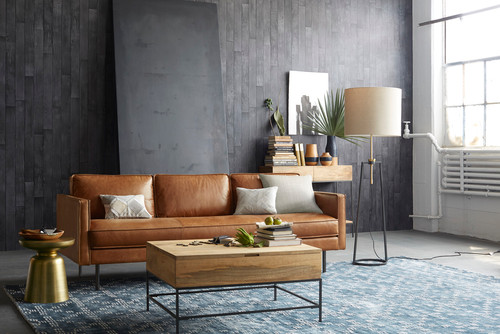 Photo by West Elm UK - More living room photos
3. Weigh-in the Tonal Variation – Light or Dark
When choosing a colour, the first step towards narrowing down colour is to be clear in the head about the tonal quality of the colour – light or dark. Many a time this choice is lead by personal preferences and other times by the immediate material finishes (like the colour of walls and floors/rugs). Both light and dark colours have their sets of pros and cons, it is on you now to choose the right one. For instance, a dark sofa might give an impression of occupying more space than it does and a light sofa comes with issues of staining and the likes. Though this is purely context-based, and a choice can be made according to the personal stance of the user.
Get inspiration for living room colour palettes!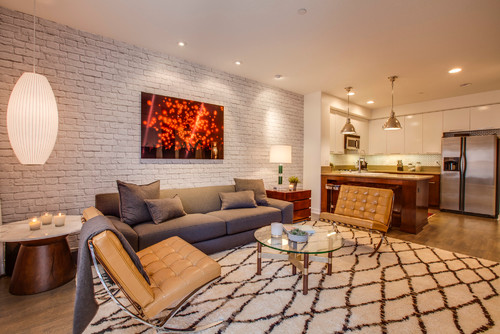 Photo by Studio Blu - Search living room design ideas
4. Take note of the Daylight Exposure
The colour of the sofa is also determined by the amount of daylight exposure the space has. This is because the daylight exposure results in the wear of the sofa in the form of fading. The trick is to go in for a little darker tones of the colour you envision, this way the gradual fading of the upholstery would not affect the charm of your sofa over a period of time.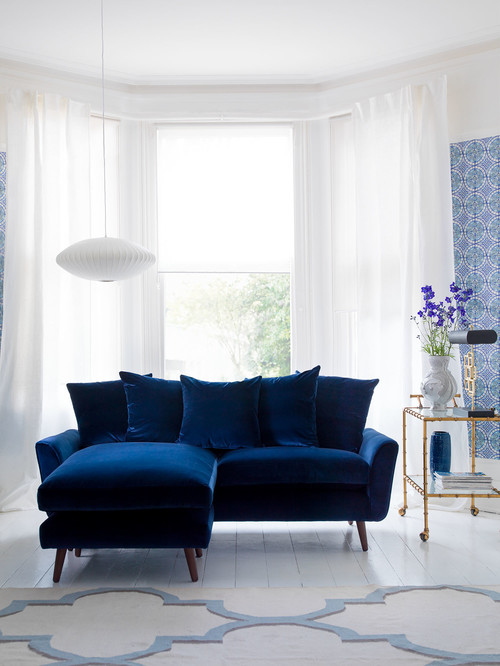 Photo by - Search living room pictures
5. Take Note of the Usage Habits
How would your sofa be used? For a formal setting or informal one? Will it be used regularly or occasionally? Are some of the questions that you need to ponder upon while looking for the right colour for your sofa. The usage habits would help in determining the right colour for your sofa rather instantly. The colour would also vary depending on the members of the house – kids and in many cases pets.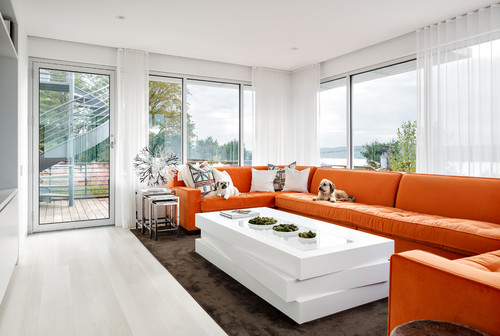 Photo by DSA Builders, Inc. - Search living room pictures
6. Take Note of Reflecting YOUR STYLE
A Sofa, its style and colour, according to me reflects your taste and style. So, choose a colour that reflects your style, the colour with which you resonate the most with. It is you who is going to spend most of the time on that sofa, so it should be a colour that you feel is yours, your inkling. If bright and vibrant colours resonate with you and you are comfortable with having them in your living room, then so be it!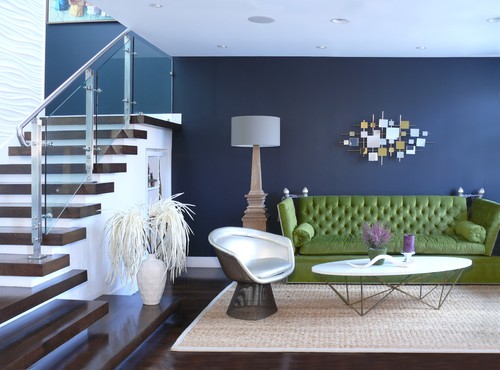 Photo by Dotter & Solfjeld Architecture + Design - More living room photos
7. Take Note of the Style of the Sofa
At times the colour of the sofa is determined by the style the sofa belongs too. If you are someone who is going for a modernist sofa or a sofa pertaining to a specific style, check the colour palette the style supports. Not all colours go with all styles, take note of this and then make the choice.
To know more about the various styles, click here!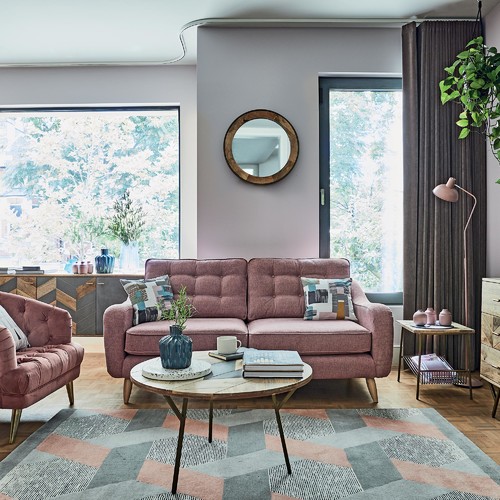 Photo by Barker and Stonehouse - Search living room pictures
8. Work with Contrasts
If you want to introduce drama in your living room or if you are in love with an odd colour (people might not think of it as a colour for sofa), worry not, here is where you work with contrasts. A room might be designed in a monotone or an earthy palette, a pop of contrast is never a bad idea. Moreover, it acts as the focal element in the room. Never be afraid to work with contrasts (but in moderated percentage).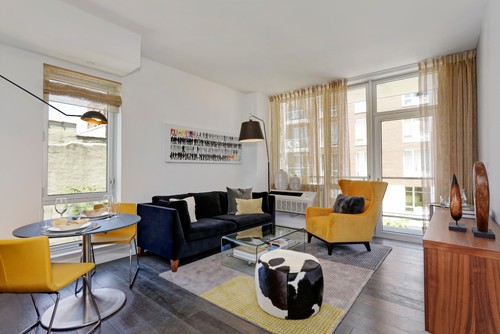 Photo by Meshberg Group - Search living room pictures
9. Multicoloured on Your Mind?
A multicoloured sofa is not at all a bad option for people who like a mix of colours, textures and patterns. In case the decor is neutral, one can even go in for a multicoloured palette for their sofa. It can be a mix of soft pastel shades or bright colours, depending on the personal choice of the users. A mixed bag of complementing colours, textures and patterns can help to add vibrance to the living room. Moreover, it might be a change from the usual solids of the modern world!
Here is a beautiful example of 12 Ways to Get a Colourful Living Room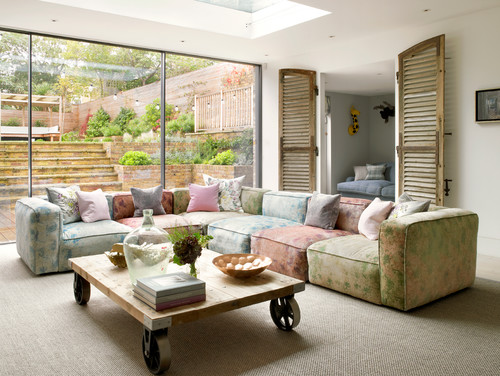 Photo by STEPHEN FLETCHER ARCHITECTS - More living room photos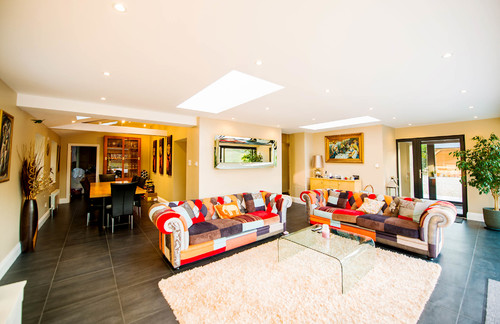 Photo by Create Limited - Search living room design ideas
Bonus - When in Doubt! Go Neutral!
This is certainly true. If you are not able to decide on a specific colour, opt for neutrals. Some people are naturally attracted to neutral tones and refrain from bright colours. Neutral colour palette hosts an array of earthy colours. And if truth be told, neutral colours work perfectly with almost all settings.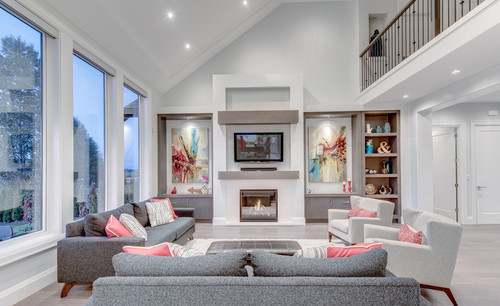 Photo by Studio Ten Interior Design Ltd. - Search living room pictures
These were a set of 9 designer tricks that will help you in narrowing down and further choosing the perfect colour for your sofa. Implement these tricks while in the brainstorming phase or market review phase, it sure is going to help you come up with a colour for your living room sofa. Thus, making your sofa experience all the more enjoyable and comfortable.
There certainly might be certain tricks that you employ to make such choices, do share it with us in the comments below!
Also, take a read of the most Beautiful Colour Trends Of Summer 2017
And an example of one such video uploaded on our Youtube channel
Join our newsletter!
Enter your email to receive our latest newsletter.
Don't worry, we don't spam
Relevant Articles
Transform your living room with these 9 amazing designs for the wall behind the sofa! From abstract to cozy, there's
Looking to divide your room without putting up a wall? OR Considering using a partition for dividing the space? But
Discover inspiring decor ideas to elevate your in-house bar counter. From stylish storage solutions to trendy accessories, create the perfect
Are you among those countless numbers of people who are avid readers and prefer to own a library? If yes,
Lights, both direct and the indirect lighting have a major role to play in interior designing. And when it comes to
Future is a packet of unexpected gifts and as time passes by the present enfolds its mystery slowly and steadily.
Most Viewed Articles
<strong><em>No occupation is so delightful to me as the culture of the earth, and no culture comparable to that of
In this technology driven age that we exist in, it is but natural to question the role of perspective drawing
For most women, a bathroom is not merely a functional space; as it is so much more that provides them
Bedroom being the most personal space in our house needs special care and attention to keep it charming, sweet and
With a variety of durable, modern kitchen countertop materials available, one could easily add it in style with seatings as
It is a known fact that colors can bring in instant changes to any interiors. So if you are looking