9 Smart Ways to Transform and Decorate your Rental Apartment
With the rise in migration to the cities, there has been an overall rise in the demand for rental apartments. While the apartments put a roof over your head, it may not feel like home. While moving to rental spaces, we are constantly on the lookout for ideas to upgrade the space to meet our likes, without intruding much with the overall structure of the apartment. Most of the time the tenants shy away from drilling a hole in the wall following the owner's instructions. There is a wide range of things that you can adopt to completely makeover an apartment. The tenants can even adopt DIY methods to upgrade their rental apartments. The article deliberates upon 9 smart ways to transform your rental apartment to make you feel at home –
1. Add in Art and Decorate your Rental Apartment
Adding art can help in elevating the space by adding a personal character to space by adding a statement of artistic appeal to the spaces. This is one of the quickest ways to upgrade a rental apartment. Art is not just the frames that you mount on the walls, but can be in the form of sculptures, focal elements, centerpieces, center table decor, etc. The art close to you makes the space yours, in line with your personality and choices. Embrace the art and make that upgrade!
Here, we share a beautiful design inspiration on The Art of Accessorizing in Interiors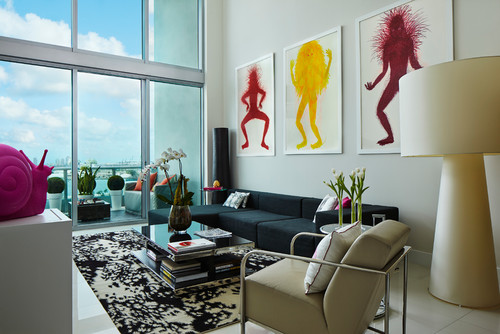 Photo by Britto Charette - Interior Designers Miami, FL - Search living room design ideas
2. Lighting Fixtures to Add Warmth
Lighting and the fixtures can help in bringing an air of belonging to the space. Go for lighting fixtures that provide ambient lighting. If there are provisions for wall-hung fixtures, you can go in for chandeliers or pendants depending on your taste. If not, worry not, there is always an option to add a standing light fixture, a table lamp, so on and so forth. The options are limitless in this innovation-driven world. Light it up and there you have a welcoming upgrade to your rental apartment.
You must check out 10 Stunning Ceiling Lights for Living Room That Will Actually Brighten Up Your Interiors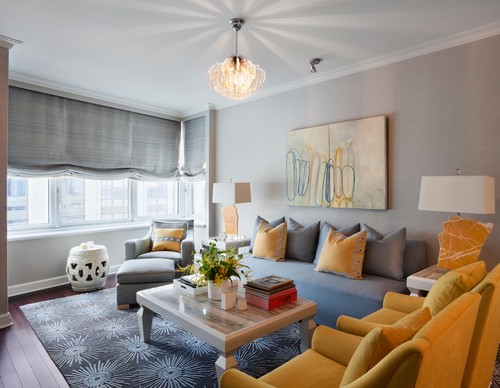 Photo by Bankston May Associates - Search living room design ideas
3. Go for a Decorative Corner- Rental Apartment Makeover
One can consider giving a corner a decorative appeal. This can be done to create a welcome feature or divide space elegantly. A console table coupled with a decorative mirror, a few sculptural items – vase, art, etc., a nice lampshade can do the magic. The console table can even act as a utility element if it has drawers. There are a lot of ways in which you can implement this idea depending on personal taste.
To know more about embellishing bare walls and products to create a decorative corner, read this!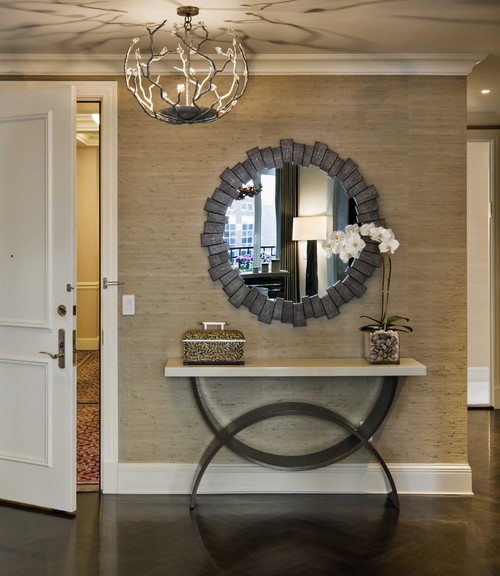 Photo by grade - Search entryway design ideas
4. Soft Furnishings
A home feels home to a large extent because of the soft furnishings. Soft furnishings are in the form of curtains, bedclothes, upholstery, carpets and cushion cover. The material, texture, colour and prints of these furnishings help in creating a close affinity with the place, owing to personal likeness towards the features of the furnishings. The addition of furnishings can alter the overall essence of space rather instantly. When moving into a rental apartment, one of the ways to make it feel like 'your home' is to add soft furnishings as per your taste and see it upgrade and transform into the home of your dreams.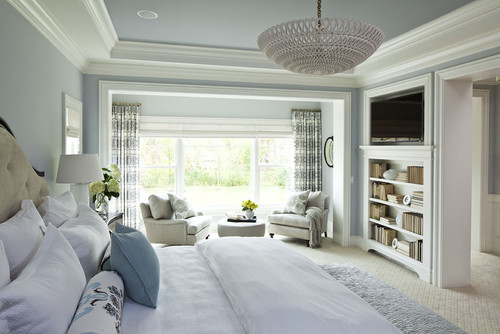 Photo by Martha O'Hara Interiors - Search bedroom design ideas
5. Welcome the Indoor Plants and Upgrade your Rental Apartment
Plants are elements that not only breathe life into your spaces but also help in transforming them. There is an array of indoor plants that you can add to all your spaces to add the required greens to your rental apartment. For plant lovers, the presence of plants can make space feel like home as soon as they are introduced to the spaces. The beauty is that the plants can be added to all types of spaces – intimate, public or semi-private. Welcome the plants indoors, and upgrade that rental apartment of yours.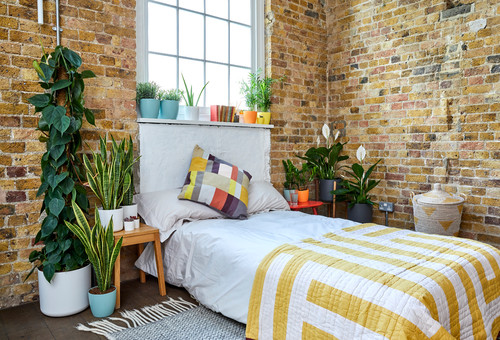 Photo by Patch UK - Search bedroom design ideas
6. Storage Shelves- Decorate in a Style
Storage shelves and spaces help in displaying and storing your things, for which there might not be a provision in a rental apartment. Adding in a contemporary or a theme-based storage unit can add to the overall essence of your rental apartment. This way you can arrange your things according to your liking. This is an element where you can even decide to take up a personal DIY project and come up with something rather unconventional yet personal.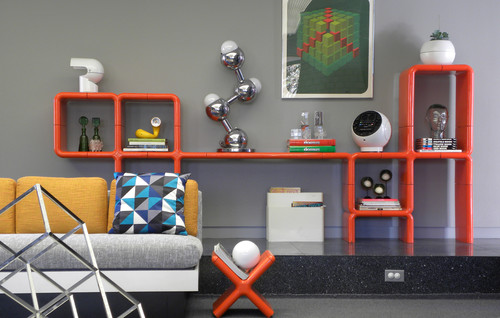 Photo by Sarah Greenman - Search living room pictures
7. Creating a Nook
In most of the apartments, there lacks space for a personal nook. One of the ways to upgrade your rental apartment is to carve out a personal nook. A corner that would be intimate and very personal for the users. This can be done in several ways. For instance, even hanging a swing on a balcony, guarded by some wines and added with ambient lighting can help in carving out a nook. So, get your creative juices going and carve out a nook for yourself to give an upgrade to your rental apartment. After all who doesn't like 'me time' space. This space can have books, art, or other items of your liking to create the nook.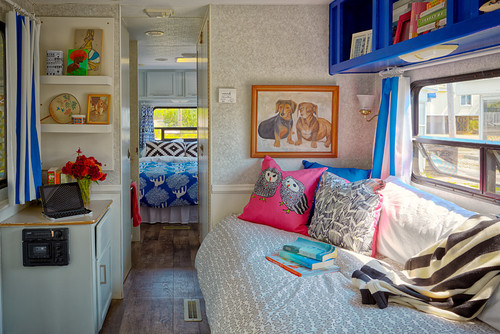 Photo by The McMullin Design Group - More bedroom photos
8. Wallpapers- Upgrade the Walls
Wallpapers can change the entire look of a space. To upgrade the walls of your rental apartment, try to give the wallpapers a shot. This way you would be saved from the hassle of messy painting, at the same time you can impart the desired look to your spaces through the choice of colours and patterns of the wallpapers. Couple the wallpaper with complementary accessories or showpieces in the room and your apartment will be all set to make you comfortable.
Check out 7 Awesome Wallpaper Tips for your Dream Home!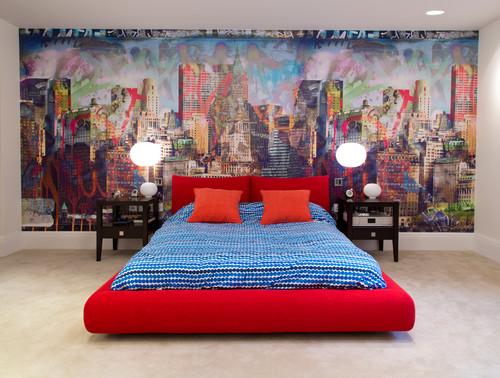 Photo by Hunter & Belle Interiors / Huntsmere developers - Search bedroom pictures
9. Add Splashes of Colour
Colour is an important aspect of any space. Try to introduce complimentary or contrasting colours in your spaces while decorating your rental apartment. You can even go in for a neutral palette while adding a splash of colour in the form of a statement furniture piece or a sculptural form or anything that catches the eye and fits your decor!
Check out the colour trends for the Summer of 2021!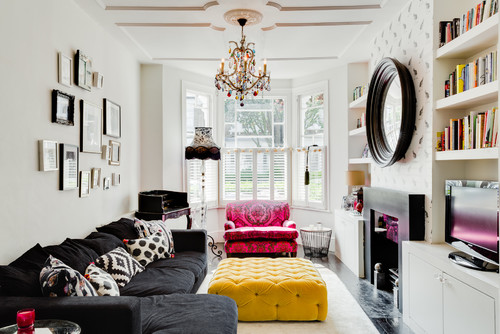 Photo by - More living room photos
The aforementioned ideas will help you transform your rental apartment into a homely abode. While there are a lot of products available in the market, the users can go in for a personalized experience by creating DIY elements. These are simple to implement ideas that will also help you to take care of the essentials along with decorating the spaces.
Have more fun and easy ideas to give your rental apartment an upgrade, go ahead and share them with us in the comments below!
Lastly, take a read of the most important Colors Brings Positivity To Any Home, Let's Add Some
And an example of one such video uploaded on our Youtube channel
Join our newsletter!
Enter your email to receive our latest newsletter.
Don't worry, we don't spam
Relevant Articles
Want to make your rental apartment look amazing? These nine tips will show you just how easy it is to
A good visual design is the one in which fundamental ideas about good practices are defined. If you want to
Most Viewed Articles
Depending upon the size of the kitchen, the kitchen can be laid out in various shapes. And the U-shaped kitchen
Discover inspiring decor ideas to elevate your in-house bar counter. From stylish storage solutions to trendy accessories, create the perfect
Want to know what to expect during an interview at an architect's office? This guide will show you everything from
A highly underrated component of a well thought and designed house is the Balcony. A space that is also a
With work life taking over youngsters these days, we barely spend time at home. Most of our time spent indoors
The most common issue gaining attention these days is that of the storage. Storage is a need, be it in