Expert Speak: How to Modernize Your Outdated Kitchen
Modernization in spaces, at times, makes our lives a lot easier. By and large, people have a notion that upgrading an outdated space to a modernized one requires shelling out large sums of money. When we talk about kitchen spaces, I personally feel that one should keep upgrading their kitchen with regards to modern technology and trends. A systematic outlook towards modernizing your kitchen can prove to be uplifting functionally as well as aesthetically. One should not fret away from taking a step towards a more modernized functioning of a kitchen space. The best part is that the change is the only constant that keeps adding spice to our lives and more so through our spaces. To help you take the plunge, here are my five suggestions, through which one can embrace modernity by giving an upgrade to your outdated kitchen –
1. Embrace the MODULAR!
Modular kitchens are certainly a 'modern' concept. The idea revolves around the concept that everything designed works on a modular system composed of modules. The advantage is that the method helps in using a space to its maximum potential with a lot of ease. The accessories for modular kitchens are available in the market across a variety of sizes, finishes, etc. to suit the needs of a particular kitchen. These are easy to install and work with. With the modular system for a kitchen, one can utilize every inch of the kitchen space.
The modular system helps the residents to easily organize and manage the kitchen. In addition to functional efficiency, the modular system also helps in turning an outdated kitchen into a modern one aesthetically. The plus is, that the shelving units are completely customizable according to the requirements. This is one of the ways to give your kitchen an overall makeover and upgrade.
To know more about installing modular kitchens, read 7 Things to Know Before Installing a Modular Kitchen
and Do's and Don't while installing a Modular Kitchen.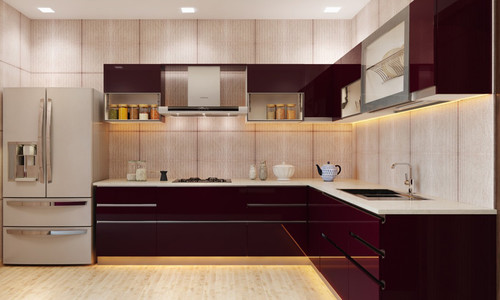 Photo by Shadhili Export (OPC) Pvt Ltd - Search kitchen design ideas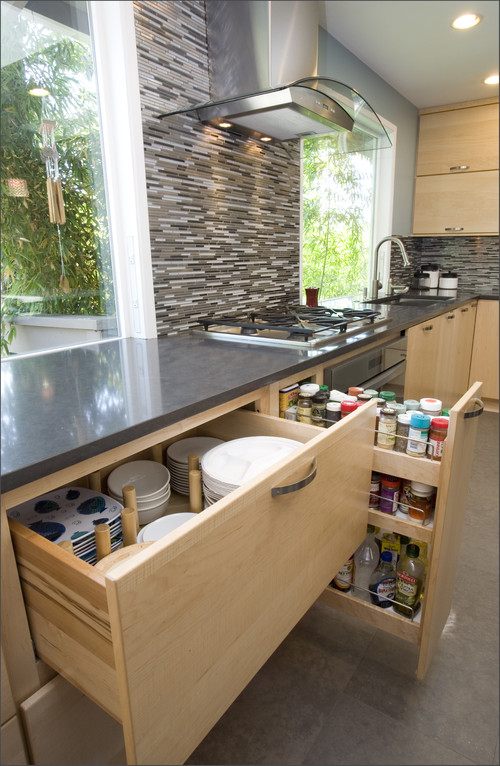 Photo by Pacific Northwest Cabinetry - Search kitchen pictures
2. A Splash of COLOUR!
When looking to turn the looks of your outdated kitchen, one of the simplest routes is to add a splash of colour to your kitchen. Adding colour to your space can be refreshing as well as fun in addition to upgrading your kitchen. This can be done in a variety of ways. For instance, one can play with the contrasts of various elements, like the colour variation of the walls and the cabinet. Giving a part of the cabinet a change of colour can also add a level of interest to space.
The colour could also be added by adding an interesting backsplash. It could be a pop colour, a contrasting colour, a subtle colour with an interesting pattern. A backsplash can really change the overall aesthetics and personality of your kitchen. While on it, if you are not someone who would want to get into the hassle of selecting a backsplash or different finish for a different cabinet, worry not! Consider giving a coloured makeover to your exiting elements by overlaying finishes, painting, etc.
To add a modern look to your outdated kitchen, be aware of the ongoing colour combination trends across various finishes.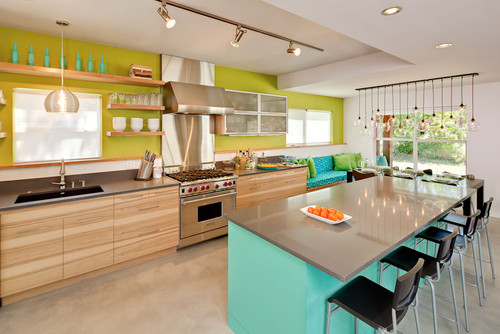 Photo by Loop Design - Search kitchen pictures
3. LIGHT it up!
Lights are an important aspect when considering to modernize your outdated (maybe dimly lit) kitchen. Nice lighting can help in transforming the overall aesthetics of a space. If your kitchen lacks sufficient daylight, then this is one of the most important factors to consider while looking to transform your kitchen. One can consider replacing the existing lights with LED lighting fixtures – sconces, ceiling mount, track lights, so on and so forth. To enhance the ambiance and working efficiency of the kitchen, one should try to install task lights in their kitchen space.
Changing the lighting can make a whole lot of a difference to your kitchen. Consider it a foolproof method to give your kitchen a modern appeal.
Read 7 Kitchen Light Fixtures that create a Style Statement, to help you in selecting the lighting fixtures for your kitchen.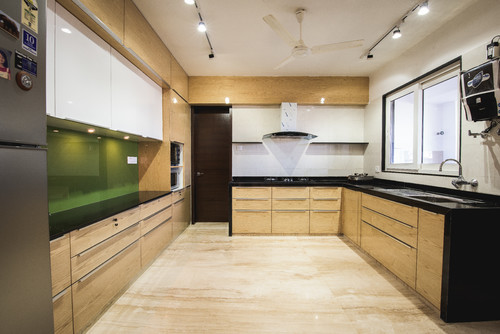 Photo by HGCG Architects - Search kitchen pictures
4. Install Floating Shelves and SHOWOFF!
With a combination of closed-door cabinets and floating shelves, you can give your outdated kitchen a boost. Floating shelves can be interestingly installed in the kitchen to give it a modernistic appeal. Moreover, it adds to the storage area. One can be creative with the installation of floating shelves and can give an ordinary shelf a centerpiece appeal. Floating shelves are a trend these days, but the arrangement and the material of the shelves make a lot of difference in the overall appeal.
Not only do they add to the storage space, but one can very well showoff their delicate china, glassware, artwork, etc. In addition to open shelves, one can also install rods and hooks for the open display. Not only will it impart an interesting look, but would also add a hint of an industrial look to your space.
To know more about clever storage solutions, read this!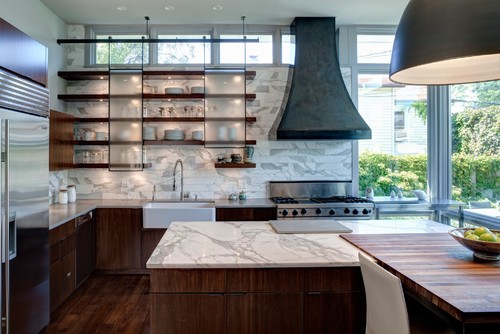 Photo by FRICANO CONSTRUCTION CO - More kitchen photos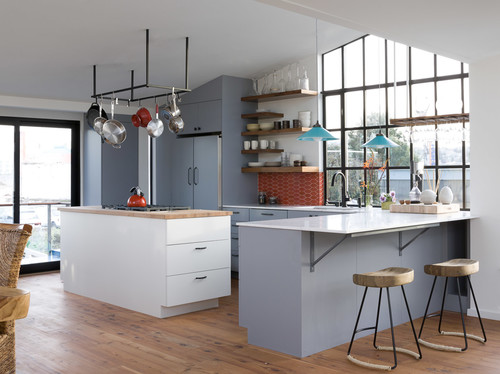 Photo by Robert Nebolon Architects - More kitchen photos
5. A Room for your APPLIANCES
Honestly, if you can find room for your appliances and stack them in built-in units to give a neat look, our work of upgrading is quite done. With the less is more approach, one should consider keeping appliances behind doors, thus saving your kitchen from clutter and confusion. Built-in cabinets for appliances are one of the most functional and space-saving elements of modern kitchens. These are easy to maintain and give you one-stop access to all your appliances. With the range of hardware accessories and fixtures available in the market today, the possibility of giving dedicated space to the appliances is huge. These will impart a clean look to your kitchen and provide you with ease of working while saving space, making your life a lot easier. Like all other things, give room to your appliances!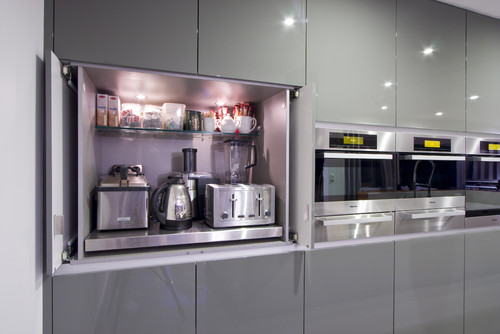 Photo by Darren James Interiors - More kitchen photos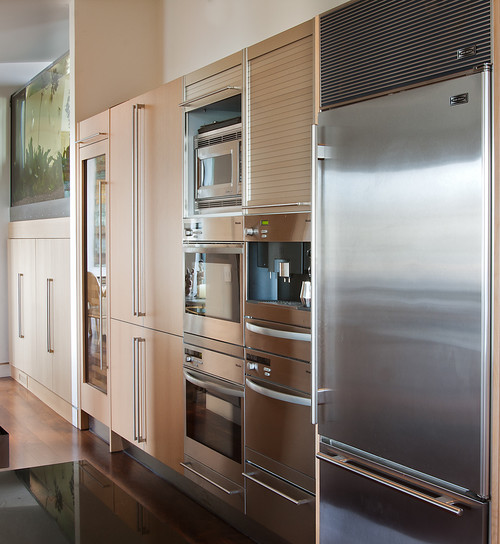 Photo by - Search kitchen pictures
These were my five cents on modernizing your outdated kitchen. These could be integrated with your remodeling plans in steps, all together or as standalone solutions. A modernized look makes a lot of difference, especially in a space like a kitchen, which is the heart and soul of a household. And why not! Embracing modern is the way forward.
Go ahead with the process and all the best with your remodeling efforts for your kitchen!
Also, take a read of the most important 10 Things you Must Have in a Modern Kitchen.
And an example of one such video uploaded on our Youtube channel
Join our newsletter!
Enter your email to receive our latest newsletter.
Don't worry, we don't spam
Relevant Articles
Wondering how to add kitchen under cabinet lighting to your design? This guide offers tips and ideas on adding illumination
Looking for some kitchen ideas? We've got you covered! In this post, we'll show you 10 things you must have
Got a tiny kitchen? These clever ideas for boosting kitchen storage will help you maximize every inch of your
The kitchen is the heart of any home and the perfect place to showcase your style with cabinets that reflect
Designing your kitchen and are confused, whether to go for a modular or a carpenter-made kitchen? Fret not! And read
Whether you're upgrading your kitchen or just starting out, we've got the perfect guide for choosing the perfect built-in hob
Most Viewed Articles
<span><span><span><span lang="EN-GB">A stylish bathroom basin with a complementary set of the faucet is capable of toning up the ambiance of
Building a portfolio is the first step stone when dealing with the commercial world of architecture. Learn what is to
It's important to be organized when working on projects so that everything goes smoothly. Learn more about being organized as
Take your jurying skills to the next level with these insider tips for success on Architectural School Juries.
Landing upon a dream job and being paid a satisfactory salary and perks is a desire of all. The services
Wondering how to change your design due to financial constraints? Well, don't worry, because this guide has got you covered!