How to Instantly Brighten up your Living Room with Ceiling Lights
A living room is a central space that is both intimate and public. In most households, it is the most used space throughout the day. From weaving memories to hosting guests, a living room sees it all. While the decor of a living room is important, its lighting is also an important aspect. There are various methods that one can employ to brighten up their living rooms. With the dearth of square footage these days, the floor spaces already multitask! Lighting is one aspect that we can easily offload the floor area. This can be done by employing ceiling lights to brighten up the living room. The ceiling lights can be chosen based on the type of lighting – accent, ambient or task. The type of lighting desired for a living room is a factor that contributes to the selection of lighting fixtures. The following article deals with various types of ceiling lights that can help in brightening up your living room –
Amp up the Charm with a Chandelier!
A chandelier is one of the types of ceiling light that comes to mind instantly when talking about lighting up a living room. Installing a chandelier in your living room will not only introduce a source of ambient lighting but will also add a focal element to your space. There are various types of chandeliers available, ranging from minimalistic to extravagant, rustic to artistic, traditional to modern, so on and so forth. A chandelier can even help in adding a centerpiece to your living room. The number and type of bulbs in a chandelier determines the amount of light the chandelier emits. The chandelier can help one brighten up a living room quite elegantly and will certainly amp up the charm of your space.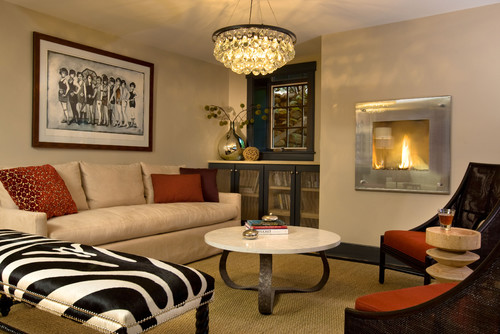 Photo by Rachel Reider Interiors - Search living room design ideas
Flush Lights- Perfect way to Brighten Up your Living Room
Flush lights are ceiling mount lights that provide for ambient lighting. These days flush lights are available across various lighting intensities, light temperature and shapes. The flush lights are munt on the ceiling and are barely visible as an added element. They merge perfectly with the ceiling to give a nice finish to the ceiling. Moreover, these are a perfect way to brighten your living room when it has a low ceiling or a false ceiling has been added to the space.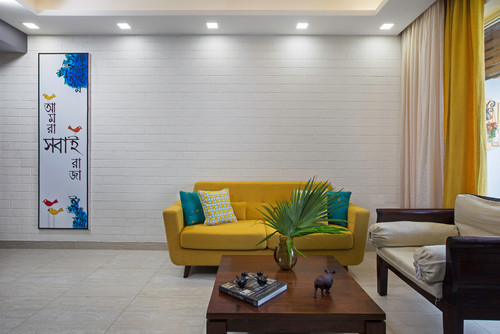 Photo by KAIA DESIGNS - Search living room design ideas
Give a Color Wash with Cove Lights
With the increasing trend of providing false ceilings in living rooms, cove lights have gained popularity too. Cove lights help in brightening a space through diffused light as it is an indirect source of lighting. The cove lights are used both for ambient and accent lighting. They provide the adjoining area with a nice color wash, thus adding to the elegance of the space. These are available across a range of colors. These also help in achieving an overall neat look to your space, resonating minimalism in all forms.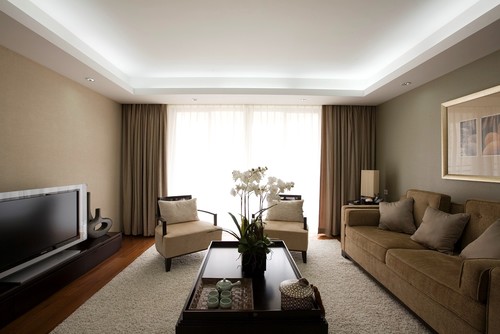 Photo by RP Design & Productions - Search living room pictures
Brighten Uup with a Bunch of Pendants!
Pendant fixtures can help in brightening up the entire space or a particular corner of your living room. Depending on the kind of effect you want the pendants can be chosen and installed accordingly. In certain cases, the pendants can even replace chandeliers to provide the space with a focal centerpiece. The number of pendants to be used would depend on the requirement of the space in addition to the design of the fixture. A bunch of pendants can be paired in a corner to create an accent in the space.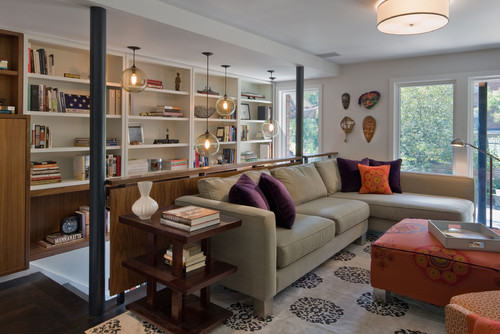 Photo by Francis Dzikowski Photography Inc. - Search living room design ideas
Create a Lighting TRACK with Track Lights
Normally, track lights are used for task lighting or to create a focus over art pieces or paintings, however, a group of track lights when placed strategically on the ceiling can help in providing ambient lighting in a living room. This is an offbeat practice of brightening living room spaces. These would also work well with high ceilings. A combination of track lights can also help in giving light in varied directions by adjusting the angle of the lamp heads. These are a good option when looking for lighting up the minimalistic decor.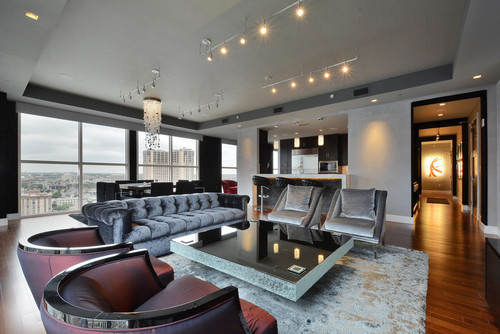 Photo by Jane Reece Interiors - More living room photos
Light Up the Ceilings with Uplighters
Uplighters are a nice way to provide ambient lighting in a space. These provide a glow to space, thus brightening it up instantly. In many formats, uplighters are also known as inverted pendant lights. These illuminate the ceiling, thus creating a well-lit space through the reflection of light from the ceiling surface. To ensure more reflectability, one should try to have a neutral-toned ceiling rather than a dark tone. These come in various shapes, sizes and styles. Choose the one that suits your living space, if opting for this kind of lighting.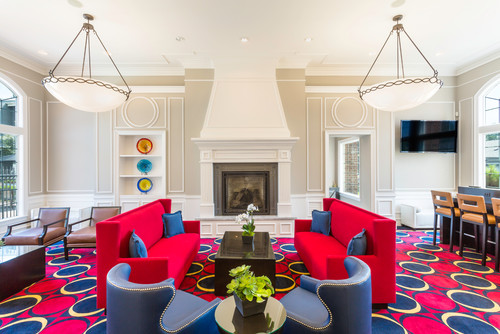 Photo by Marcel 360 Productions - Search living room design ideas
Light Up with a Fan
If you have a dearth of space and are looking to install ceiling lights, one of the clever products is a fan installed with lights. These are innovative ways to perform two functions in one go, air circulation and lighting up space. The lighting fixture attached to the fan is available in varying light intensities. The user can select the model of the fan that best suits the space. Some products offer an artistic appeal to the fan cum ceiling lights, which can very well be opted to brighten up your living room.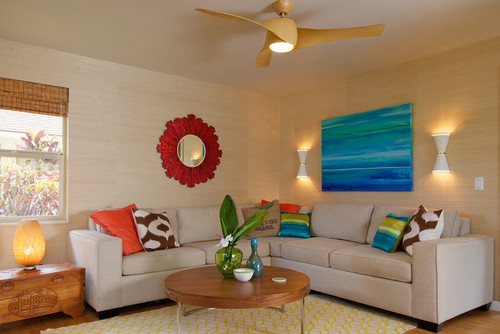 Photo by Natalie Younger Interior Design, Allied ASID - Search living room pictures
Permutations and Combinations- Living Room Lighting Ideas
While all the above-mentioned methods and fixtures can be used to brighten up a living room, one can definitely experiment with combining various types of lighting and fixtures to light up their space. The permutations and combinations are endless when trying to work with varied lighting types. Be creative and try to come up with a perfect combination of lighting fixtures for your modern living room.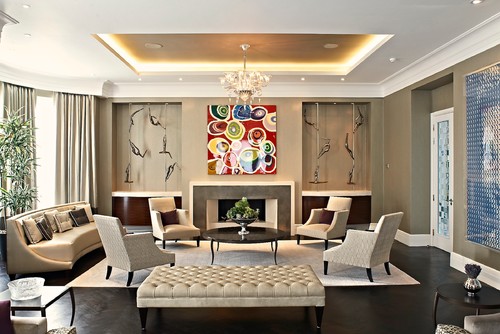 Photo by FiSHER iD - Search living room pictures
These are ways in which you can brighten up your living room with the help of ceiling lights. Bear in mind that lighting and the choice of lighting fixtures also depend on the type of interiors and color palette of your living room. Hope the article helps you in choosing the perfect way to brighten up your living space.
Lastly, take a read of the most important Clever Design Hacks to Decorate the Low Ceilings
and And an example of one such video uploaded on our Youtube channel
Join our newsletter!
Enter your email to receive our latest newsletter.
Don't worry, we don't spam
Relevant Articles
Transform your living room with these 9 amazing designs for the wall behind the sofa! From abstract to cozy, there's
Looking to divide your room without putting up a wall? OR Considering using a partition for dividing the space? But
Discover inspiring decor ideas to elevate your in-house bar counter. From stylish storage solutions to trendy accessories, create the perfect
Are you among those countless numbers of people who are avid readers and prefer to own a library? If yes,
Lights, both direct and the indirect lighting have a major role to play in interior designing. And when it comes to
Future is a packet of unexpected gifts and as time passes by the present enfolds its mystery slowly and steadily.
Most Viewed Articles
Interior designing of any room would just look incomplete without the addition of the right home decor accessories. Here we
<strong><em>No occupation is so delightful to me as the culture of the earth, and no culture comparable to that of
In this technology driven age that we exist in, it is but natural to question the role of perspective drawing
For most women, a bathroom is not merely a functional space; as it is so much more that provides them
Bedroom being the most personal space in our house needs special care and attention to keep it charming, sweet and
With a variety of durable, modern kitchen countertop materials available, one could easily add it in style with seatings as