Headboard Storage – A Clever and Functional Space-Saving Ideas
Storage and the provision of spaces for storage is an aspect that we are always short on. A bedroom may be very well equipped with all the storage in the world, but, yet would fall short of space to store bedclothes, personal belongings and at times books or art. We do wonder, where can we carve out that extra storage space? or where is it that we can sneakily make room for storage of miscellaneous things? There is a range of creative ideas to make room for extra stuff by means of furniture elements such as a headboard. While bed walls have become a focal element for most of the bedrooms, headboards can be designed in a way that they can be used to display and store stuff at the same time or can be concealed. Following discussed are clever and functional headboard storage ideas which are space-saving too –
Headboard with a Library
For all the bibliophiles, who love to have their books at the closest reach, a headboard with a bookshelf is one of the ingenious ideas. It saves on a lot of floor space and the shelves can be designed to accommodate books, notepads, etc. The aesthetics could be worked on based on the design and placement of the shelves. Generally, there is a dearth of space when it comes to storing books, however through a headboard cum bookshelf, one can easily store and showoff the book collection.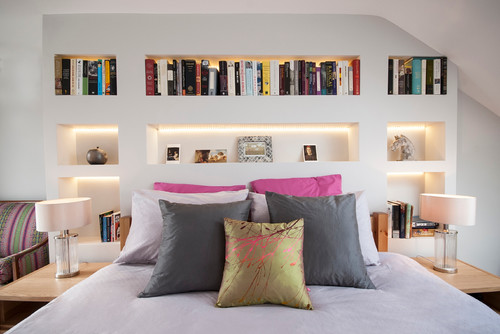 Photo by Laura Stephens Interiors - Search bedroom design ideas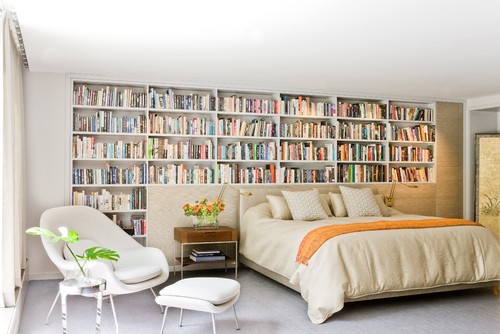 Photo by PLATEMARK DESIGN - Search bedroom pictures
Folding Work Platform
With the work from the home culture on the boom, a headboard with a foldable work platform is a clever space-saving idea. This way one can just drop down the platform and work right from the comfort of their beds. It needs no additional floor space and can be used as per the requirements. The platform can be designed as a drop-down lid or supported with hinges. The level of the platform can be adjusted as per the height of the user. When not in use, it can be folded back to create a flushed finish to match with the aesthetics. In fact, the headboard can host a shelving system to store the papers, files, stationery, so on and so forth. This will help in saving the space, give the room a neat look and the best part is, once the office hours are done, the platform can be folded back and all the remains of a work desk will vanish with a snap!
Also, check out 10 Space Saving Products You Would Need If You Own A Small Home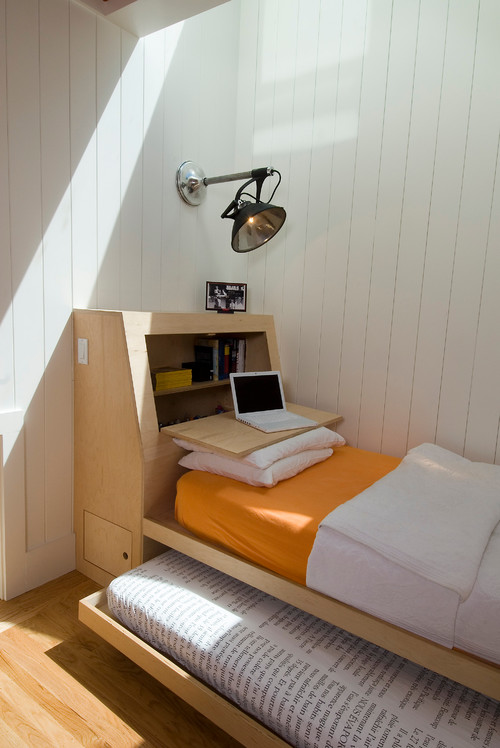 Photo by Malcolm Davis Architecture - Search bedroom design ideas
Shelves on the side!
For the ones who like their headboards clean and minimalistic, the best option is to keep the front plain and give shelves on the sides. The side shelves are a good way to conceal the storage space and carve out that much needed extra space. This way the aesthetics are not disturbed and one gets additional space too. The limitation, however, is that the amount of storage would depend on the depth of the headboard, which can be designed according to too the requirements of the user and the overall aesthetics of the bed. These can be done in two ways-
Open shelving system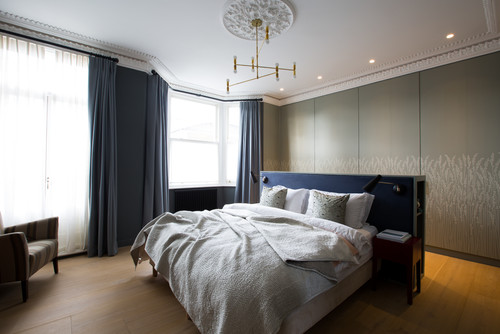 Photo by My-Studio Ltd - Search bedroom design ideas
Sliding shelving system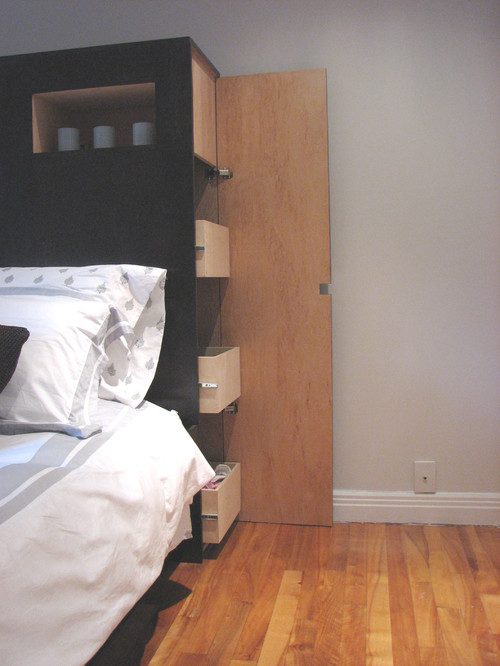 Photo by Dwelling on Design, Deborah Derocher - More bedroom photos
Into the Overhead Wall Unit or Cabinet
One of the cleverest yet functional idea is to integrate the headboard with the wall unit or cabinet. This helps in providing additional space with neat aesthetics. It would depend on the user to have the cabinet an open affair or closed. In line with the idea, one can integrate the wall unit with side cabinets to give a nice and functional frame to the bed. Such practices become all the more imperative when one has a small bedroom space to work with.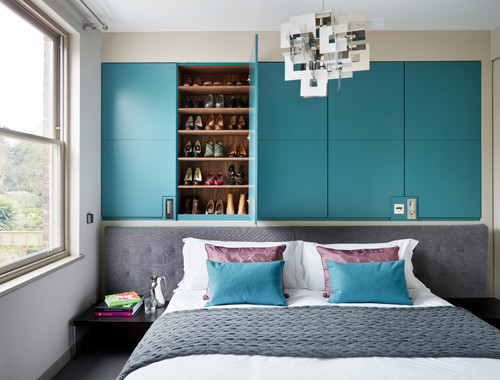 Photo by Ensoul Ltd - Search bedroom design ideas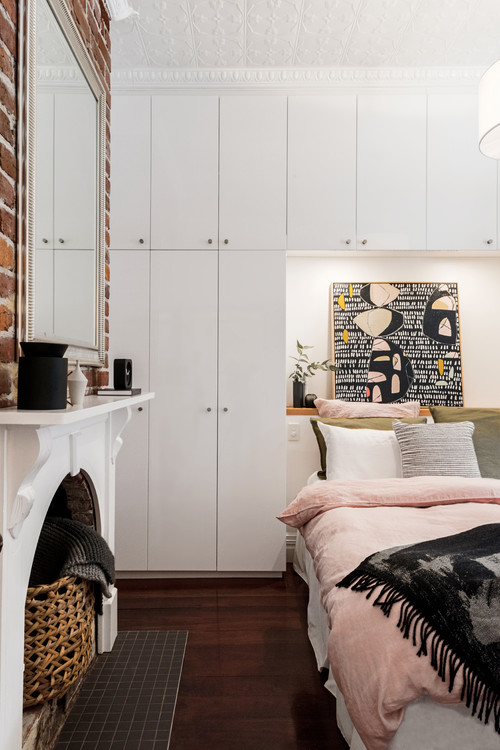 Photo by Staple Design - More bedroom photos
With a Hinged Lid
If you are someone who craves that extra storage space but doesn't like to flaunt it, then a headboard with a hinged lid is the perfect idea to adopt. These merge with the aesthetics of the bed and overall space while giving space to conceal your storage space. Choose this simple yet clever idea to add a tone of elegance to your space. The lid can be upholstered for the users who prefer a soft headrest. What's more, these are easy to maintain and clean.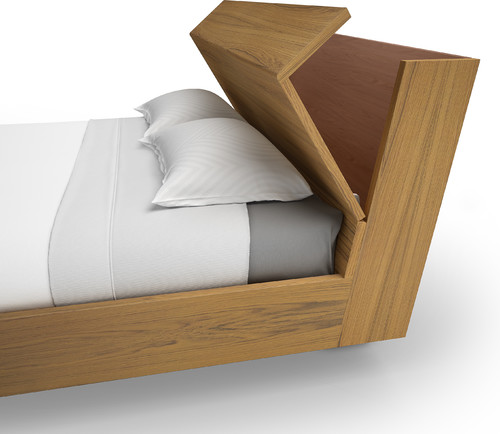 Photo by The Danish House - Search bedroom pictures
With a Top Lid
Headboard with a top lid has been in practice for quite some time. Nonetheless, as we say old is gold, so is this practice which proves to be a super space-saving hack that provides for ample storage. This style gives a lot of surface area on top of the lid as well to keep one's things. Apart from it, one can even further innovate the design by adding a shelf or a platform over it, depending on the personal requirements and scale of the room.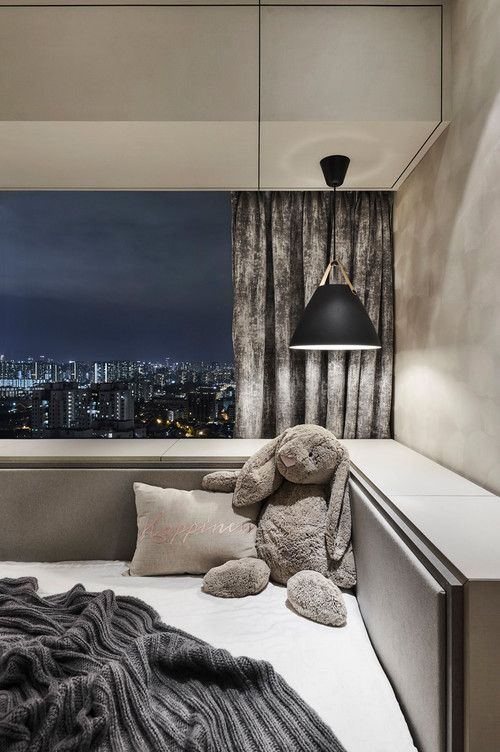 Photo by akiHAUS Design Studio - Search bedroom design ideas
The Floating Shelves
Floating shelves help use the vertical space in space to carve out additional space where there is a dearth of space. the floating shelves when installed over the bed, make room for storing a lot of miscellaneous items. These can be designed in a way that they look integrated with the bed and not an add-on element. These shelves can be used to store or display things. If the items need to be put behind covers, then the floating shelves can be replaced with floating drawers. This idea can be executed even when one is thinking of a makeover, as the shelves can be installed easily at any point in time on the wall.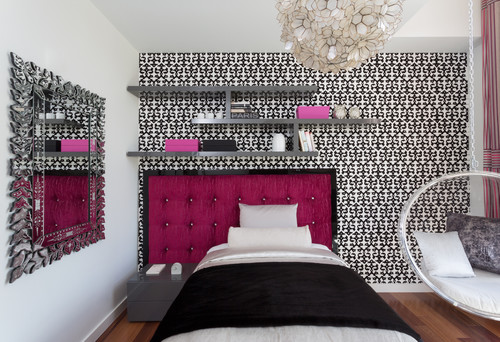 Photo by - Search bedroom design ideas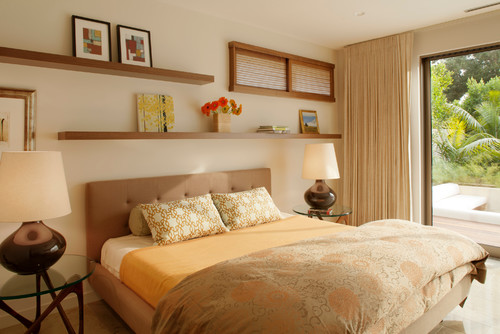 Photo by Maienza - Wilson Architecture + Interiors - More bedroom photos
The aforementioned are clever and functional ideas for headboard storage. These ideas can be executed as is or can be interestingly amalgamated to give the user the most functional and space-saving solution in the form of headboard storage. The basic ideas can be given any desired finish to match with the overall ambiance of the room. Headboard storage is one of the most neglected spaces when we talk about the design of a space. however, if its full potential is realized it can provide a lot of vertical storage space, that otherwise goes waste. So go ahead and carve out extra storage space with your headboards.
Also, take a read of the most important 6 Designer Tricks to Arrange Furniture in a Small Bedroom
And an example of one such video uploaded on our Youtube channel
Join our newsletter!
Enter your email to receive our latest newsletter.
Don't worry, we don't spam
Relevant Articles
Want to spruce up your home with a unique wall paneling idea? These 8 ideas will give you inspiration!
Get tips on designing your perfect bedroom with these essential vastu tips!
If you're looking for beautiful summer interiors then you won't want to miss our latest colour trends! Discover stunning combinations
Get accurate information about window coverings with our comprehensive guide. Choose the best covering for your needs!
Are you searching for ways to spruce up your bedroom but don't know where to start? Look no further! We
If you're ready to jump into designing your own bedroom, we've got all the info you need! From choosing a
Most Viewed Articles
Architects must be aware of the latest materials when designing their projects. Find out what these materials are and why
Getting your home built or renovated? Wondering about unique materials to help you build your dream home? Rummaging the sources
Looking forward to cracking NATA to enter the world of architecture? OR Taking the exam to tick off the first
Looking for sustainable ideas to design an affordable home? Or Have sustainability in mind and want to know how can
Learn how to use social media platforms to boost your architecture business and see results!
Are you an architecture student looking for tips to stay focused in these tough times? OR Has the pandemic led