6 Designer Tricks to Arrange Furniture in a Small Bedroom
With the cities expanding, the spaces in our urban homes have been decreasing resulting in smaller bedrooms. It can be tricky to arrange the desired furniture in a small bedroom. The furniture arrangement in a small bedroom can alter the entire feel of the space from cramped to cozy. One should try to visualize the kind of furniture and the subsequent arrangement they want to design your bedroom. Big or small, the arrangement of the furniture is the key to getting the maximum space without compromising on the functionality. Once the vision of the space is all clear, then only can one opt for the selection and arrangement of furniture. While selecting the furniture the users should have a practical approach concerning the usage, number, proportions, etc. With an array of products and options available in the market, a small bedroom can be arranged in a way that it feels like a spacious space. Just a few designer tricks for arranging furniture in a small bedroom can help in utilizing the space effectively. The article discusses 6 designer tricks to arrange furniture in a small bedroom –
1. STRATEGIC PLACEMENT OF THE BED
In a bedroom, a bed is the most important piece of furniture. With that said, its placement holds an important consideration when it comes to the furniture arrangement in a small bedroom. The trick is aligning your bed in such a way that your cupboards and other pieces of furniture can be aligned with the bed symmetrically.
The way to go about it is either by aligning the central axis of the bed with one of the walls and then arranging the other pieces accordingly. Or, one can align the bed with a nook or a niche, depending on its size. Once the bed is placed, all other furniture elements can be arranged in conjunction with it.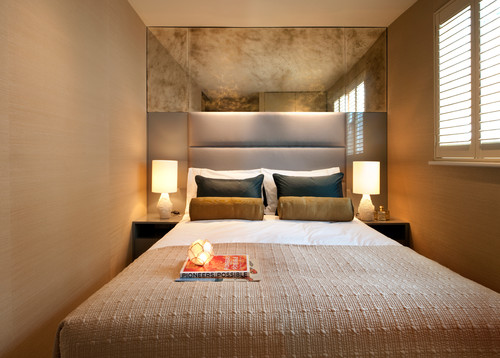 Photo by Zephyr Interiors - Search bedroom design ideas
2. SELECT PIECES THAT ARE MULTIFUNCTIONAL
When looking to arrange furniture in a small bedroom, opt for pieces that can serve multiple purposes. For instance, one can do away with the bedside tables and replace them with either a work desk or dresser. In this case, the work desk or a dresser would serve their purpose along with serving as bedside tables. The bedside tables can also be designed in a way that they serve as a dresser, storage unit or work desk depending on the requirements of the user.
Similarly, a sleek bookshelf can be used as a storage unit and at the same time it can be used to divide the room space. Another common example is a settee that can double up as a storage unit thus freeing a lot of valuable floor space.
You must check out Space Saving Hacks to Make Some Extra Space in Your Bedroom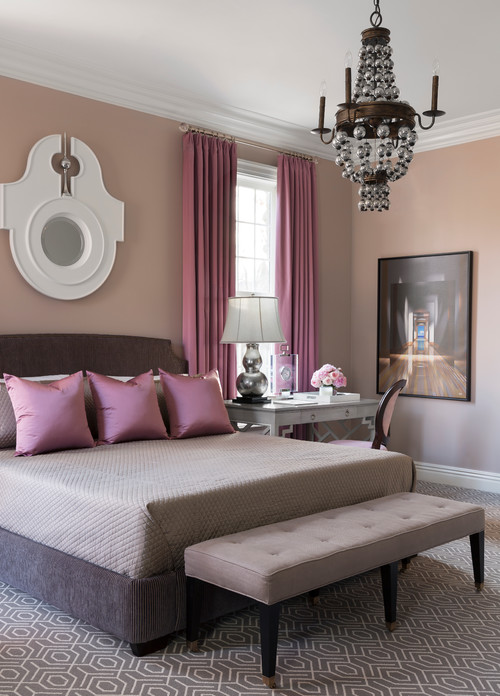 Photo by Tobi Fairley Interior Design - More bedroom photos
3. USE THE VERTICAL
With the constraints of the floor area in a small bedroom, one must consider using the vertical space to the maximum. There are numerous options and ideas available to utilize the vertical axis of space. When we talk about using the vertical, we count on the walls, the standalone units and the space to welcome suspended elements.
The vertical space can be used by installing suspended furniture, floating shelves, hanging racks, floating and folding work desks, bookshelves, wall lights (instead of floor lamps) multipurpose partitions, etc.
The usage of the vertical axis will not only free up a lot of floor space, making it comfy, but it would also add to the features of the small bedroom space. utilization of the vertical effectively adds to the x-factor of the space too.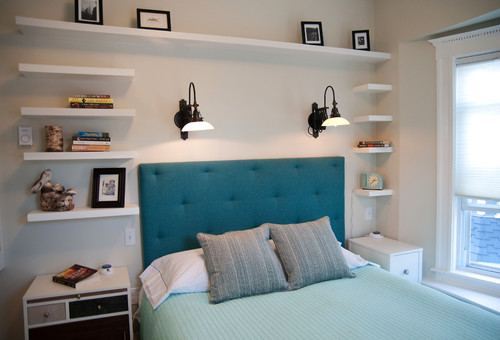 Photo by JAZ Design, Inc. - Search bedroom pictures
4. GO MINIMALISTIC
To effectively arrange furniture in a small bedroom, try to adopt the mantra of minimalism. With the current trends of minimalism, there is a range of ideas and mood boards that could be put up in sync with the tone of minimalism. A minimalistic approach for furniture arrangement can help in utilizing every inch of the small bedroom space.
For instance, minimalistic furniture clubbed with minimalistic decor is the perfect way to make a small space look lavish and big. Minimalism can opt-in the number of furniture pieces, the style of furniture, the color and material of it.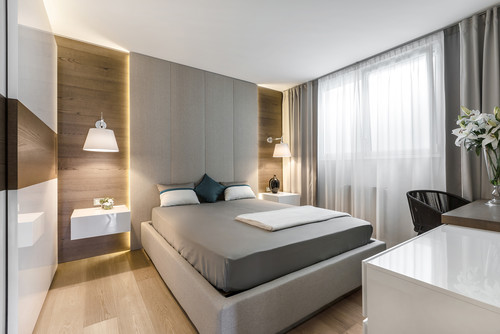 Photo by NG-STUDIO Interior Design. Sanremo - Search bedroom design ideas
5. PROPORTIONS IS THE KEY
The furniture for space should be proportionate with respect to the area of the room in addition to being proportionate to each other. For instance, the size of the bed should be proportional to the area of your bedroom. Avoid going overboard with a hefty bed.
Apart from the bed, the size of the furniture should be in sync with the proportions of the room and the bed. Try to create an overall balance by playing with the proportions of the furniture and decor with respect to the space of the bedroom.
Also, read Steps To Design A Modern, Elegant Bedroom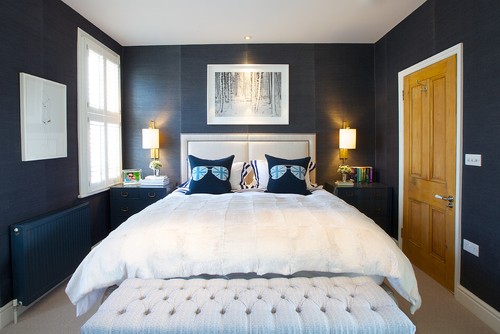 Photo by - Search bedroom design ideas
6. SOFT OVER SHARP
For a small bedroom, try to go for furniture with rounded and soft edges. Furniture with a curvilinear profile creates room for smooth and wide spaces between two pieces of furniture. The furniture pieces with soft edges occupy a lesser floor area as compared to the ones with sharp edges. More so, the curvilinear furniture pieces add a hint of sophistication and panache to a small space.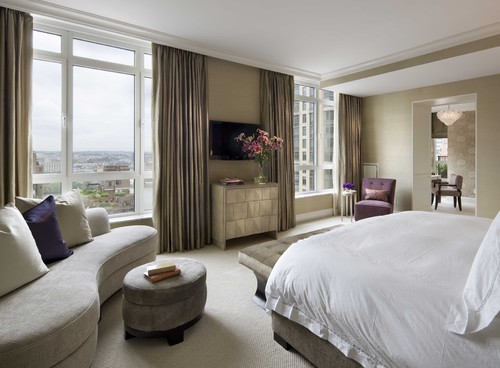 Photo by grade - Search bedroom pictures
The aforementioned designer tricks are simple and practical pointers to keep in mind to arrange furniture in a small bedroom. These are basic tricks that can be adopted when designing any small space. While arranging the furniture, keeping in mind the design principles of symmetry, balance and proportion can help in accentuating any space. Whatever come may, one is always short on space when it comes to an intimate space like a bedroom. Therefore, to aid in managing the trivial yet intimate space, the article enlists 6 designer tricks to arrange the furniture effectively in a small bedroom. So, go ahead, use these tricks and give your small bedroom a lavish feel.
Also, take a read of the most important Give your Dull Bedroom a Boost with these Design Tips
And an example of one such video uploaded on our Youtube channel
Join our newsletter!
Enter your email to receive our latest newsletter.
Don't worry, we don't spam
Relevant Articles
Want to spruce up your bedroom but don't know where to start? These tips will give your bedroom an instant
Let's welcome spring all over our bedrooms with beautiful green bedroom decor! Explore different design ideas and find the perfect
Bring life to your stark black-and-white bedroom with a splash of color! Learn how to decorate your bedroom the right
Choosing the right wardrobe for your home is a big decision- do you want a sliding wardrobe or a hinge
Confused between Gypsum and POP for your home's false ceiling? Uncover the ideal choice for your space with our comprehensive
Want to spruce up your home with a unique wall paneling idea? These 8 ideas will give you inspiration!
Most Viewed Articles
In order to be an architect, you must possess certain skills. These include creativity, problem-solving, communication, and more. Find out
Every architect faces the intimidating task of putting together a portfolio, at least once in their lifetime. The fact, that
Anything that has the word 'Modern' as its prefix is generally loved by all; Modern Architecture is no exception. Modern
A doctor cannot operate without his tools, a writer can not write without his; similarly an architect cannot perform, when
When it comes to interior designing, accessories play a vital part. As accessories are what completes a space by binding
With softwares like Autocad, Sketchup, Rhino, etc becoming increasingly popular with architecture professionals and students both, we often wonder if