Kitchen is an essential space in a house. It houses all the things from Appliances to Cutlery to Grocery to Spices. So, for anyone to work with ease in the kitchen, it is essential that the space is well organized and devoid of clutter. Planning a kitchen space judiciously is a challenging task, as one has to be very careful on how to maximize the use of space. For the ease of working, the designer should follow the standard work triangle for a kitchen space. The work triangle in a kitchen helps in managing the work areas. It is important that the kitchen has an ample storage space, for which, Following points can be helpful for creating space-saving organized kitchen spaces-:
Image credit: Urban Ladder
Type of Sink and its placement
The sink should consist of single bowl, instead of double bowls, which helps in saving extra foots. If the sink is placed somewhere near the corners, try placing the sink at an offset from the wall, enough to house the utensil drying are or over the counter open shelves.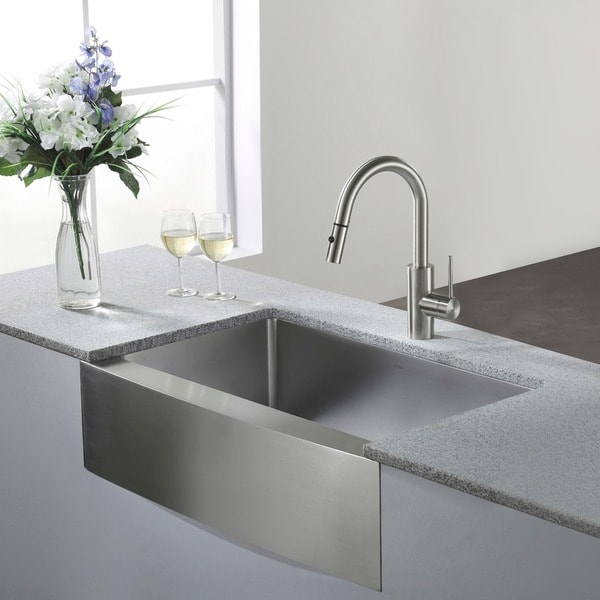 Image credit: Kraus
Cabinets or Shelving system
To increase the storage one can opt for wall mounted floor to ceiling cabinets. These cabinets can be given various finishes. Clear glass or acrylic panels can be used in doors of the cabinet to keep presentable glassware or silverware; this helps in giving a perception of a bigger space. To give a feel of vastness, open shelving system can be used.
Under the shelf racks
To add on to the storage space one can use under the shelf racks, which, can be slipped over on the existing shelves to make room for more things.
Image credit: The Container Store
Storage in cabinet doors
Doors of the cabinets can be used to increase the storage space by means of installing pegs, hooks, magnetic holders etc. These spaces can be used to organize spices, utility items, ladles etc.
Storage plays a vital role while designing a kitchen. We share some Essential Tips To Plan Clutter Free Kitchen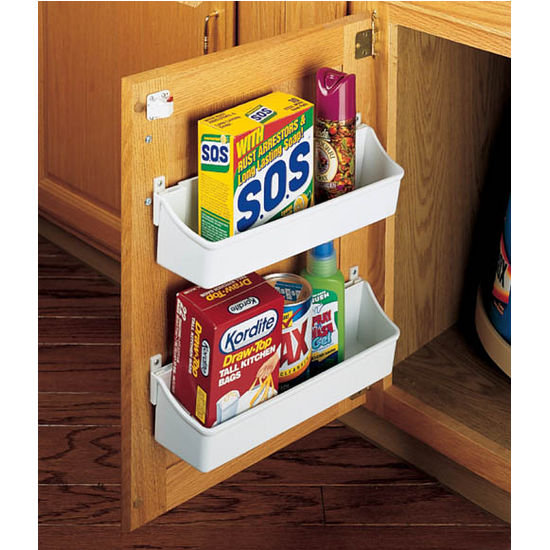 Image credit: Kitchen Source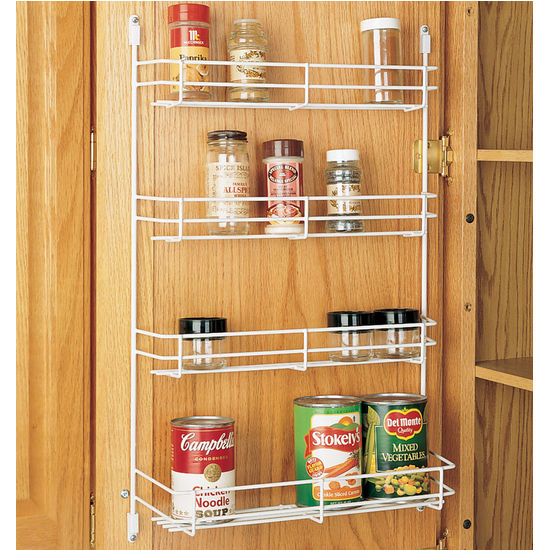 Image credit: Kitchen Source
Under the sink organizer
One can make an under the sink organizer to keep the various cleaning things in one place. These can be done by means of pull out shelves, tension rods, hooks etc. These can be concealed by a door, thus giving it a neat appearance and an organized look.
Pullout Shelves or working platform
With modular kitchens gaining popularity, pullout cabinets have become the in thing. So, to pep up the existing kitchen, one can simply exchange the regular fixed shelves to pullout shelves. Pullout shelves are an innovative solution to easily access all the things. Even the working space can be minimized by making pullout platforms.
Cutlery holder and cup hangers
A cutlery holder is not a bad option in small kitchens. This can be placed anywhere in the space and helps giving an organized look to the space. A cup holder can also be used to save the horizontal storage space. Cup holders can also be made by simply installing hooks onto the shelves.
Organizers
There are so many small things in the kitchen that can cause a mess. To abstain from creating a mess and save time, things can be organized either by keeping jars, cans to store spoons, knives etc. or making partitions within a drawer.  Labeling the food items helps save time in identifying and also helps organize according to the category.
Image credit: Handimania
Wall as open storage
Blank walls or smaller areas on a blank wall could be used as storage solution for pans, ladles, knives etc. These can be made by hanging rods with hooks, or creating a magnetic base. To save the wall from scratches, one can either use tiles or the area can be painted in solid matte black. The walls can also be used to organize the towels that are used in the kitchen.
Image credit: IKEA
Useful corners
Generally, the corners are left unattended or are not used wisely in a kitchen. So, in order to make judicious use of the corners and increase our space, we can create custom designed shelving units in the corners.
Image credit: Akothari
Custom designed space-saving kitchen
Today, in the market there are customized solutions available for space saver kitchens, which are designed according to the space available and the bare minimum usage.
Image credit: Gallery Kitchen Designs
Visual Space
Apart from the physical space, one needs to concentrate on the elements that enhance the visual space. The kitchen needs to be a well-lit space, which automatically makes the space look big. Another factor is that the hardware elements in use should be minimalistic in nature and not overpowering. Elimination of the kitchen door itself makes the room feel big.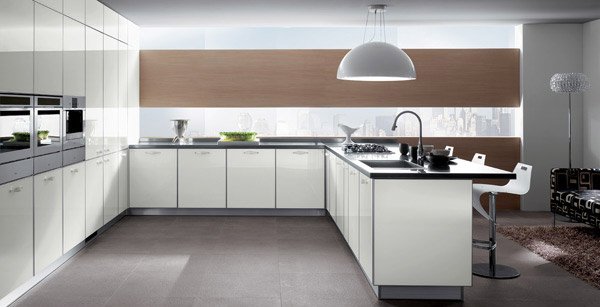 Image credit: Scavolini
Though the kitchen occupies a very small space of the house, yet, is an important one. There are many modular space-saving options available in the market today. People can go in for DIY options as well to make the kitchen space organized as well as aesthetically pleasing. Kitchen is a perfect space to prove the motto – "Less is More".
Also, take a read to the most imporatant 10 Things Not To Do While Remodelling Your Kitchen
And an example of one such video uploaded on our Youtube channel
If this post inspired you, share it with others so that they can be inspired too!!
Here are a few more hand-picked design inspiration for you to read next