False Ceilings are Cool, only when the Right Material is Chosen
False ceilings are one of the best inventions in the era of architecture. They make the room look stylish and spacious if designed well. The most important thing to be considered about the false ceiling is choosing the right material. This choice is essential for the false ceiling's durability and quality.
Do check out Stylish Ceiling Designs that can Change the Look of your Home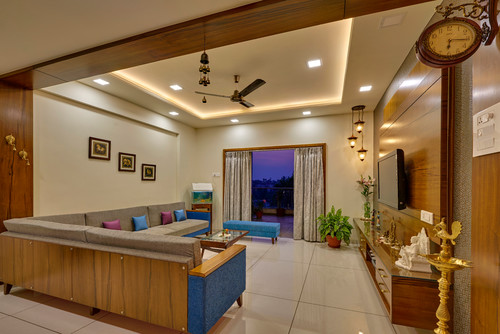 Photo by CULTURALS INTERIOR DESIGNERS - More home design photos
Some Commonly Used False Ceiling Boards
Besides giving an elegant look to the buildings, false ceilings also keep you off the excess heat and noise from outside. Before getting to know how these boards can do all this work, let me first tell you what they are made up of. The commonly used false ceiling materials are thermocol, gypsum, aerolite, PVC and wood.
Thermocol Boards
Thermocol boards false ceilings are a type of false ceiling that has become very popular over the years. They are usually made from thermoplastic materials such as polypropylene or polyethylene. These materials are flexible and durable. The main advantage of these materials is that they are easier to install and remove.
Pros & cons
Thermocol boards false ceilings are great because they are easy to install and remove. They also provide good insulation properties. On the other hand, they are expensive compared to regular false ceilings.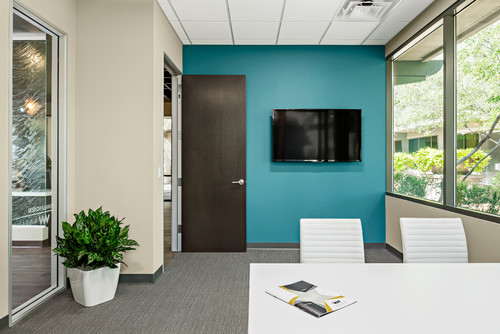 Photo by AFT Construction - Search home office pictures
Gypsum Boards
Gypsum board false ceilings are very common in residential and commercial buildings. They are usually installed over existing ceilings and they provide a decorative look. The installation of these types of ceilings is quite simple and requires no special skills or tools.
Gypsum boards are widely used in construction because of their low cost and ease of installation. These boards are also durable and offer excellent insulation properties. However, they are not suitable for humid environments.
Pros & cons
There are pros and cons associated with using gypsum boards. The pros include their low cost, ease of installation, and ability to create a variety of shapes. On the other hand, they can be flammable, prone to damage, and require periodic maintenance.
Read Gypsum Vs. POP Which False Ceiling Material is Best for Home? to help you make your decision.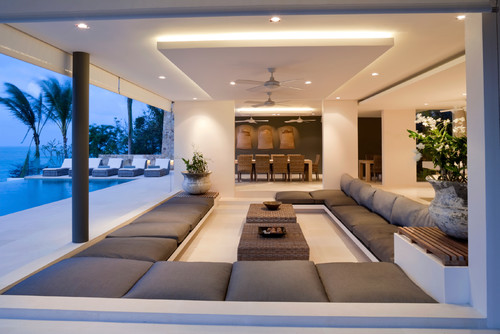 Photo by Synergy Property Group - Search living room pictures
PVC boards
PVC board is a type of rigid plastic panel. It is widely used in buildings because of its lightweight, fire resistance, and other properties. It is commonly used as false ceiling material.
PVC boards are considered to be safe materials for indoor applications. They are resistant to moisture and temperature changes, and they don't emit harmful fumes or odors. However, some experts believe that PVC boards contain toxic substances such as phthalates and bisphenol A. These chemicals can cause cancer and other health problems.
Pros & cons
It has many advantages such as lightness, low cost, good insulation performance, etc. However, it also has some disadvantages such as poor soundproof effect, high flammability, bad ventilation, etc
You can also check out the 7 Most Popular False Ceiling Materials You Must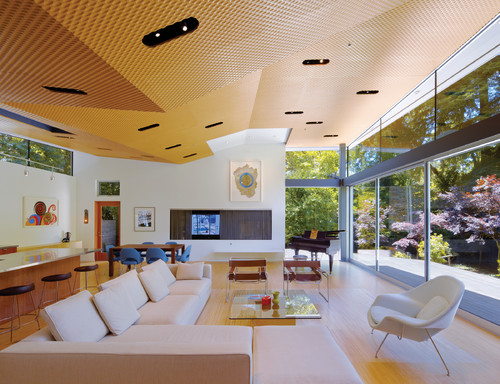 Photo by Griffin Enright Architects - Search living room pictures
Wooden Boards
Wooden boards are manufactured from wood veneers and particleboard. These materials are glued together using heat and pressure. The glue is applied between the layers of wood veneers or particleboard.
However, these boards are prone to warping and cracking over time. This happens because of moisture absorption and expansion. Therefore, it is important to choose the right type of wood for your project.
Pros & cons
There are many benefits of using wooden board false ceiling material over other materials. The main benefit is that it is very durable, long-lasting and eco-friendly. But the major disadvantage of wooden boards is that they are vulnerable to the attack of termites and they are expensive.
You must take read to the Clever Design Hacks to Decorate the Low Ceilings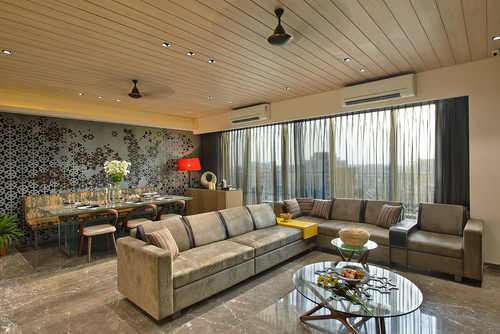 Photo by fsnd - Search living room pictures
Aerolite Boards
The aerolite board ceiling material is a kind of composite material, which is composed of wood fiber and resin. This type of ceiling material has become very popular due to its unique appearance and high strength. These panels are very durable and long-lasting. They are also fire resistant and can withstand high temperatures.
Pros & cons
Aerolite boards have several advantages over other types of ceiling materials. For example, they are easy to install and can be customized according to your requirements. They are 100% humidity resistant, non-combustible, fire-resistant, sound absorbent, light-reflecting and durable.
Image credit: Flickr
What do false ceilings do to your home?
False ceilings are a great way to transform your house into something completely new. There are several benefits to installing false ceilings. For example, they provide insulation from heat and cold, reduce noise levels, and improve air quality. In addition, they can increase the value of your home. They are also commonly used to cover unsightly electrical wiring and plumbing pipes.
Acoustic Proofing Property
The bumps and dents seen in the false ceiling boards are completely responsible for the acoustic proofing property of the false ceiling boards. The sound waves bouncing into the rooms create some acoustic vibrations that are absorbed by the uneven surface of the false ceilings. This is the reason why the surface of false ceilings is porous rather than even.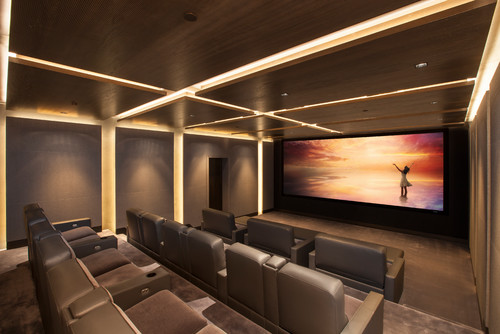 Photo by Paradise Theater - Search home theatre pictures
Thermal Insulation
Thermal insulation is provided by the air voids between the layers of the false ceiling boards that absorb the excess heat, thus making the room cooler and helping us reduce the usage of air conditioners.
Image credit: Flickr/[email protected]
Resistance to Fungus
Another big advantage of the inorganic (not obtained from a living organism) boards is microbial resistance that prevents the ugly fungal molds from growing on the ceilings. Certain species like the Aspergillus niger that grow on the wooden boards and are a serious threat to health as their molds get into our respiratory tract through the air we breathe. They grow inside the lungs spreading their toxic enzymes in the bloodstream that can cause cancer. So it is very important to be cautious when choosing false ceiling boards.
How to Select the Right False Ceiling Material?
All the materials discussed above are good only up to a limited extent as the pros and cons balance each other so well. The selection of material depends on several factors such as the climatic condition, the ambiance, affordability and the taste of the owner. The climatic conditions are one of the important factors to be considered when choosing the material of false ceiling boards.
Wooden boards are good for dry areas, but aerolite boards and PVC are the right choices in humid regions. Comparatively aerolite boards seem to be the best choice for most of applications despite the high cost. The safety, strength and durability make the boards worth their price. False ceilings are cool, only when chosen and designed properly as they say "good work is a result of good planning".
Lastly, take a read the most important Ceiling Guide- Everything about False Ceiling, Materials and Costing
And an example of a video uploaded to our Youtube channel
Join our newsletter!
Enter your email to receive our latest newsletter.
Don't worry, we don't spam
Relevant Articles
Want to spruce up your home with a unique wall paneling idea? These 8 ideas will give you inspiration!
Get tips on designing your perfect bedroom with these essential vastu tips!
If you're looking for beautiful summer interiors then you won't want to miss our latest colour trends! Discover stunning combinations
Get accurate information about window coverings with our comprehensive guide. Choose the best covering for your needs!
Are you searching for ways to spruce up your bedroom but don't know where to start? Look no further! We
If you're ready to jump into designing your own bedroom, we've got all the info you need! From choosing a
Most Viewed Articles
Furniture- an essential part of any home. It not only adds charm to your place but gives a thematic look
Turning your small bathroom into a spacious one can be a fun task, only if you know how to get
What do you like to be surrounded with? <blockquote> Blingy? Dramatic? Eclectic? Bizarre? Elegant? Bright? or just pristine
The mirror can transform any  space dramatically as it can add light and depth into the room interiors instantly. And here we
Interior designing of any room would just look incomplete without the addition of the right home decor accessories. Here we
<strong><em>No occupation is so delightful to me as the culture of the earth, and no culture comparable to that of