A Step-by-Step Bedroom Lighting Guide for Relaxing and Inviting Decor
Regardless of what bedroom interior design style you choose, a bedroom should look cozy and simple yet sophisticated, and elegant at the same time.
Of all the rooms in a home, the bedroom is probably the only space where one would love to spend more time. Moreover, bedrooms are more than just a place to sleep - especially master bedrooms are also used as a place to work, read, and spend family time. Therefore along with choosing the right bedroom furniture, and deciding on the bedroom storage, and bedroom decor accessories, it is equally vital to include several lighting options to accommodate all of these activities in a single space seamlessly.
To begin with, know the three different types of lighting:
The Ambient Lighting: Start building the lighting foundation with ambient lighting. Ambient lighting is also called general lighting. Proper ambient light includes natural lighting via large windows, skylights, or artificial lighting which is best achieved with ceiling fixtures like flush mount ceiling lights.
The Task Lighting: Task light is used to lit up a specific area. For instance, bedside table lamps, low hanging pendant lights on either side of the bed, sconces, wall mounted task lights on either side of the headboard. The key is to create flexibility, so if someone wants to sleep and someone wants to work, you can accommodate both by using different lighting in each area.
The Accent Lighting: Accent lighting is meant to draw attention and highlight features like artwork within a given space. The intention is to draw the eye to its focal point.
Step by step Bedroom Lighting Guide:
Photo by Andivi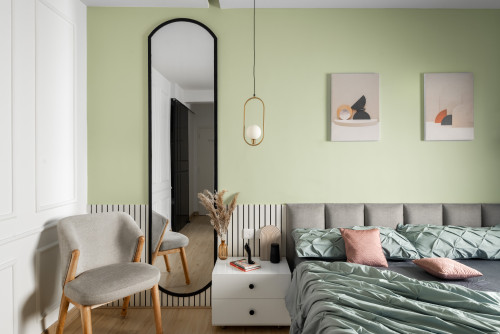 Photo by Concepto Studio - More bedroom photos
The next step is to focus on activities that you would like to carry out in the bedroom like reading, working or applying makeup, and consider adding the layer to the general lighting with task lights.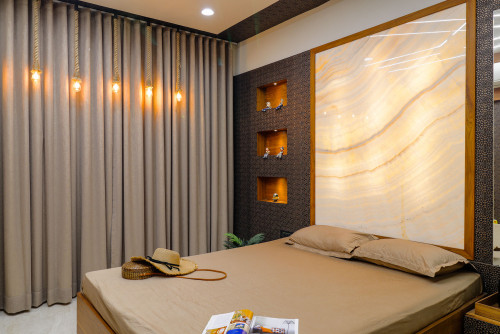 Photo by Abhishek Shah - More bedroom photos
Additionally, to bring in style and drama to your bedroom include accent lighting. Therefore, make sure to display artwork, a bookcase display or so on.
Check out the 5 Unusual Lighting Strategies That Work Wonders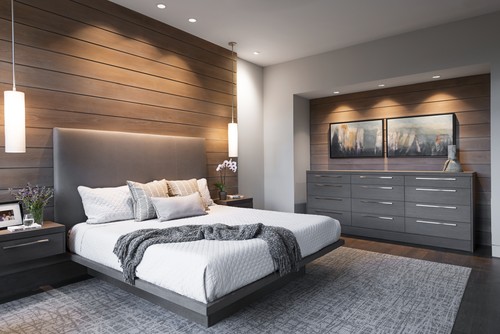 Photo by Tyner Construction Co Inc - Search bedroom pictures
Mix and match light fixtures by including multiple types of fixture, by including a larger element in the modern bedroom design like a floor lamp to break the monotonous size and scale. For instance, place a floor lamp next to a lounge chair or a decorative fixture on a dresser.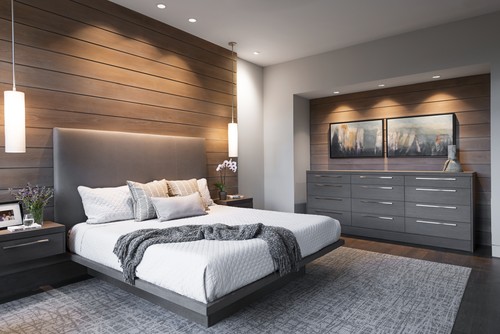 Photo by Tyner Construction Co Inc - Search bedroom pictures
Add dimmers to these lighting layers, it is important to focus on dimmers, as it is indeed necessary to bring the transition from active to a relaxed sleep-mode. At maximum brightness, the dimmer works as general lighting, while at lower settings, the feature allows for mood setting. Moreover, dimmers are easy to install and as long as the bulb type allows for it, any lighting fixture can take on a multipurpose role.
Also, it is recommended to opt for warmer lights as they are best for bedroom activities like reading, watching TV or simply relaxing.
Basically, it is all about the mix. Try out these bedroom lighting tips by including a few bedroom lighting elements to enhance the bedroom interiors further and create a relaxing and inviting space, to feel the calmness and tranquility instantly.
Also, read Give your Dull Bedroom a Boost with These Design Tips
and Stunning Ways to use different types of Indirect Lighting Techniques in Interiors
Join our newsletter!
Enter your email to receive our latest newsletter.
Don't worry, we don't spam
Relevant Articles
Looking to increase storage space but are short on space? Are you someone who likes to experiment with storage hacks
Want to spruce up your bedroom but don't know where to start? These tips will give your bedroom an instant
Let's welcome spring all over our bedrooms with beautiful green bedroom decor! Explore different design ideas and find the perfect
Bring life to your stark black-and-white bedroom with a splash of color! Learn how to decorate your bedroom the right
Choosing the right wardrobe for your home is a big decision- do you want a sliding wardrobe or a hinge
Confused between Gypsum and POP for your home's false ceiling? Uncover the ideal choice for your space with our comprehensive
Most Viewed Articles
Planning to give your kitchens a makeover and contemplating ways to turn your kitchen into an amazing space? Well, then
For creating a relaxing ambiance in your bedroom what can be better than the use of calm colors! Here you
Depending upon the size of the kitchen, the kitchen can be laid out in various shapes. And the U-shaped kitchen
Discover inspiring decor ideas to elevate your in-house bar counter. From stylish storage solutions to trendy accessories, create the perfect
Want to know what to expect during an interview at an architect's office? This guide will show you everything from
A highly underrated component of a well thought and designed house is the Balcony. A space that is also a