With changing customer tastes, interior design concepts are also undergoing tremendous changes. Traditions that were earlier considered necessary are no longer followed religiously. Interior designers are breaking conventional rules in the interest of providing their clients with aesthetic value and style. They are pulling out all stops to replicate the design concepts that are in vogue in the western countries, in India.  In their attempt to do so, they are trying out various new products for their projects. Wallpaper is one such product. If the walls are covered with wallpaper, it obviates the need for painting them. This also provides additional advantages. It provides a quick makeover to the home apart from giving the customer more choice in terms of finishes and textures.
When talking of wallpapers, the things that are going for them are the color trends, their different textures and their contemporary designs.  Wallpapers answer the customer requirement of a quick makeover and therefore they are very popular among customers who like to redo their homes regularly. To add to this, the new styles, designs and textures in wallpaper introduced into the market are making them attractive alternatives to paints.  What is more, their feature of quick maintenance adds to their utility value and makes them a favorite for homes that require quick makeovers. These are the prime reasons for wallpapers to become so popular among both interior designers and customers. 
In terms of color trends, wallpapers are available in many colors. The color gold continues to be the favorite color of both customers and interior designers. However, a few other colors like blue and green are also giving it stiff competition.  Different shades of blue and green textures are available in the market to adorn the walls. A lighter shade of the color gives a feeling of spaciousness while a darker shade makes space look small. Depending on the customer requirement, designers are employing the appropriate shade in their home décor projects. Apart from the colors already mentioned, earthy shades are currently a craze among customers who want a rugged feel to their walls.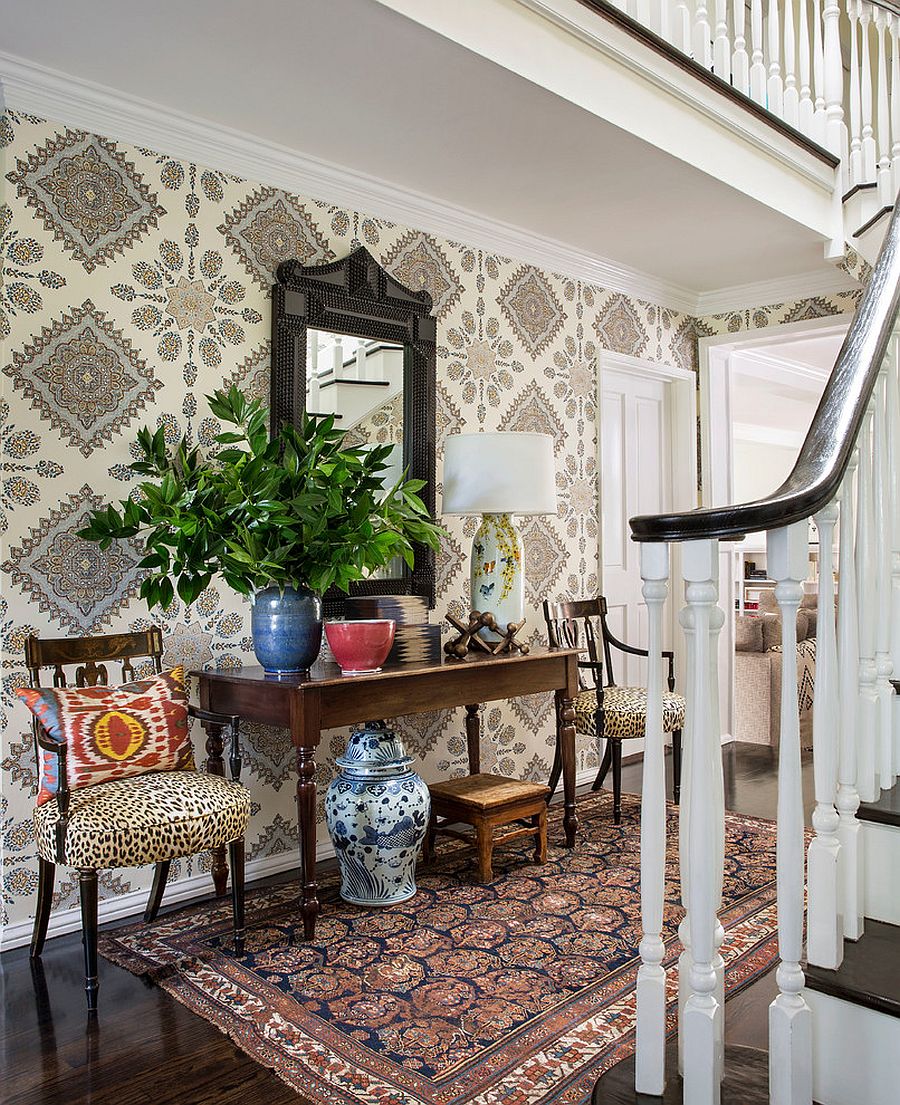 Image credit: Burnham Design
Image credit: Patti Watson
Textures are another feature of wallpapers that have caught the fancy of both customers and designers. Architects are drooling over the variety of finishes introduced into the market. In fact, architects, designers and customers are spoilt for choice when choosing a texture to employ in their design projects. Depending on the customer's budget and the look that he has in mind, he can choose from cork finish, leather finish, fabric finish or wallpaper with glass beads. However, only a designer who keeps himself abreast of the current trends in the market will be able to offer the customer contemporary designs. 
When talking of wallpaper designs, a designer can either be restrained or be extravagant. Colorful wallpapers with floral motifs are the favorite of customers today. For romantic people, there are delicate damasks with floral hues in them. Different geometrical shapes are also being used to add variety to wallpaper designs. All said and done, glamorizing the walls has become easy with the advent of the wallpaper. 
If this post inspired you, share it with others so that they can be inspired too!!
Here are a few more hand-picked design inspiration for you to read next