Expert Speak: How to Modernize your Outdated Bathroom?
Are you looking out for ways to give your bathrooms a makeover, but contemplating on how to get started off? Then here you will find various bathroom decor ideas, that you could try out, depending upon the budget that you have set for your bathroom floor plans.
These bathroom ideas would not just modernize your outdated bathroom, it will also make the bathroom designs work more efficiently!
Declutter The Bathroom
The very first step is to ditch the bathroom accessories that you do not use or want to replace and pen down the things that you wish to have right in your bathroom. This step is vital, as it would open up the existing space for something new.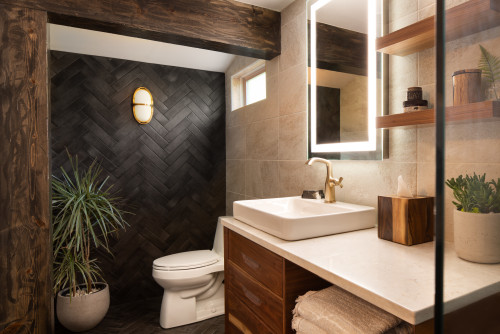 Photo by Buck Wimberly, ULAH Interiors + Design - More bathroom photos
Paint The Ceiling
The bathroom ceilings most of the time are left unattended, but did you know just a fresh coat of paint could revitalize the entire bathroom? All you need to do is ditch the whites and opt for the latest 2021 colors in trend, which can instantly uplift the look of the dull and dingy bathroom. Moreover painting the bathroom ceiling in a different color, would surely make the bathroom designs look further interesting.
Also, read How do I Choose the Best Color Scheme for Bathroom?
Photo by KUBE architecture - Look for bathroom design inspiration
The Bathroom Lighting
Whether it's a small bathroom or a large bathroom, it is necessary to include both direct lighting and indirect lighting. While upgrading the bathroom light fixtures, including wall lights, pendant lights, ceiling lights, bathroom mirror lights and also make sure to add indirect lighting. For instance, you may add lighting behind the mirror, lighting under the vanity cabinet and so on. Bathroom lighting is definitely one of the best ways to update the bathrooms, as it can draw attention to even the previously unnoticed spaces, that too in style.
Download Master Toilet Layout with False Ceiling Detail.dwg
Photo by Ardesia Design - Search bathroom pictures
Installation of New Bathroom Wall Tiles, Bathroom Floor Tiles, Sanitarywares
Depending on the budget, decide whether you could get new bathroom wall tiles, bathroom floor tiles, bathroom sink, water closet and so on installed. As with passing years, the bathroom tiles can get dull and boring, and it would be the right time to bring in a change, if you are planning for an overall bathroom renovation. And if you plan to get new ones installed, work on the color schemes. Since the tiles are available in various colors and patterns it would bring in dramatic changes to the bathroom.
And for easier, budget-friendly ways, all you need to do is bring back the shine on the tiles and clean the grouts often along with the bathroom fixtures. Or you may even change the bathroom fixtures and opt for the chrome, copper or matte dark ones, for that edgy look.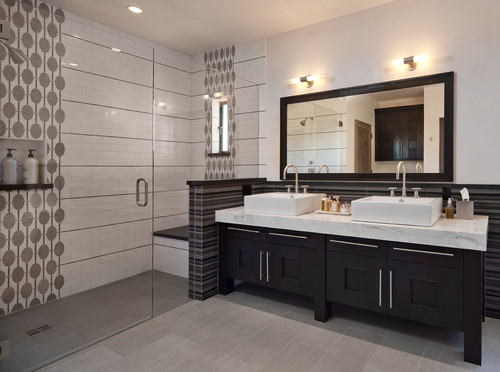 Photo by - More bathroom photos
Bathroom Vanity Cabinets, Shower Units, Bathtub
Make sure to include vanity cabinets or give the existing vanity cabinet a makeover, by coating it with paint and by changing the hardware.
Similarly, you may work on the layout by creating a dry and wet zone. Add in shower units, bathtubs (depending on the size of the bathrooms). Segregating spaces would actually open up the space for more storage and make the bathroom look clutter-free and organized!
Find out the Smart Ideas To Separate Your Wet Shower Area
Photo by Berghuis Construction LLC - Browse bathroom photos
Bathroom Decor
When it comes to bathroom design, one of the most alluring pieces of wall art is the bathroom mirror. Depending upon the interior design style implemented, opt for mirrors, for instance, a modern mirror for a contemporary bathroom or a spectacular vintage mirror for an elegant luxurious bathroom. Even including glass shelves, glass shower panels can act as a functional form of wall art in an updated modern bathroom design.
Also, read Bathtub vs. Shower, Which is Perfect for Your Bathroom?
Photo by C.P. Hart Bathrooms - More bathroom ideas
Try out all these ideas depending upon your budget and you are all set to get the best for your bathroom spaces.
Lastly, take a read of the Things you must know while planning Modern Bathroom
And an example of one such video uploaded on our Youtube channel
Join our newsletter!
Enter your email to receive our latest newsletter.
Don't worry, we don't spam
Relevant Articles
Choosing a perfect mirror can actually make your bathroom look WOW. Check out here to land upon a perfect mirror,
Wondering how to pick the right bathroom tub for your needs? Check out our guide on different types of bathtubs
Those homeowners, who are planning to bring in the ''spa-like''  experience right into their home, would know that without showcasing
Find out the few ways to separate the wet shower as bathrooms these days consist of designs and storage units
For most women, a bathroom is not merely a functional space; as it is so much more that provides them
Give your bathroom a twist and make it beautiful by adding up warmth, dimness and this time with bathroom candles or bathroom scented
Most Viewed Articles
Do you own a small bedroom and struggling to turn your small crib into a stylish one? Relax! You have
Do you own a larger home and on a hunt to find out ways to turn a large cold living room
If you are one among those owning a tiny home and contemplating on ways to decorate a living room, then
Be it a room for a girl or a boy, the basic teen bedroom design principles and teen bedroom decor
With several interior design styles, the process of choosing one interior style among all becomes a daunting process hence, We
There are many different types of tiles available which can be used on a variety of surfaces to bring in