Steps To Design A Modern, Elegant Bedroom
A bedroom is that corner of the home that we love to reach out to, after a tiring day of work. And who wouldn't love to have a room as comforting as the ones that they get to see on home decor websites? - to snuggle and doze off! Well, all thanks to the gaining popularity of online interior design service, it had actually made homeowner think over the space they own and sort of increased the craving in them, to get the best for their homes.
And since bedrooms is that part of the home, that lets one relax and unwind themselves, why not pamper this corner of the home's for it to function more efficiently. And here I am listing out all that it takes to create a comfy modern bedroom, that you dream to own.
Start With The Basics
Be it a small bedroom or a large bedroom, consider the size of the bedroom layout. From the placement of doors to windows, each point needs to be paid attention on for planning out bedroom furniture placements.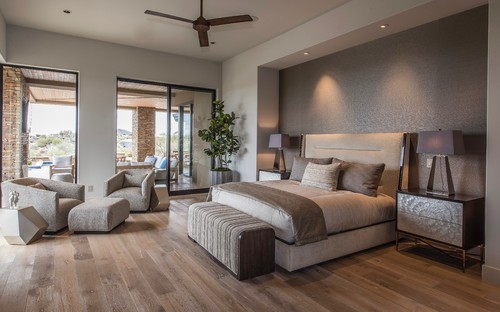 Photo by Friedman & Shields - Search bedroom pictures
Do You Have A Balcony Attached To The Bedroom?
The next point is to consider the opening other than the bedroom door that leads you in and out of the room. See how you could utilize the opening. If you are lucky enough to have a balcony attached to the master bedroom make sure to add a small balcony garden which you could adorn further with balcony light fixtures, balcony furniture such as hanging chairs and further enhance with the use of indirect lighting techniques. The point is to utilize this corner of the bedroom as a place to relax rather than as a dumping corner. Moreover, adorning these corners well will also let more natural light and fresh air in.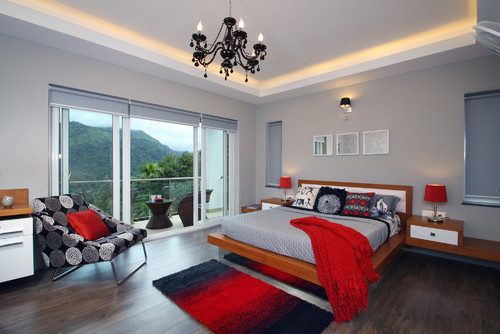 Photo by Savio & Rupa Interior Concepts (Bangalore) - Search bedroom pictures
A Window Opening
No matter whether you have a small bedroom window or a french window, you got to adorn it to make the bedroom look cozy. You may add in seating with storage if you have a french window and enhance it further by adding curtains along with fairy lights.
Another way to accentuate the window, rather a small window is by adding flowy sheer curtains and placing an accent chair next to it. You may team it along with a floor lamp and a tiny book unit to complete the look. These bedroom decor ideas would definitely turn a simple bedroom corner into an interesting one.
Here is a must-read design inspiration to give you an insight into the Window Covering Dilemma - Blinds vs. Curtain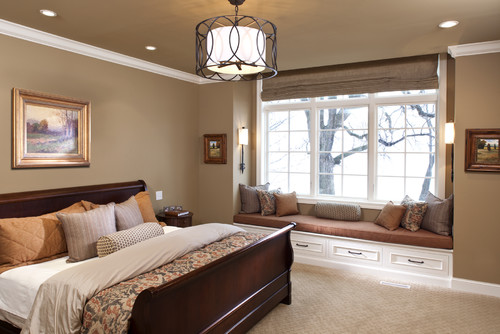 Photo by Stonewood, LLC - More bedroom photos
The Bed
While choosing a bed, make sure to measure the area where you wish to place the bed. And the other thing that needs to be considered is the bedroom theme. Opt for a bed that suits your bedroom theme, same goes while deciding with the color as well. And in the case of a small bedroom design, make sure to only opt for a bed with storage space.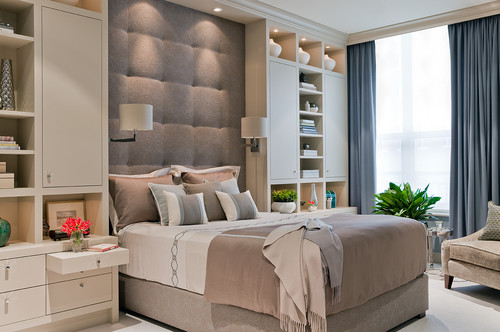 Photo by - Search bedroom pictures
Highlight The Wall Behind The Bed
Do make sure to highlight the wall behind the bed as this would just enhance the overall look of the room but at the same time should bind the design together. For instance, one could opt for a large abstract wall decor art and hung it on the wall behind the bed and team it along with a floor rug with similar abstract colors for creating a balance. Similarly opting for wallpaper and replicating the pattern and textures on throw pillows would work as well.
You must check out Bedroom Decor Tips With Wooden Themed Wall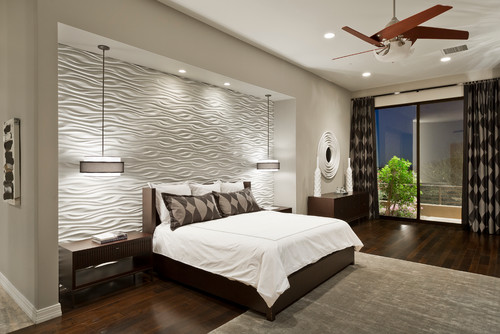 Photo by Chris Jovanelly Interior Design - More bedroom photos
Wardrobe And Dresser
The bedroom space would just look incomplete without the addition of a dresser along with a wardrobe. It is always better to opt for a customized wardrobe rather than a ready-made one. As the customized version would fit your bedroom space perfectly as well as you are free to choose the number of drawers and rack according to your preferences. Similarly, you get the option of further customize it by adding in closet lights. Moreover, the customized wardrobes and dressers let one play with various color themes that would perfectly go well within the bedroom color scheme.
Also, read Dressing Units that Complement most Bedroom Decor Styles
and Sliding Wardrobe vs. Hinged Wardrobe- Which is perfect for your home?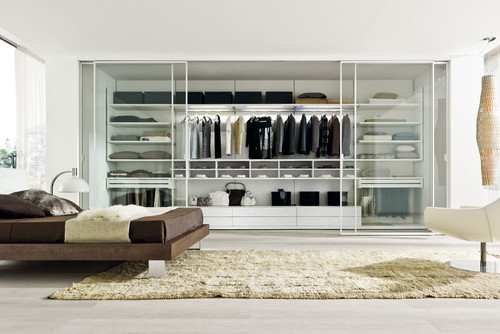 Photo by Yamini Kitchens & More - Search bedroom pictures
The Role Of Lighting - Bedroom Lighting
Light plays a vital part role in interior design and when it comes to bedroom lighting make sure to include both direct and indirect lights that could be dimmed. Including both sorts of lighting enhances the overall bedroom design and uplifts the bedroom instantly.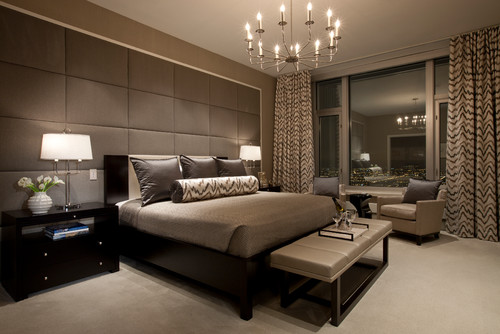 Photo by Michael Abrams Interiors - Search bedroom pictures
Do incorporate these 7 tips to create a fab bedroom of your own.
Lastly, take a read of the most important What are the Basic Interior Design Tips for a Bedroom
And an example of one such video uploaded on our Youtube channel
Join our newsletter!
Enter your email to receive our latest newsletter.
Don't worry, we don't spam
Relevant Articles
Want to spruce up your home with a unique wall paneling idea? These 8 ideas will give you inspiration!
Get tips on designing your perfect bedroom with these essential vastu tips!
If you're looking for beautiful summer interiors then you won't want to miss our latest colour trends! Discover stunning combinations
Get accurate information about window coverings with our comprehensive guide. Choose the best covering for your needs!
Are you searching for ways to spruce up your bedroom but don't know where to start? Look no further! We
If you're ready to jump into designing your own bedroom, we've got all the info you need! From choosing a
Most Viewed Articles
Those homeowners, who are planning to bring in the ''spa-like''  experience right into their home, would know that without showcasing
It's that time of the year again. Architecture firms around the world start receiving a multitude of resumes and portfolios
When choosing between wood veneer and laminate, there are many factors to consider. Read on to see what makes each
How the days of our youth seems to quickly pass away the instance we are about to graduate from college.
Where do you think the heart of a home resides? Yes, you guessed it right- It's the Living Room! Not
Check out the few ideas and inspirations while planning a Modern Bathroom that can help you in getting the right