10 Smart and Functional Ideas for Small Bathrooms
Though bathrooms are an important category of spaces in any residential or hospitality sector, these are becoming smaller by the day. But, small bathrooms do not resonate that they are any less when it comes to designing them most smartly and functionally. It is all the more important to design small bathrooms smartly as there is no scope of wasting even an inch of the space. Moreover, the bathroom is one space that has to function fluently at all times of the day, as it is one space that an individual likes to spend his or her own sweet time devoid of intrusions. A bathroom might look small but can be designed to be luxurious in every sense of the word. The article discusses 10 smart and functional ideas to take a cue from while designing a small bathroom space –
Create Illusions of a Large Space
To give an illusion of a large bathroom to your small bathroom space, you can go in for glass shower enclosures, which allow a clear vision from one wall to the other. Besides giving unhindered vision, the glass enclosure also imparts the 'in vogue' touch to your bathroom. This is one of the smart ideas, which imparts aesthetics as well as organized functionality to the small bathroom space.
You must check out Smart Ideas To Separate Your Wet Shower Area
Photo by TG-Studio - Search bathroom pictures
Another way of giving an illusion of a larger space is to have a wall covered in mirrors. One can use a single mirror or a patterned mirror. The reflection in the mirror helps in strengthening the illusion of larger bathroom space. This is yet another smart and practical idea to implement in your small bathroom. The extent of the mirror can be along both the horizontal and vertical axis. Besides creating the illusion, the mirror serves the purpose of a full-length mirror in your bathroom, which is a plus on the functionality part.
Photo by TY LARKINS INTERIORS - More powder room photos
Thumbs Up to Built-in Storage- Boost your Small Bathroom Storage
While planning your small bathrooms, go in for more and more built-in storage spaces. A bathroom is a kind of space that can use additional storage options all the time. If the bathroom has to be planned and made from scratch, one should consider run-of-the-mill built-in storage options. This smart way helps in freeing the floor space without compromising on the functionality of the space.
Tip- Prioritize and fill up all dead space with the suitable storage hacks with 7 Ways to Boost your Bathroom Storage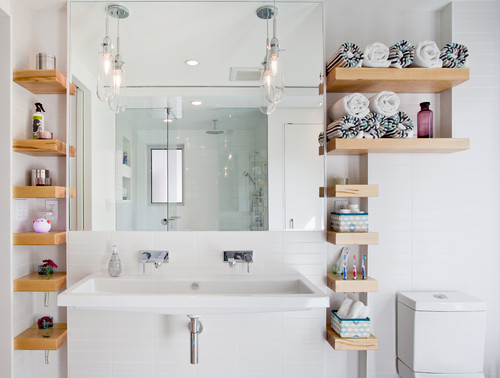 Photo by Wanda Ely Architect Inc. - Search bathroom pictures
Say Hello to Floating Storage – Bathroom Shelves/Vanity
When one finds oneself with restricted square footage for the bathroom space, then, they should try exploring the vertical surfaces. Install floating shelves to accommodate for the additional utilities, wipes etc. The floating shelves help in storing the daily use items and decorative accessories to provide easy access as and when required. The open shelves also help in imparting a clean and minimalist look and refrain from overcrowding the small bathroom space with closed surfaces.
Along with floating shelves, one can even think about adopting a floating vanity as this helps in freeing the floor space and gives way for miscellaneous or elements of temporary nature.
While selecting the bathroom vanity make sure to read How To Select The Most Suitable Bathroom Vanity?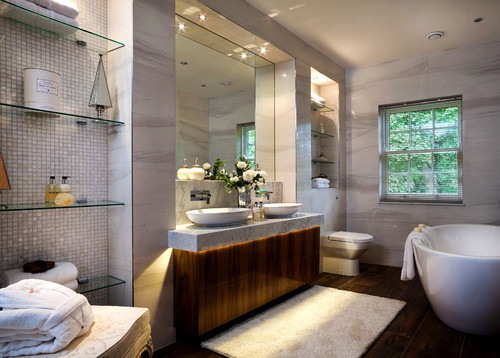 Photo by Surface Tiles - Search bathroom design ideas
Extend That Counter- Beautify your Bathroom Space
To engage decorative niches, try simply to extend your basin counter over your water closet to add on to any decorative items, plants etc. you wish to, to beautify your squeezed bathroom space. This smart idea not only adds a flavor of aesthetics but also can be used to stack those extra utilities, which do not find a storage space for themselves. Besides, the idea helps in achieving a homogenous, discreet and neat look in the bathroom. The advantage of this idea is, that it smartly adds space and imparts functionality to an otherwise unused space; all this without disturbing the layout of the bathroom.
Do read, Brilliant Hacks To Make Your Small Bathroom Look Bigger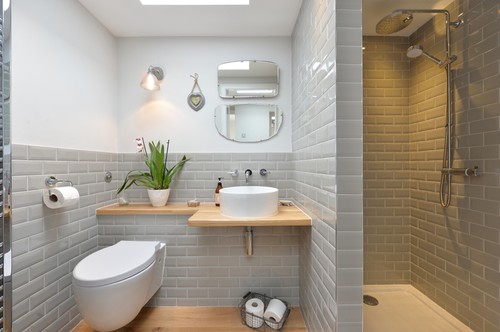 Photo by Ashdale Projects Ltd - Search bathroom design ideas
Carve a Niche for Ladders- Small Bathroom Storage Ideas
One can even think of placing storage ladders in negative areas. These are very handy and clean ways of stacking up the day-to-day utilities. One just has to find an unused corner to place these storage ladders, and they mingle with any sort of interiors quite instantaneously. Besides, these save the hassle of drilling and hammering the shelves and can also be moved from one end to the other.
Create that relaxed ambiance in your small bathroom and make an everyday spa at home with 10 Gorgeous Products That Will Transform Your Small bathroom Spa Like
Photo by Run for the Hills - More bathroom photos
In case, one likes the ladder feature but not so much the concept of a storage ladder, then they can use a vintage or a decorative ladder to use it to hang towels, bathrobes, clothes etc. The mere presence of a ladder in the precise corner of your bathroom space can play its charm. Besides, this is a very smart, practical and yet functional idea to incorporate for a small bathroom space.
Photo by Smith & Vansant Architects PC - Search bathroom pictures
Ornate Mirror Frames and Accessories
To zing up your small bathrooms go in for ornate mirror frames, which along with being cent percent functional, also become the focal point for your bathroom. An ornate mirror can actually create a great impact on the interiors of your small bathroom space. One can make a statement even in their small bathrooms by using ornate accessories and fittings. For instance, one can either choose a set of fittings done in brass or coated in pop colours. Not just the fittings, one can choose an ornate or quirky set of accessories that stand out in the bathroom. These inclusions help in creating a larger life impact in the otherwise small space. Adopt this idea in case you want to make a statement out of the elements in your bathroom and stand out from the crowd.
Photo by Reflected Design - Frames for Existing Mirrors - More bathroom photos
Create a Groovy Cave
For a small bathroom, one can even consider planning with refurbished elements. For instance, the vanity can be made out of an unwanted or antiquated cabinet to host the basin, with vintage-style faucets to enhance the look. Try a mirror frame contrasting the language of the setup, with nice industrial or antique lighting fixtures. The accessories can also be upcycled using various discarded elements or things from an antique store. The entire bathroom can be converted into a groovy cave to suit the taste of the users. All one needs to do is to put on their creative hats to put those discarded things to good use, to arrive at a masterpiece bathroom. Once the bathroom is done, it really does not matter if it is a small one, as the guests would be taken in awe by the décor that, no one would give a thought to the size of the bathroom. Besides, everything that is put to use serves a particular function and is not just for decorative purposes.
Photo by Rikki Snyder - Search bathroom design ideas
Play of Light- Lighting in a Small Bathroom
Light plays an important role in setting the aesthetics of any space right. For a small bathroom refrain from adding more than one pendant light fixture. To emphasize the lighting in a small bathroom, one should try to maximize the use of surface-clad lights with hints of concealed or backlighting. The surface-clad lights will help in giving a clear view without any hurdles. In addition, the backlighting helps in accenting the elements like the mirror, under the sink area, sink, bathtub or the shower area, so on and so forth. The play of light is essential to create the requisite drama in a space. With the use of appropriate combinations of lighting fixtures, one can enhance the experience even in a small bathroom.
Here we share a beautiful example of Use Of Different Lights In A Bathroom Can Make It Look Stylish
Photo by Jamie Bush & Co. - Search bathroom design ideas
Foolproof Colour Palette
To give a feeling of openness to the small bathrooms, one should prefer going in for a neutral shade card. The more whites, tints of greys and browns one has in their bathroom, the more open and warm the space feels. This is because the lighter shades have high reflectivity and therefore impart a feeling of vastness to the space. If one should wish to use pop or dark colours, then it should be well balanced and contrasted with the base colour. For instance, with a beige base, one can go in for accents of turquoise or teal to emphasize certain space elements or simply to introduce colour in the bathroom space. So choose the colour palette for your small bathroom prudently, to impart the exact impression you want.
Well, with these tips and tricks, you could easily choose a good color scheme for the bathroom And turn it into the retreat of your dreams!
Photo by GIA Bathrooms & Kitchens - Search bathroom design ideas
Play with the Scale
In restricted spaces, it becomes imperative to play with the scale of the various elements. To resonate taste in your small bathroom space, one can choose to have big tiles, an oversized mirror, a huge showerhead, etc. with respect to the other accessories. The big elements help in delivering an immaculate and minimalist look to the bathroom. One needs to be careful to scale things in combinations; otherwise, the results might be a complete disaster. Not all elements need to be scaled up; one can choose one or two elements to scale up to get the desired look. While one gets the desired look, this is quite a practical and functional approach to undertake while designing a small bathroom.
Photo by TG-Studio - More bathroom photos
Bathrooms are spaces where a person has all the 'me' time one wants. The size of the bathroom does not matter if it is completely functional and aesthetically pleasing. The aforementioned are a few smart ideas to implement while designing a small bathroom. One needs to be logical as well as smart while designing the interiors of a small bathroom to not compromise with its functionality. The bathroom is one space that people can easily experiment with when it comes to interiors. One can go from groovy bathroom interiors to a sophisticated ones; it is all a matter of personal taste and creativity. Even the menial discarded things can accentuate the bathroom space and a very expensive set of accessories fail to impress if not done right. So, go ahead and utilize the small bathroom space to come up with a fully functional and delightful space.
Lastly, take a read of the most important Expert Speak: How to Modernize your Outdated Bathroom?
And an example of one such video uploaded on our Youtube channel
Join our newsletter!
Enter your email to receive our latest newsletter.
Don't worry, we don't spam
Relevant Articles
Do you need a bathtub or a shower in your bathroom? We'll help you choose the best for your needs!
Choosing a perfect mirror can actually make your bathroom look WOW. Check out here to land upon a perfect mirror,
Wondering how to pick the right bathroom tub for your needs? Check out our guide on different types of bathtubs
Find out the few ways to separate the wet shower as bathrooms these days consist of designs and storage units
For most women, a bathroom is not merely a functional space; as it is so much more that provides them
Give your bathroom a twist and make it beautiful by adding up warmth, dimness and this time with bathroom candles or bathroom scented
Most Viewed Articles
An architecture student has an outshining privilege before he or she conceives the design. That privilege is known as <em>case
It was only in the 20th century that most of the inventions occurred and have seen a remarkable transformation. Trends
That one perfect wall in any room that distinguishes itself from the rest of the boring and dull walls in
Living room designing is not just about the furniture placement, lightings or the decor accessories. It is the accent wall
Spring is undoubtedly the most delightful season of the year which is also an inspirational time for a lot of
Wood is a special kind of material that generates a warmth and natural beauty to the ambience of any place